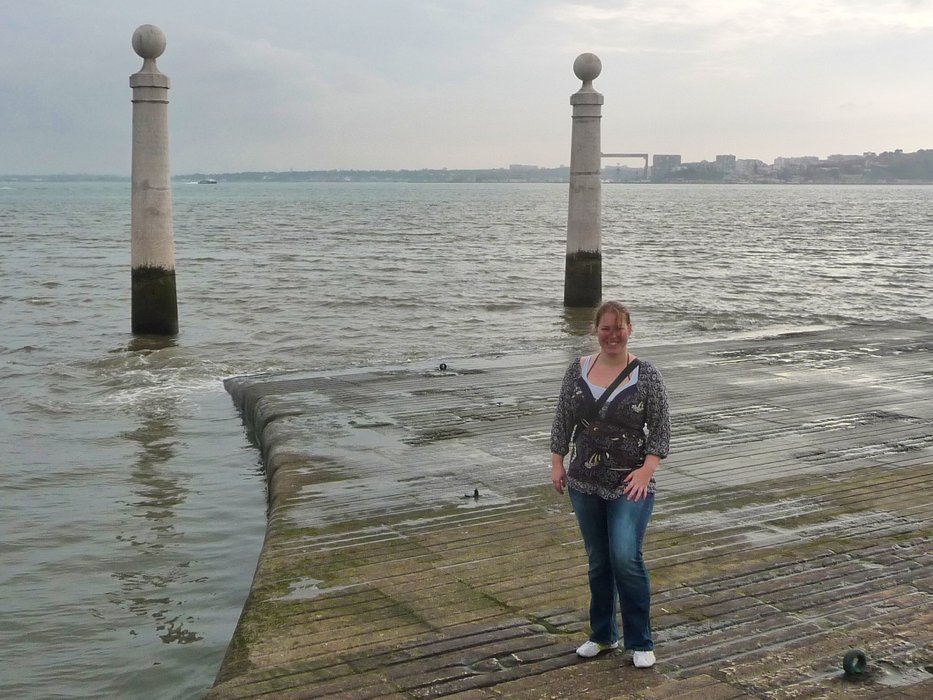 "How did you like Lisbon?", my favourite co-worker asked the day after I returned. "To be honest, I thought it sucked", was my answer hoping my opinion wouldn't offend him. He smiled: "I totally agree. Lisbon disappointed me too".
The rest of the lunch we talked about how awful Lisbon was... But looking back, it wasn't that bad! It was just a matter of bad luck and terrible timing!
I had been working my ass off the months before this trip. I worked so much overtime that it could easily cover this trip and the next one. I was tired but loved my job so much that I didn't realise it. But all fun was about to come to an end. My project was finished so it was time to do some city-tripping.
My travel routine

When I plan a city-trip, I would normally book 5 or 6 days in a city. This is just a little too long to do the same amount of exploring that you would do during a long-weekend visit. But I just love to spread it out. This is why I travel alone, nobody rushing me whatsoever! My routine? Sleep in, chill in the hotel, find a restaurant to have lunch at, find a hop-on-hop-off bus (for the first day) or check out at least 2 places on my list and see where else my day brings me. Around dinnertime, I go back to my hotel. Sometimes a little earlier, sometimes later. I eat and finish my day chilling. Only if I get the jitters, I might go out again to try some night photography. This routine gives me the flexibility to stay in the hotel a whole day if the weather is shite or when I am too tired.
Tickets to Lisbon were cheap so that was going to be my pick. I booked an amazing apartment close to downtown Lisbon and ordered my regular travel guide to Lisbon. On my way from home to my destination, I learned from the book that Lisbon suffered from a major earthquake in 1755 that almost destroyed the complete city.
By Smithsonian Channel
I started wondering if the effect of that earthquake would still be noticeable while walking around Lisbon. And there it was, I was getting excited. I got to my apartment, dropped my stuff and went for a quick walk in the immediate surroundings. I didn't feel like exploring the hills of the "City of seven hills" yet and stayed in the Pombaline Lower Town (Baixa) for now.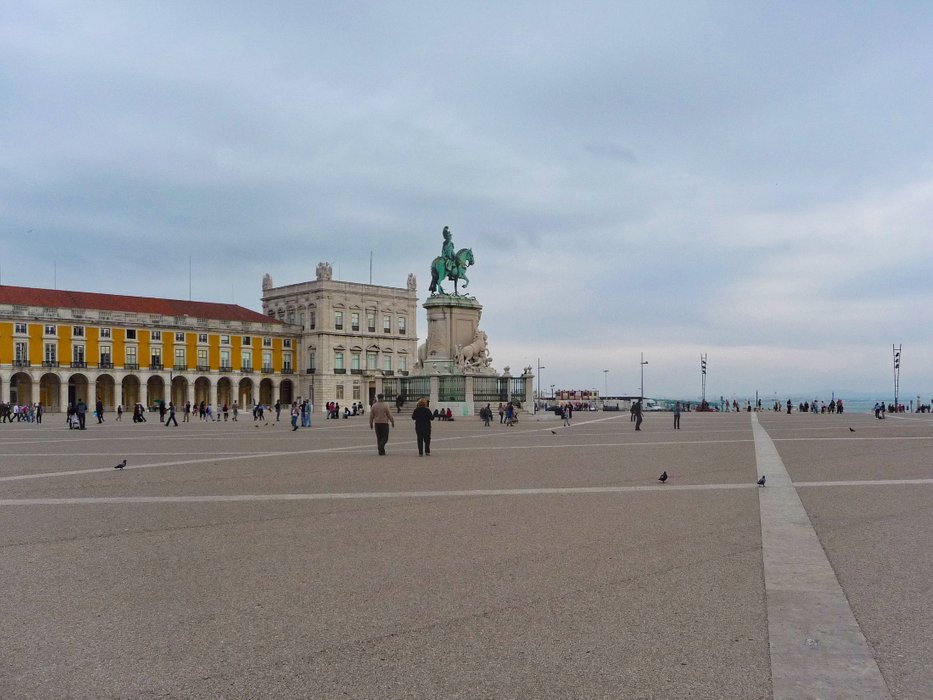 Praça do Comércio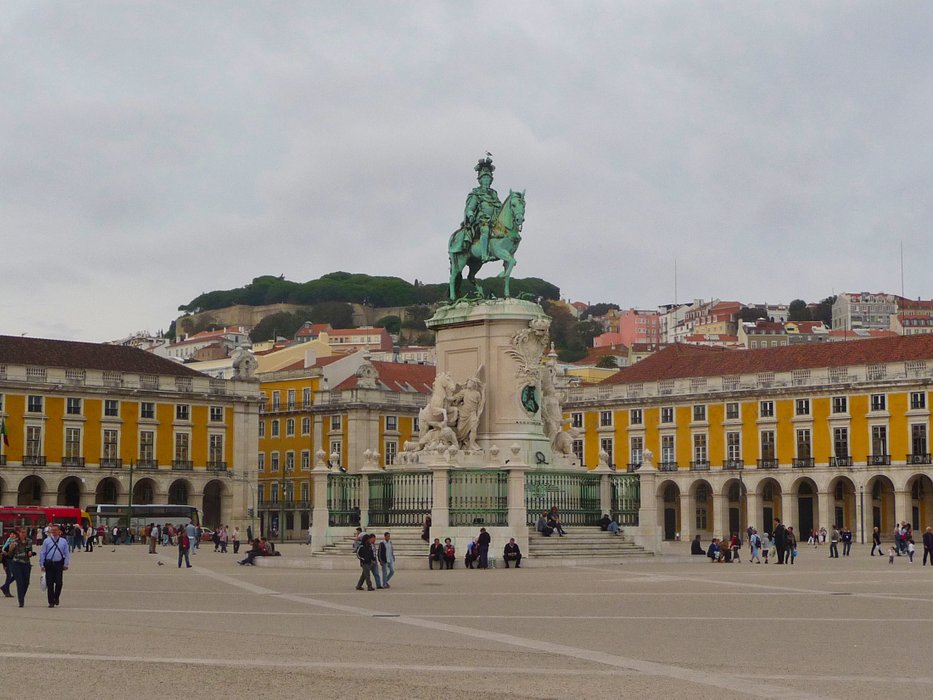 ---
Different street patterns in Baixa area?
Next to the water, you will find the gorgeous and wide Praça do Comércio. This used to be the palace square before the earthquake and was completely rebuild after. The towers on the corners of the surrounding building remind of the original palace. I love the space of this square so much! And that it has water on one side (my thumbnail photo was taken here as well).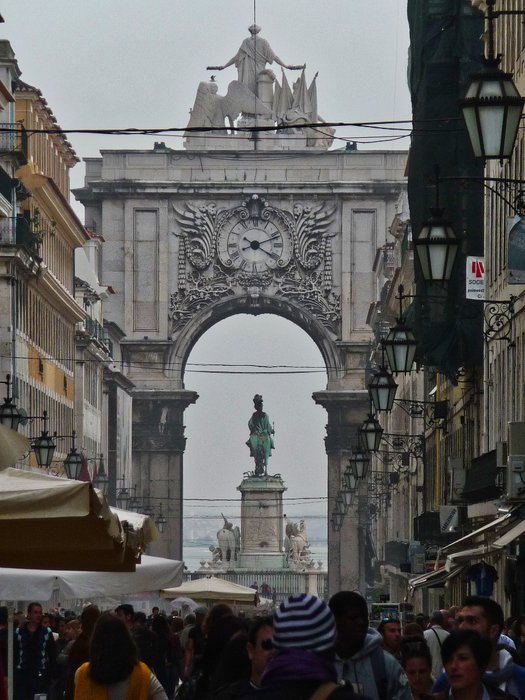 Commercial square through Rua Augusta Arch
The earthquake (and tsunami & fire aftermath) hit this lower area of Baixa the hardest. Once the streets here were narrow and chaotic. After 1755 they created a grid of straight streets with three boulevard-like streets connecting the commercial square to Rossio Square.
The Rua Augusta is the street in the middle and is a super busy street with restaurants and shops. The start of the street has an impressive arch as a sort of entrance gate. This arch was also built after the earthquake and is a monument for the reconstruction.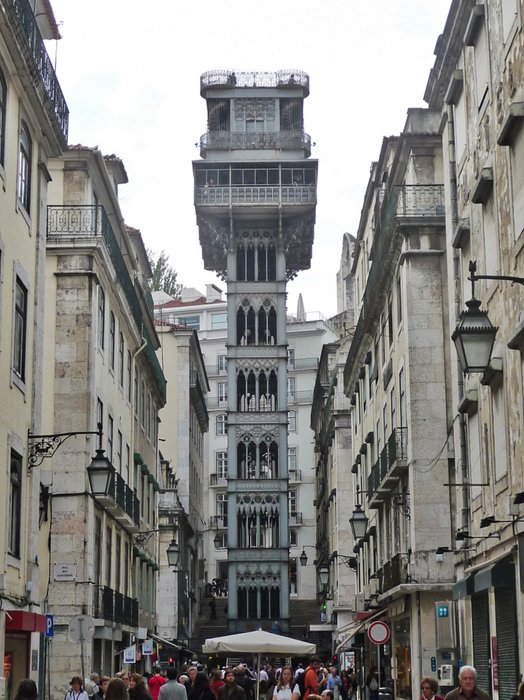 Santa Justa Lift
Walking north you will at some point see the Santa Justa Lift at your left. It looks so out of place, but it is actually an awesome thing! It was built early 1900's to connect these lower streets with the higher Largo do Carmo. There is a restaurant at the top where the lift will bring you. I couldn't resist eating there at some point while enjoying the views.
---
It took me some time to get to Rossio Square where they say that all the action happens. Or at least, it is one of the major meeting places of Lisbon for both locals and tourists. I didn't spend much time here because there was nobody to meet (aw, poor me). But I absolutely adore the wave pattern of the pavement.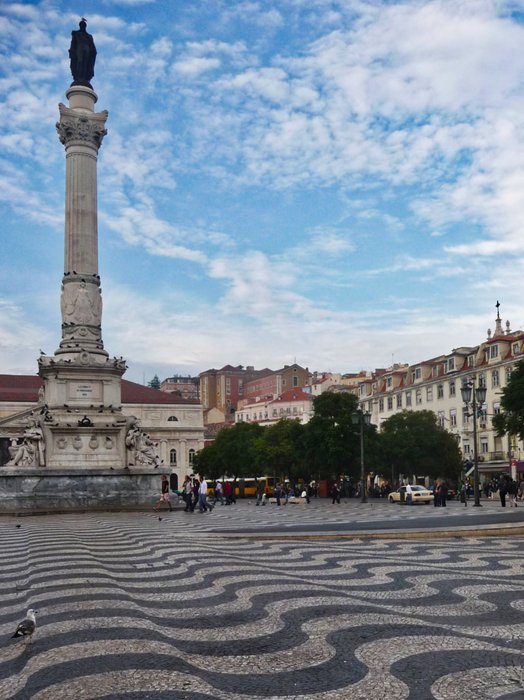 Rossio Square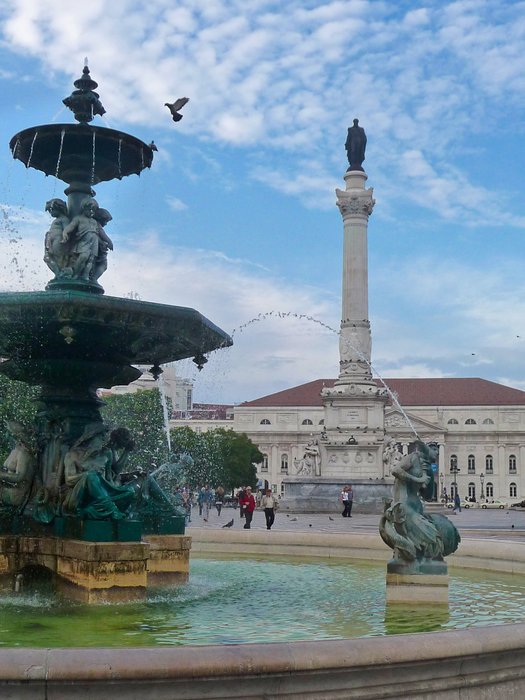 ---
"You sound like you liked it, I am confused"
That makes sense. Let me explain: I didn't visit the whole area of Baixa on my first day in Lisbon. I was too tired and turned around after visiting the commercial square. The next day it rained cats and dogs, so I didn't leave my apartment. On day 3, the weather still wasn't that great but I decided to go out anyway. And one of the first impressions that I got of Lisbon was when I witnessed an older man (tourist) falling down the stairs after getting robbed of his backpack in one of the older areas of Lisbon. Lisbon was struggling when I visited and crime rates were through the roof. It is much better nowadays!
Atmospheric Alfama, or just dodgy?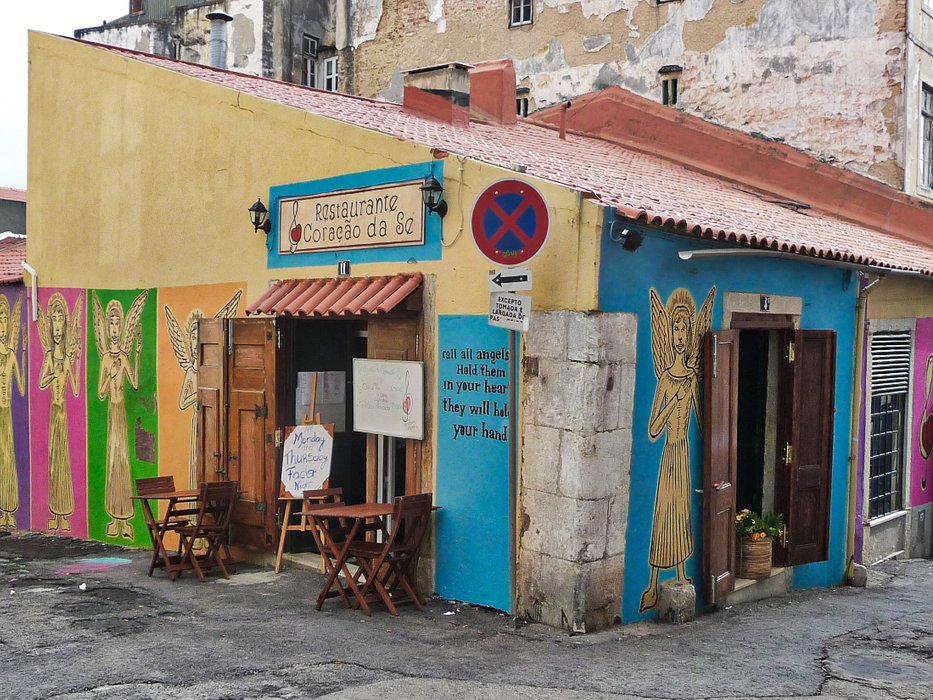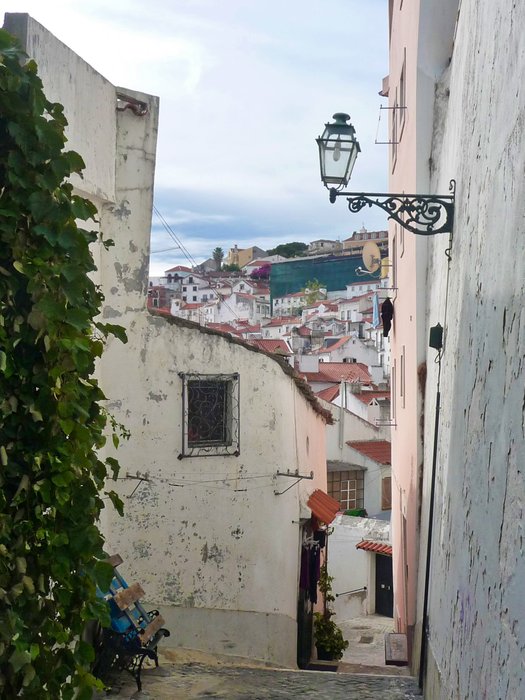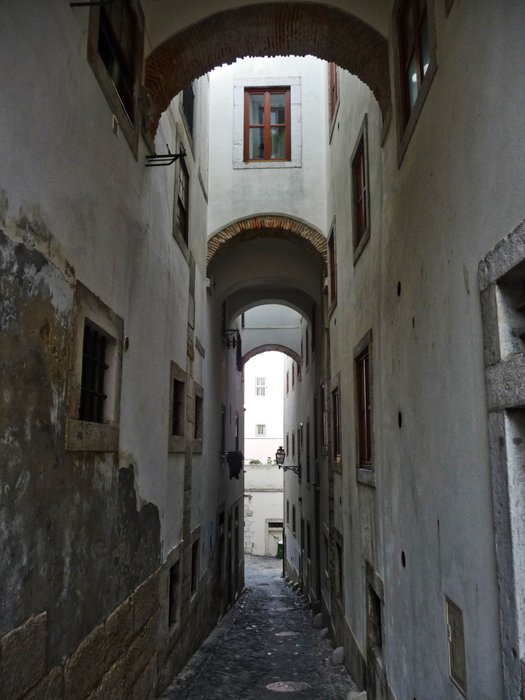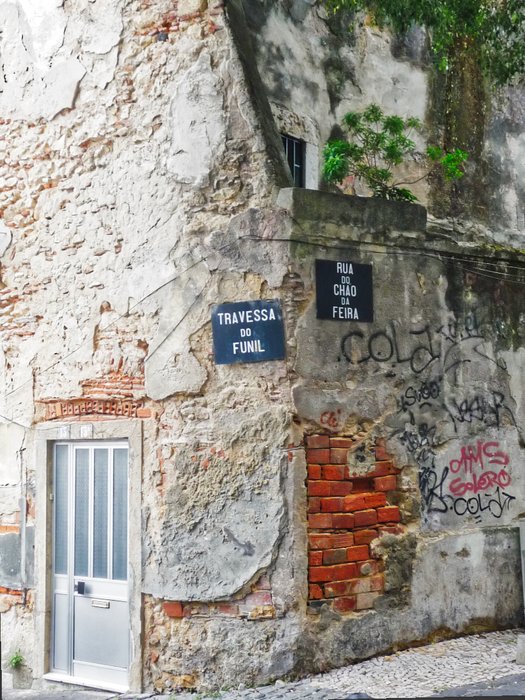 You will have to walk around Alfama when you visit Lisbon. The narrow streets and many stairs show a more authentic side of Lisbon. Every corner, the view changes. But the closer that I got to the São Jorge Castle, the more I felt that I was walking around the city slum. This area of Alfama was in ruins and decorated with graffiti. This could be gorgeous, but I guess I was there in a bad week. It didn't look anything like art at that time.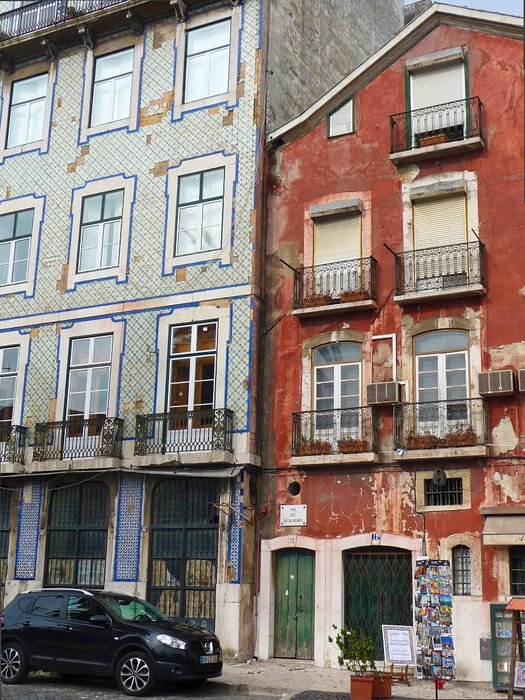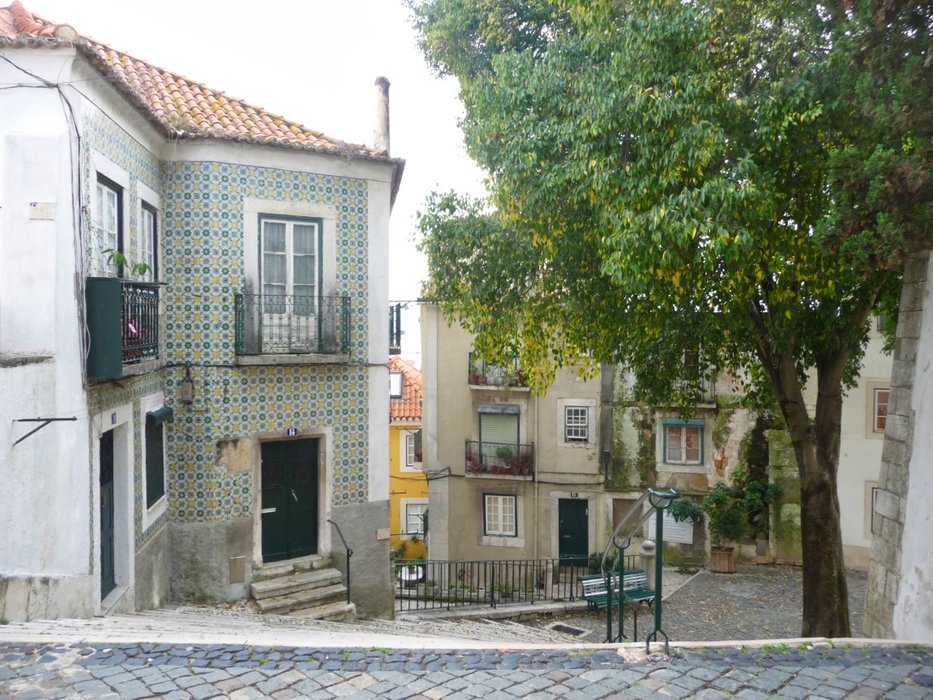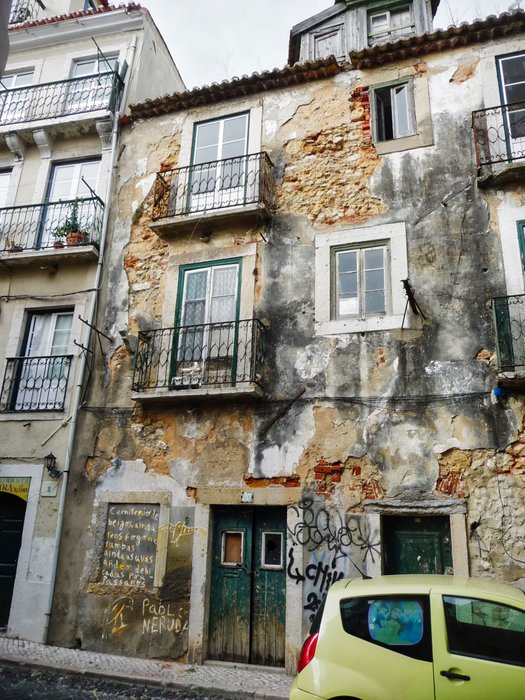 The streets of Alfama
---
My goal was to get to the São Jorge Castle (named after Saint George, the one slaying dragons). You can see this castle from almost everywhere in Lisbon. And it has the most amazing views from the top.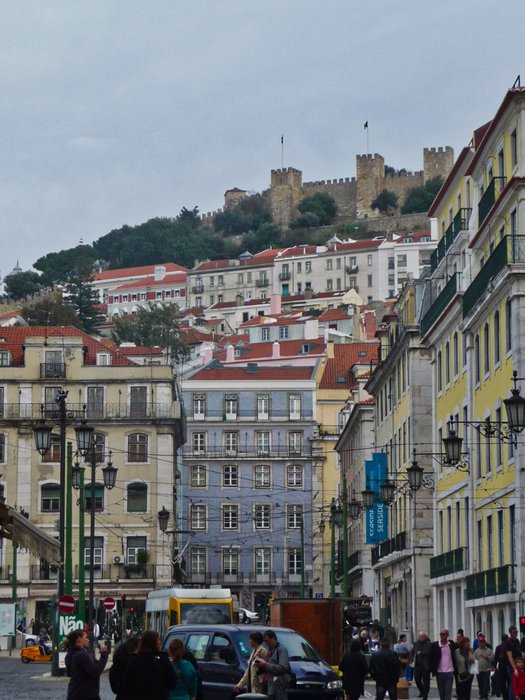 So many stairs to get there!!
It took me many "photo stops" in Alfama to get to the castle at the top (kidding, I just needed to catch my breath). It might be super touristy to visit this castle, but it has a lot of history.
It is a location where the Greek and Romans have build their camps. It was ruled by the Berbers until 1147 when the Northern European Christian army freed it. After that, many kings have lived on the hill until it fell into decay.
The whole area of the castle is just amazing. The wall around the citadel now creates a platform from where you can enjoy the view of Lisbon while having a drink on a terrace. It felt like I was in a totally different life, looking down on the city that was just in another universe. From here you can see the red rooftops all the way to the river. It looked so much better from up there!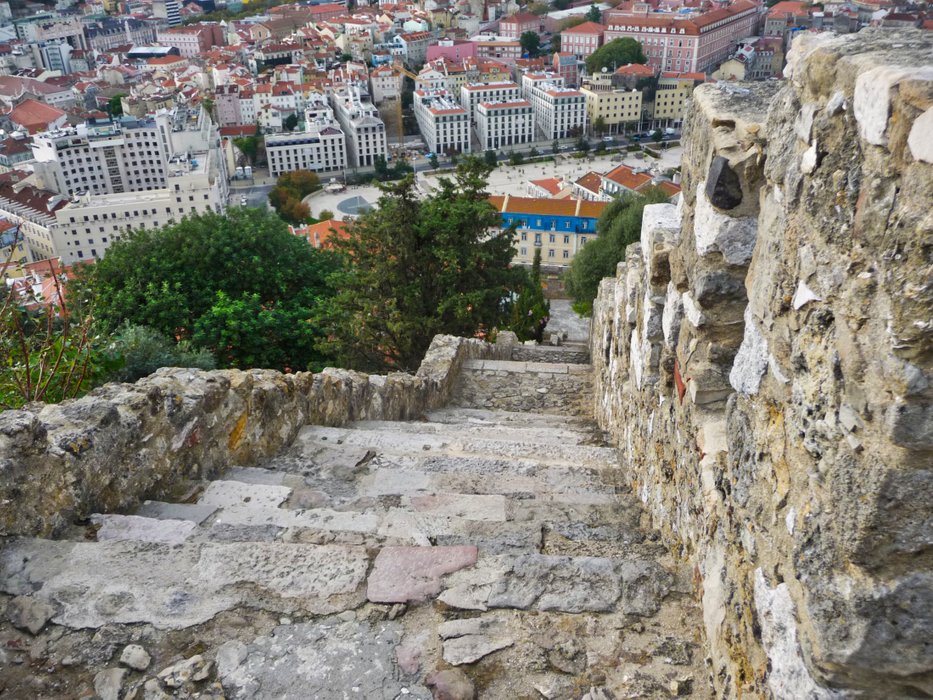 Those stairs down were scary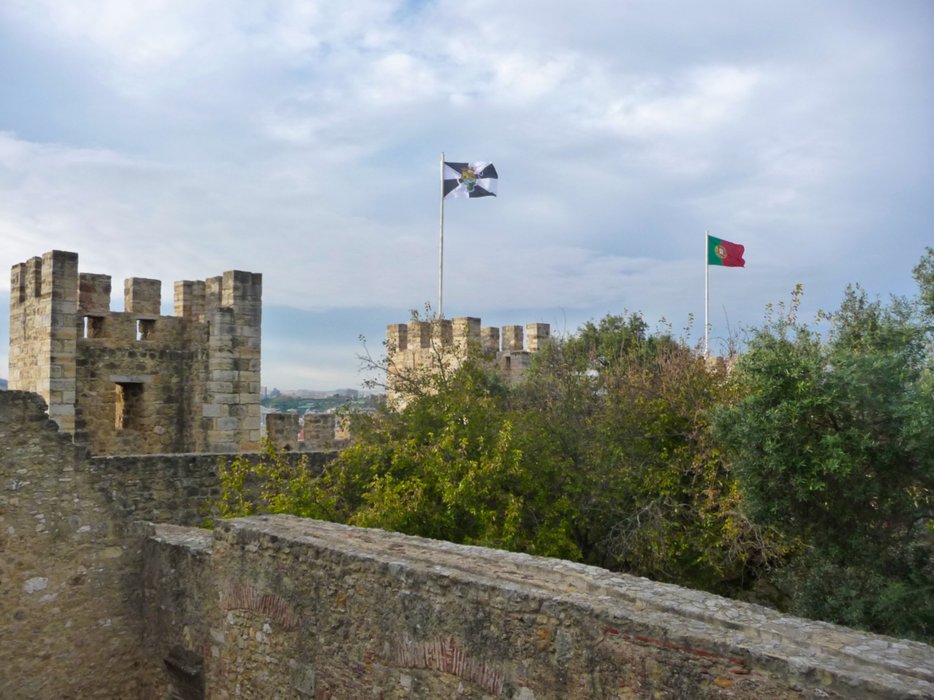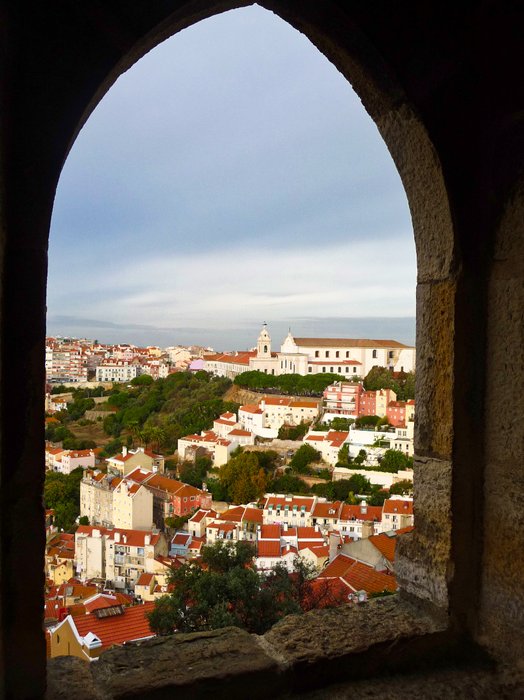 View from the castle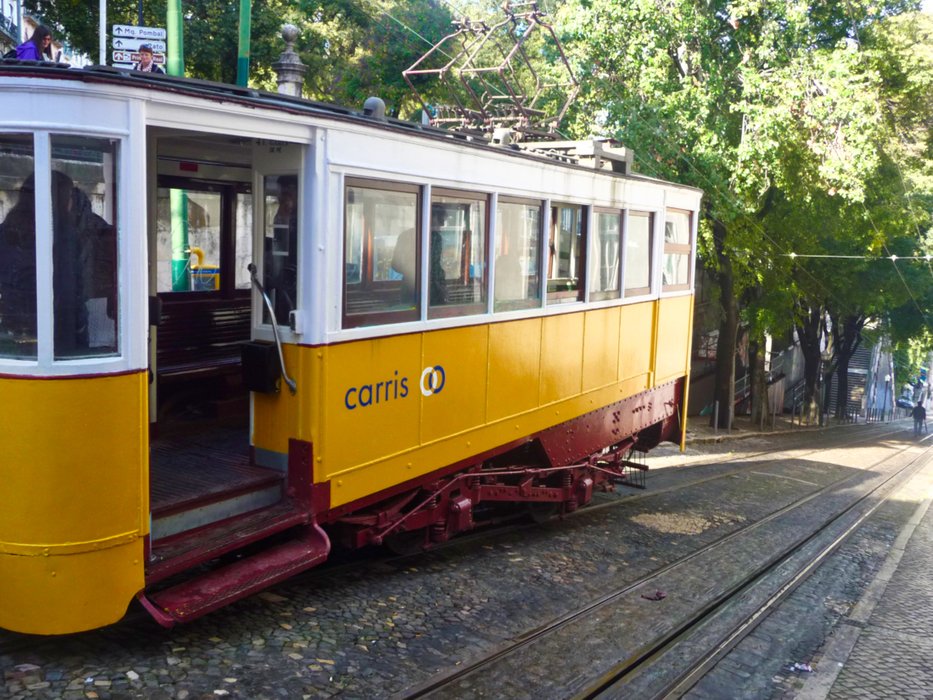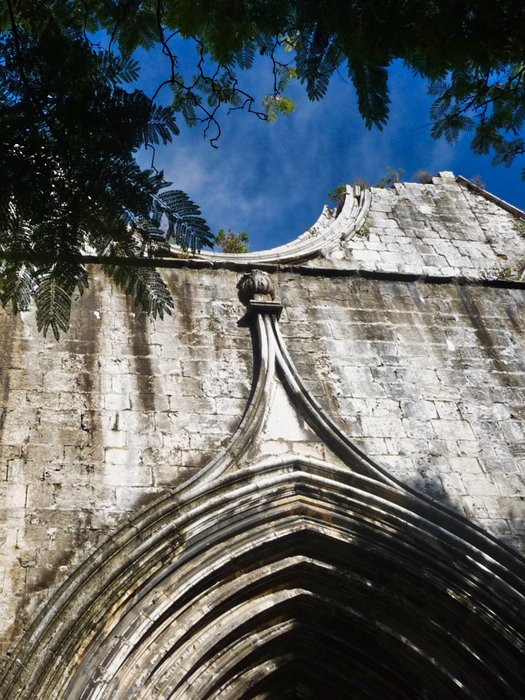 In case you are like me, and get angry when you run into another hill to climb (what was I thinking, visiting the City of 7 hills?), Lisbon has found a solution for you. It is the amazing yellow/orange tram. Unfortunately, the queues can be huge (especially for touristy trams) and walking might just be faster. But I have never seen trams be able to do such steep hills.
On top of those hills, on the Chiado side, you will find the Carmo Convent. This is a former Catholic convent that was destroyed by the earthquake. I couldn't find the information, but I think it was mostly destroyed by the fires that were a result of the many burning candles that were tipped over that day. The ruins of this convent are an amazingly beautiful reminder of the disaster that defined so much of present Lisbon.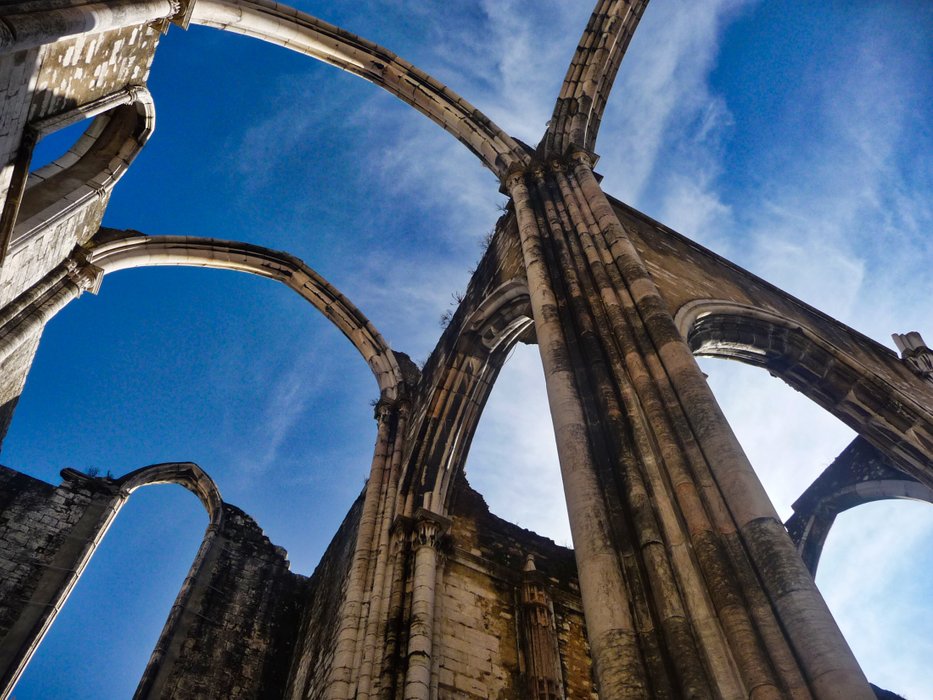 Carmo Convent
Who put Belém in the middle of nowhere?
My trip to Lisbon was coming to an end. But not before I paid Belém a visit. I think I liked this area most for it's amazing buildings. But also hated it for having such terrible infrastructure to visit them. I had to walk along a boring highway to get to the beautiful Belém Tower.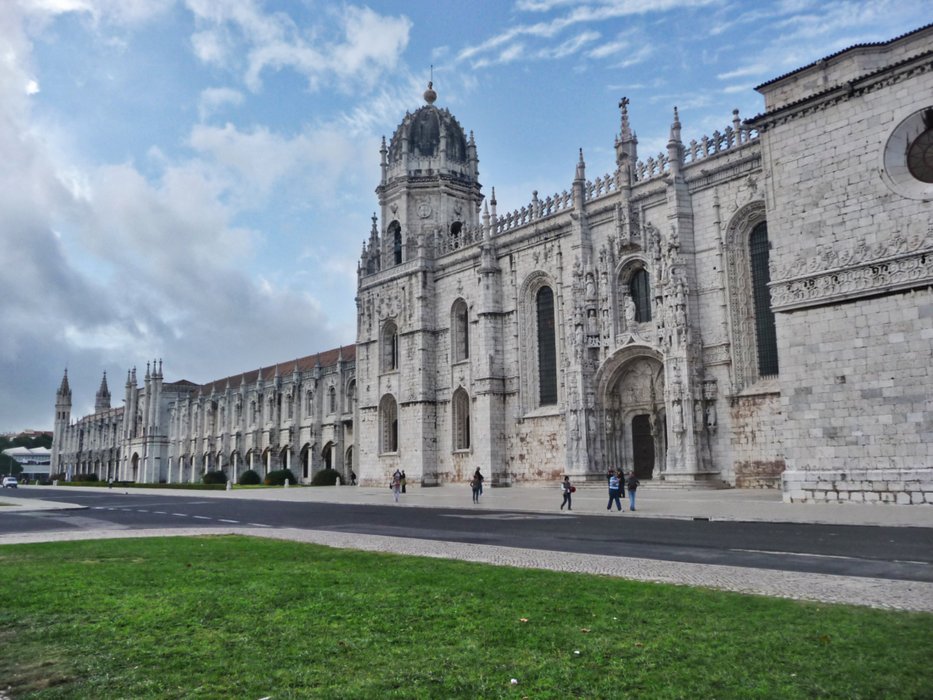 Jeronimos Monastery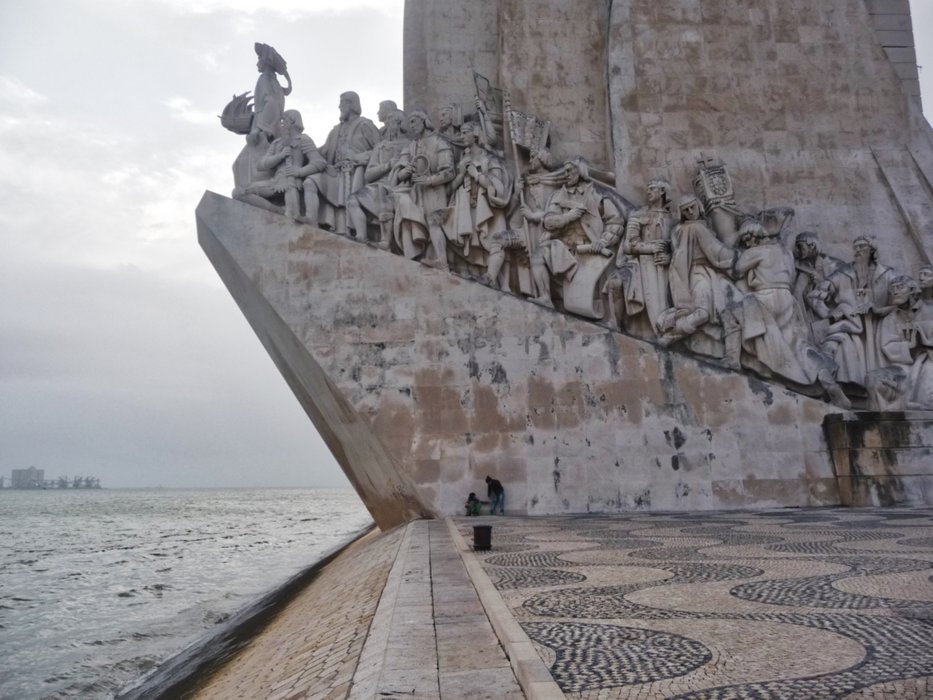 Padrao dos Descobrimentos
The theme of Belém is linked to the water surrounding it. The monument to the discoveries (Padrão dos Descobrimentos) celebrates the impressive history of discoveries with statues of explorers like Vasco da Gama.
The Belém Tower had a defensive and ceremonial role in that time. It was originally build in the middle of the river, but the earthquake changed the river so much that it is now close to the shore of Lisbon. And now you can cross a small bridge to pay it a visit. If you are claustrophobic, just be warned. The staircases are super narrow and steep. But I survived, so you will too 😉.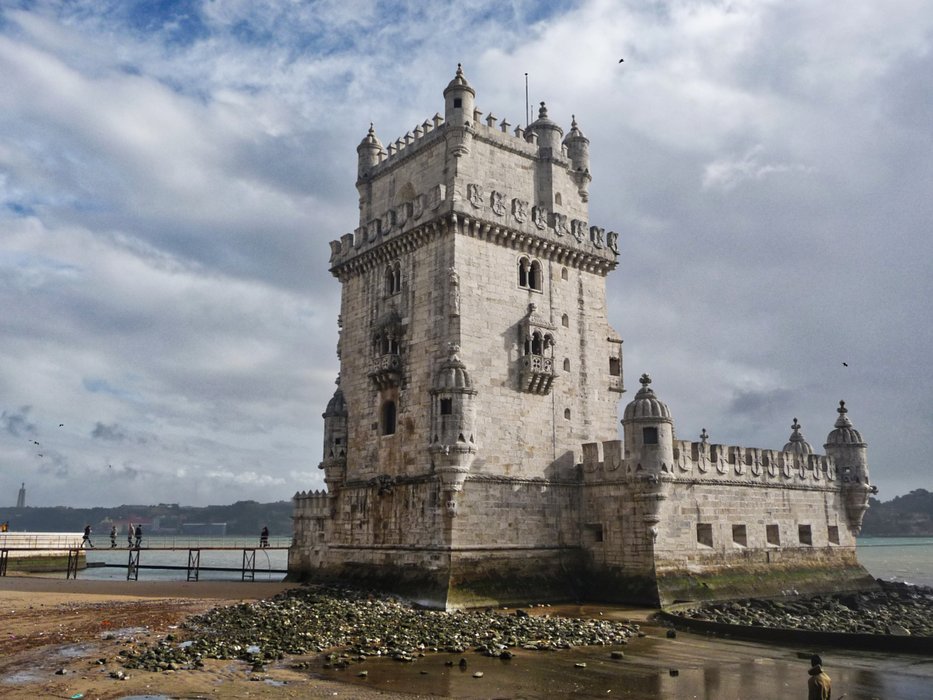 Belém Tower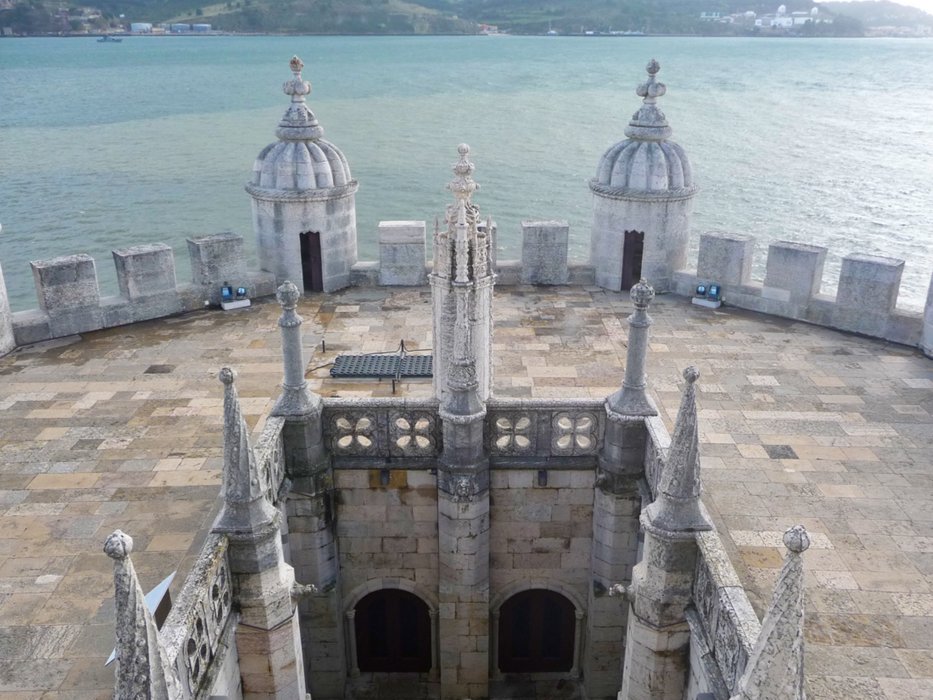 ---
And then this trip came to an end and I was happy to return home...
Lisbon, I have mixed feelings about you. The months after my visit I said to myself I would never return. I didn't like the vibe. But every time I looked at the photos I thought you look beautiful. So I have to agree, I think I have slowly changed my mind. I will be back, one day. But first, there are some other cities I'd like to see!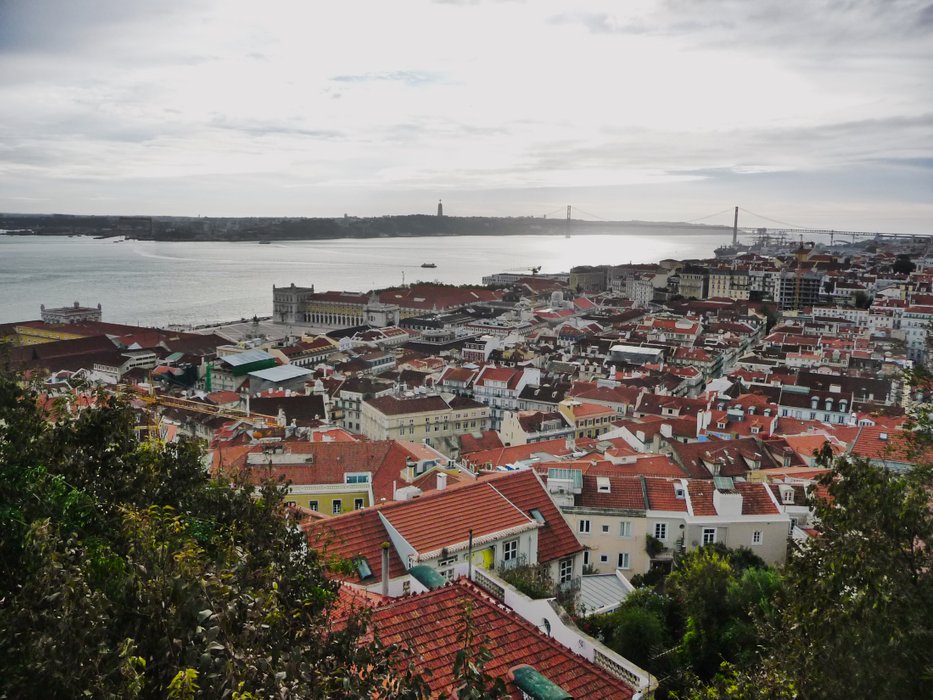 Also in this series: