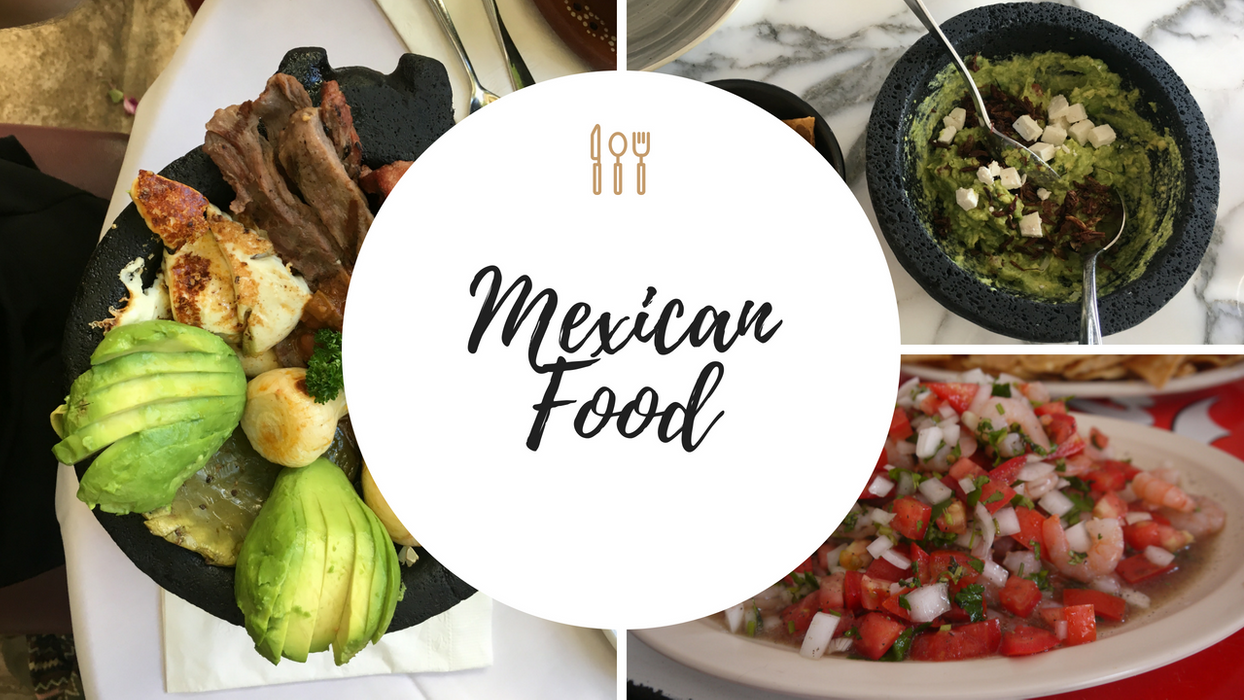 A big part of Mexico's magic undeniably lies in its food, with its incredible range of tasty and amazing dishes, although most of them are not exactly what you'd call healthy. Mexican cuisine relies on a lot of different influences, from the obvious ones (prehispanic and Spanish) to the rather surprising (Lebanese, really?), which gives way to a variety of textures and flavours quite worth the trip in and on itself. The good news is you don't have to go to a fancy restaurant to enjoy the diversity of its food with food stalls, or puestos, being literally all over the place in any city and town. They're usually cheap, good, welcoming and while they might be pretty lacking when it comes to using the freshest of ingredients, they will most definitely add an atmospheric touch to your meal and a local one on top of that. However, it doesn't mean you cannot indulge in the nice setting of a cool restaurant every now and then, especially since you won't find everything you'd like to try in street puestos after you've tried all shades of tacos and quesadillas. Trust me, I've been there before…
After travelling twice to Mexico, I wouldn't pretend I have become an expert in Mexican cuisine but I can at least claim to know a little something about the matter so here's my two cents about some of the nicest food I've had and the few gems I've encountered during my trips.
Guacamole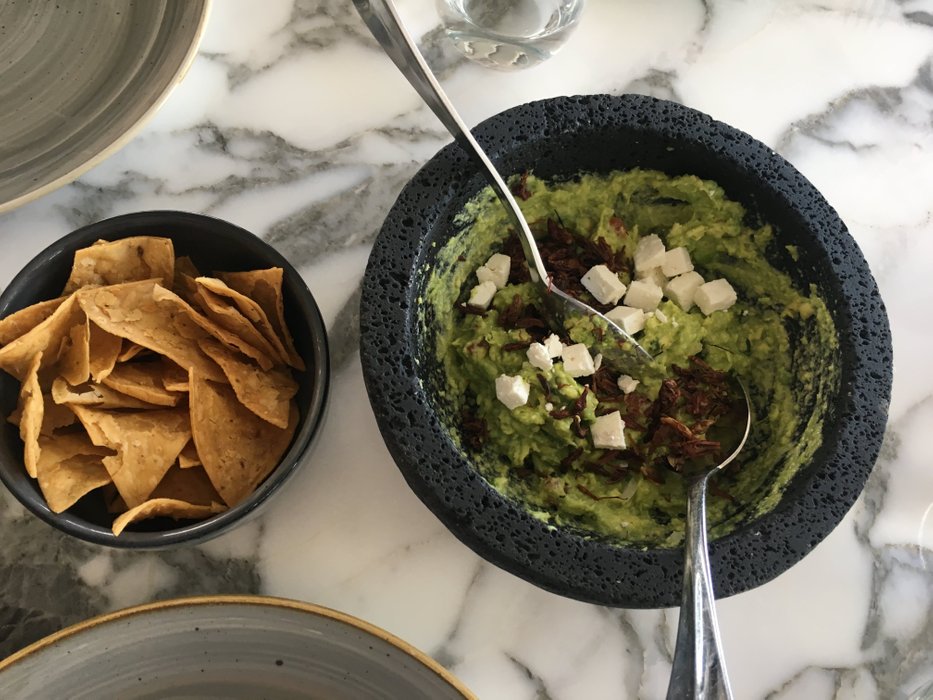 From a foreign standpoint, guacamole is the epitome of Mexican food to the point that it could almost be synonym of it. It comes in every shape and form and will most likely taste as good everytime and everywhere you eat it, since the raw product will invariably be perfectly fresh and tasty, but there's one place in particular that pays a fine tribute to it. El Balcon del Zocalo lies in the heart of Mexico City and what makes it stand from the rest is its rooftop terrace overlooking the zocalo, aka the biggest and most majestic place in the country and perhaps in all Latin America. While the Balcon del Zocalo belongs to a hotel, and that isn't always proof of quality, its cuisine is subtle and its guacamole one of the best I've tried, cooked right in front of your eyes with all the right amount of everything, from fresh herbs to perfectly ripe avocado, and of course a few drops of lime and some chapulines (insects) to top it all, served in a typical molcajete. It doesn't get any better than to lick your finger dripping with some fine guacamole while looking over the city, does it?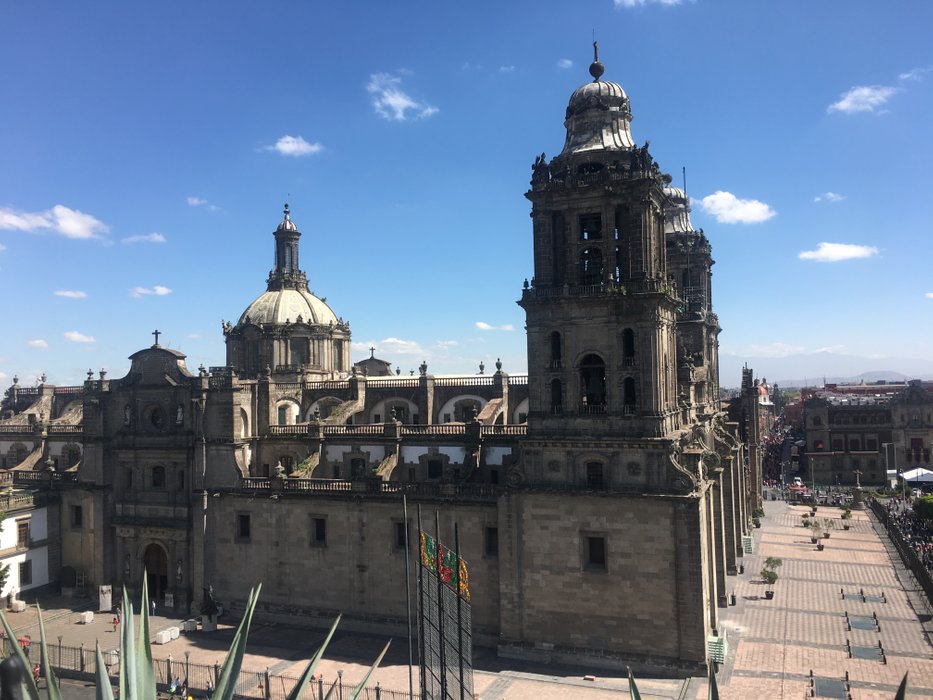 Ceviche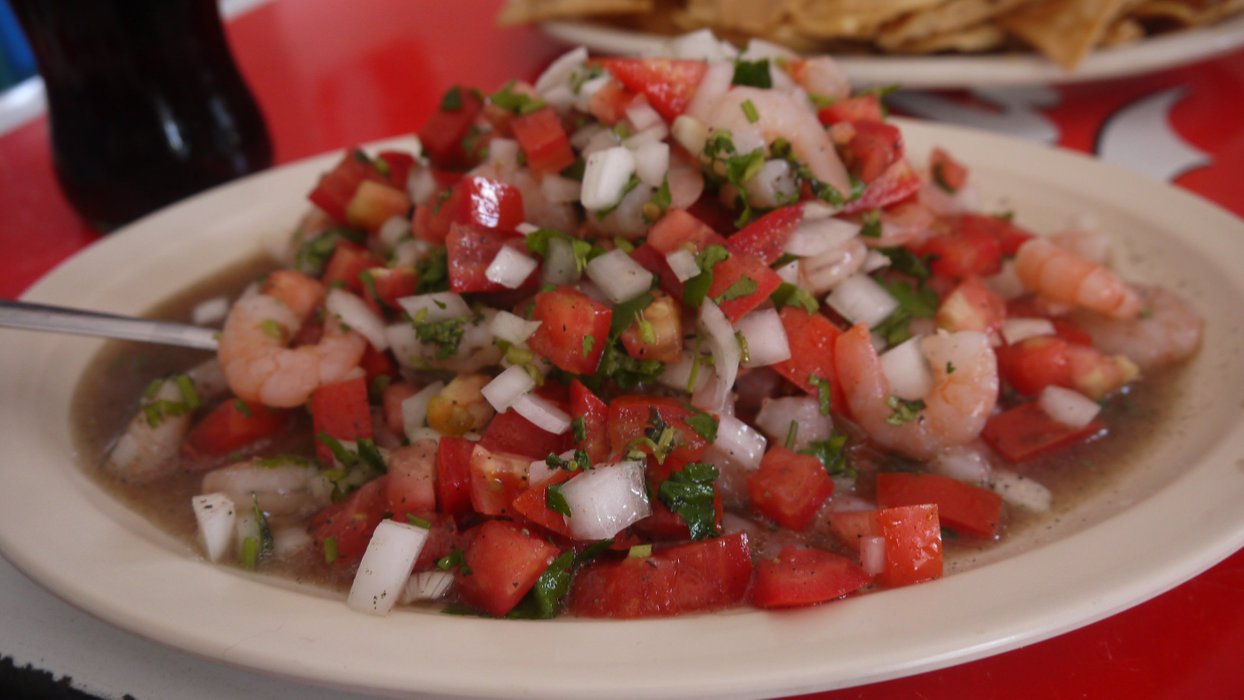 Ceviche comes second to none to me in terms of the best food Mexico has to offer. Sure, this seafood recipe didn't originate in Mexico but the version you can find here does not have much to do with the one you'll find in Peru. Long story short, ceviche are usually made of raw white fish marinated in lime and topped with tomatoes, cebolla (local onion) and cilantro (coriander). The result is a slightly cooked fish bursting with flavour and, yes, pretty spicy, but it shouldn't stop anyone from enjoying it to the fullest. If you wanna get some really fresh seafood in a laid-back environment, head to the Fish Fritanga in Cancun. I hear you already but even if Cancun is not high on your list of places to go when in Mexico, it will be your gateway to Yucatan anyway so why not make the most of it. Imagine dipping some fine pieces of doritos into a mountain of fresh ceviche with an eye on the laguna in front of you instead of heading straight for the highway to get away as fast as possible, doesn't that sound inviting? On the plus side, it's also a place surrounded by locals and you won't find many of them within the zona hotelera in Cancun so they can't all be mistaken.
Aguachile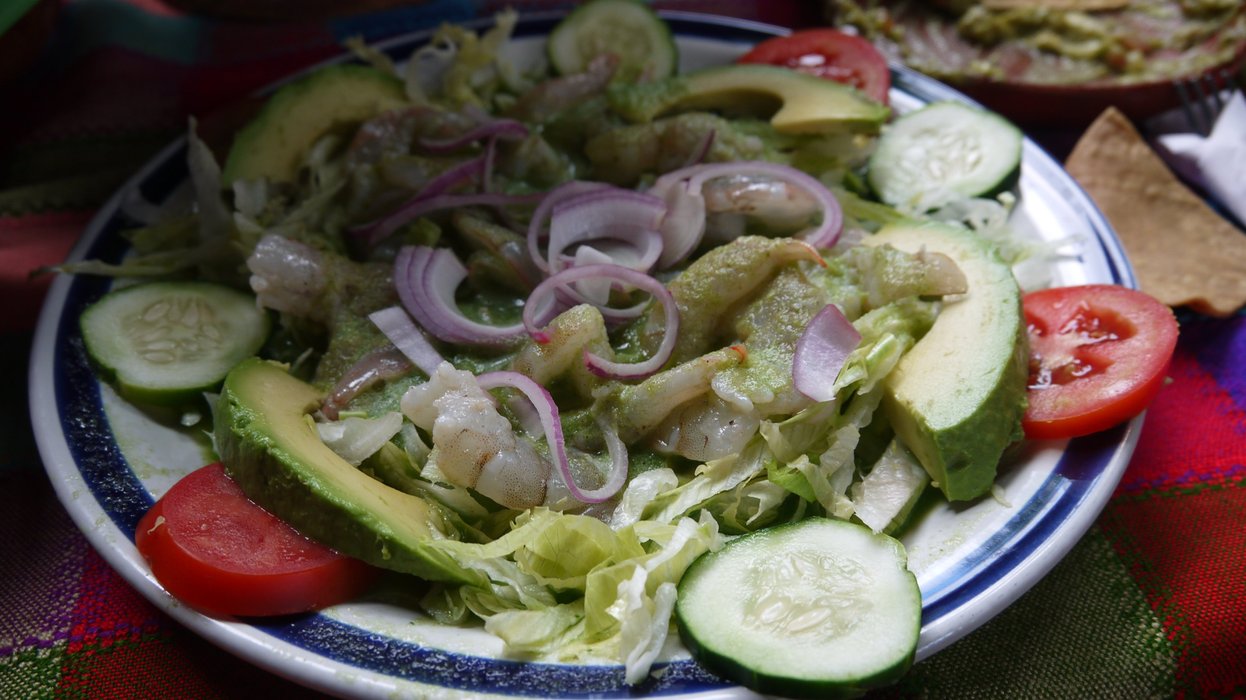 You could say aguachile is part 2 of Mexican style ceviche as the concept is more or less the same but the way it is cooked is different enough to make it stand from your usual ceviche de pescado. The classic version comes with shrimp, cucumber, red onion, lime and chillies blended with water and what makes it apart from the other ceviches is the fact that aguachiles are served right of the bat, unlike ceviche which needs to be marinated for several minutes and give that special texture to the fish, half-raw and half-cooked. If you can't eat anything remotely raw, that won't be your dish of choice and if you can't handle spiciness either, but all shrimp lovers should give it a try at least once for a very aromatic experience. You'll find the freshest versions of aguachiles along the coastline on the Riviera Maya, obviously, but you can also pay a visit to the Casa Fuerte in Tlaquepaque, near Guadalajara. Their aguachile is good value for money and very tasty, and you can even delve into your comfy leather armchair and listen to mariachis while sipping an orange, lime and rhum flavour-packed cocktail if that's your thing.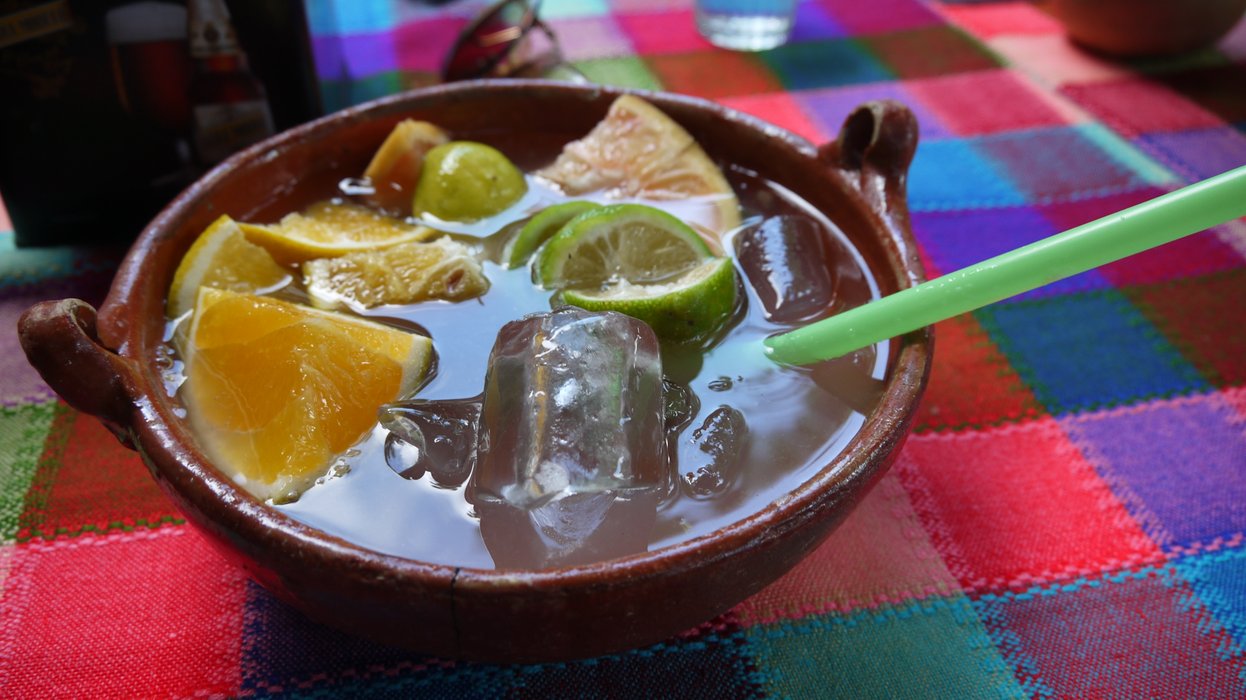 Tacos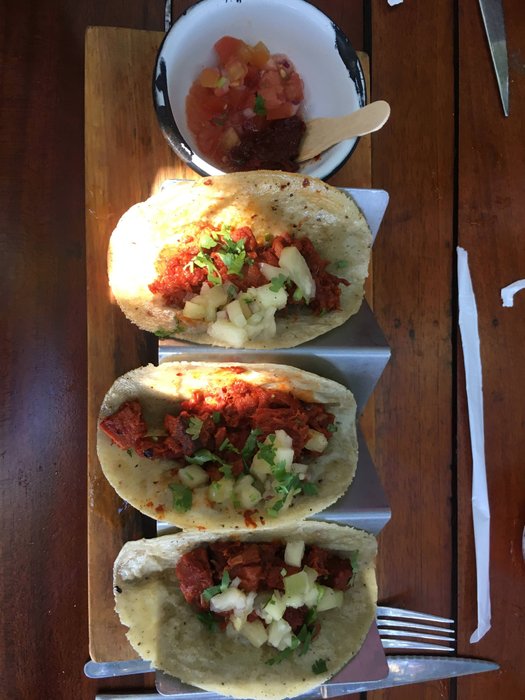 Everywhere you look, tacos. Everywhere you go, tacos. They are the staple of Mexican food, the one dish you can never get tired of and for good reason, as you'll discover endless possibilities waiting for you to push back your limits and try them all. There will be tacos al pastor, with pineapple and meat marinated in spice reminiscent of the shawarma, there will be tacos de cochinita pibil, with red onion and delicious, tender pork, there will be tacos de res or tacos de cabeza, pushing your boundaries even further as you delve into the guilty pleasure of eating the roasted head of a pork that tastes like heaven. Taquerias and puestos are the number one places to go to get some real Mexican taco experience but regular restaurants also offer some fine taco combinations, which are usually a bit more sophisticated. Check La Playita in Bacalar for some of the best fish tacos you can get and above all, some of the best view of the Bacalar Lagoon with its 7 shades of blue glowing under the sunshine. The restaurant is conveniently located on the shore of the lagoon and is really cosy, as shown by the rainbow-coloured swing chairs sluggishly swaying on all sides of the pier as well as the lush trees scattered around the restaurant's courtyard, providing enough shade for a comfortable afternoon nap.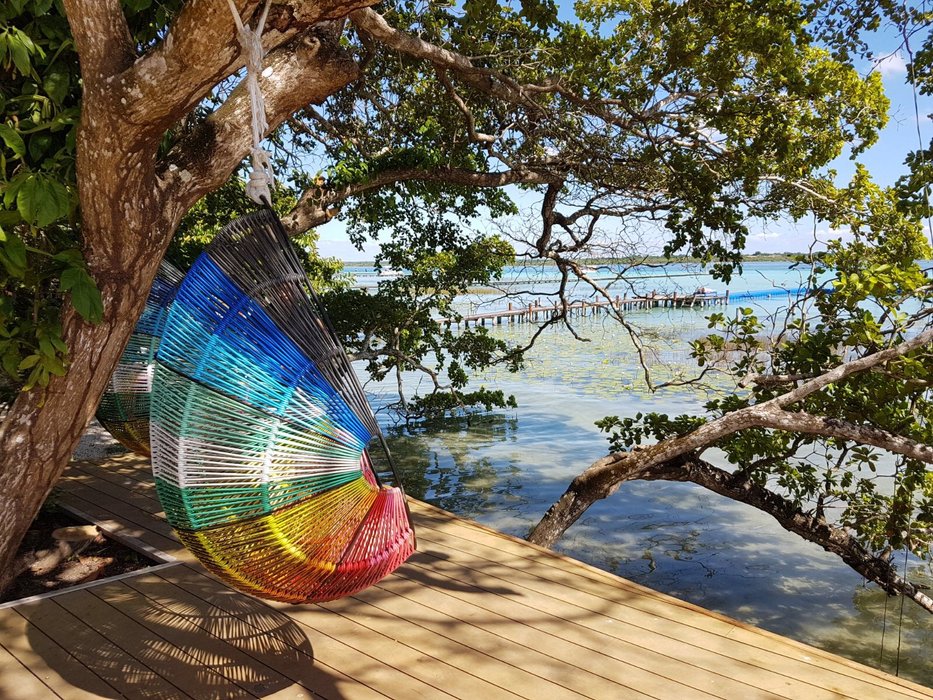 Enchiladas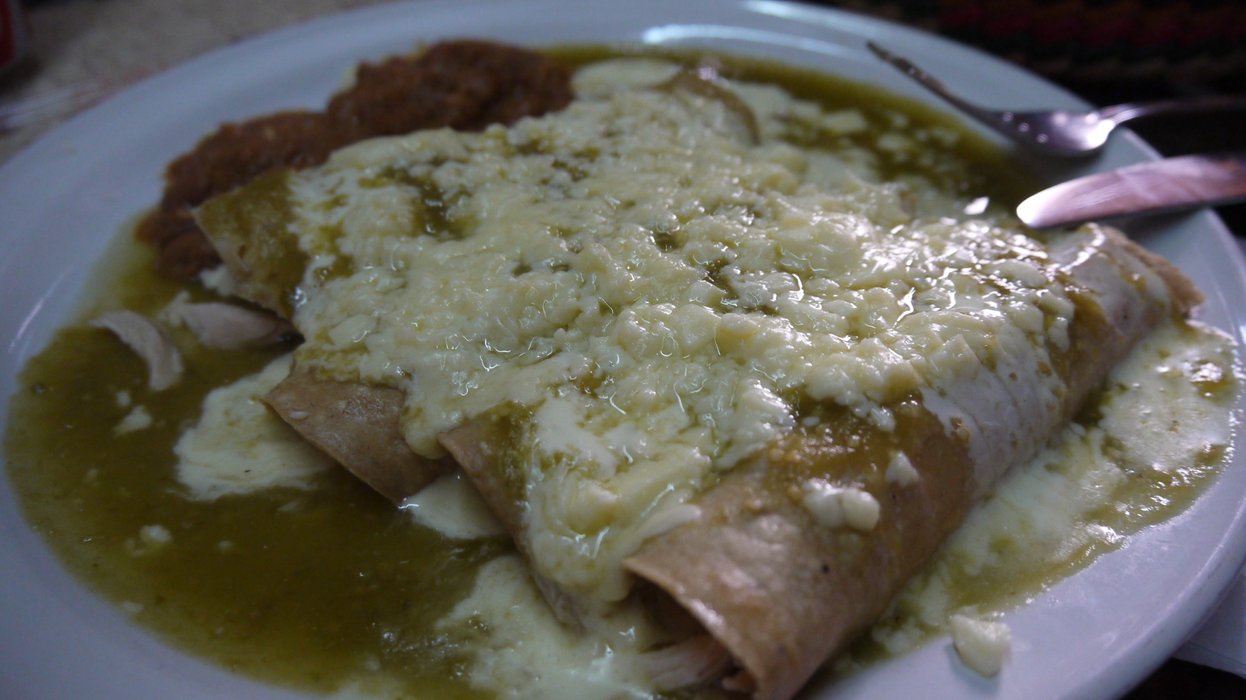 Here giving some credit to my second favourite Mexican food, which is truly Mexican this time around. Enchiladas can be verde or roja but their composition does not change otherwise: corn tortillas filled with chicken and then buried under a thick layer of hearty sauce and cheese. It sounds simple and it pretty much is but who said simple couldn't taste the best? Enchiladas sure do and they also can be declined in enfrijoladas for beans lovers and in enmoladas for mole aficionados. Although enchiladas can be found almost anywhere and rarely vary in taste, you can check up El Chahuistle in Guanajuato for their mouth-watering enchiladas verdes located next to a really cute plaza, named the Plaza de los Santos. You'll get a very genuine vibe about this place in which locals, and university students most of all, tend to gather for some enchilada feast. It's nothing too fancy but the place has a nice feel to it.
Mole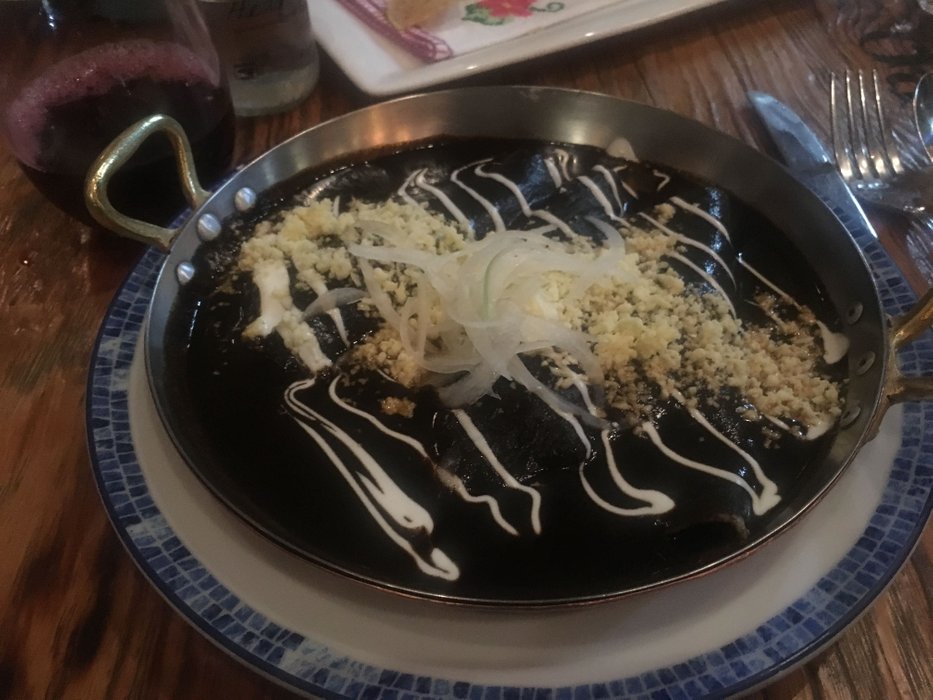 Among all the amazing food Mexico brings on the table, mole comes closest to be considered as Mexico's national dish although it doesn't refer to one particular recipe but to many throughout the country. Being strongly influenced by indigenous cooking and ingredients as well as European heritage brought by the conquistadores, this dish is quintessentially Mexican and it might not be love at first taste as its flavour can be a bit unsettling at first, but give it time and it will grow on you. Mole's core ingredients tend to remain the same nonetheless and it is usually composed of chilli peppers, chocolate and a variety of spices, including cinnamon and cumin. Mexico's most prominent type of mole is mole poblano, which originated from the city of Puebla, and has a distinctive dark colour. If you aren't able to visit Puebla during your stay, try and check the Azul Historico restaurant in Mexico DF which serves a very flavoursome chicken with mole poblano at a fair price. The setting of the restaurant adds to the charm as you will be seated inside a courtyard illuminated by light bulbs hanging from trees and your food will be presented in great-looking white and blue plates. If you can, climb to the top of the Downtown hotel just up the stairs for a perfect view on the city and a posh cocktail if you're in the mood. Mole oaxaqueno comes a close second to its counterpart as the whole Oaxaca region has been called the land of the 7 moles. You can put them all to the test within the city itself by exploring the aisles of its biggest market, el Mercado 20 de Noviembre, in which you'll also find every kind of Oaxaqueno cheese and some fat chapulines for a snack.
Molcajete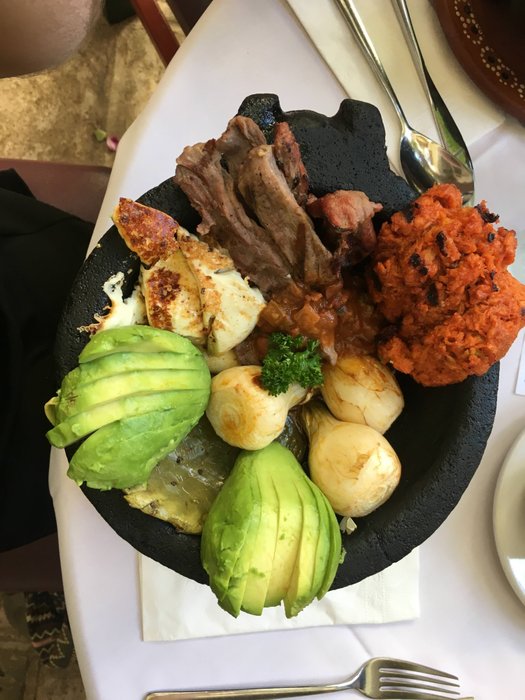 Molcajete isn't the name of a dish in and on itself but rather a typically Mexican stone tool equivalent to the mortar that is instrumental to many recipes, including the aforementioned guacamole. Dating back from ancient Mesoamerican cultures, it has made its way to Mexico's current cuisine in which it is mostly used to grind spices. There are some restaurants that have found other purposes for this special instrument though, notably the Hosteria del Marques in Valladolid. Again, this one belongs to a hotel but the range and variety of Yucatecan food offered on the menu well deserves a stop and especially its heart-warming version of the molcajete. Put together spicy Mexican chorizo, beef briskets a la shawarma, grilled cheese, chewy nopal and all its nutritional benefits, ripe avocado and you'll get a filling, rewarding version of Mexican comfort food with an unusual blend of flavours.

Signed
Clémentine

Tell us your favorite Mexican food and if you have pictures, post them in the comments ^^ 🍽
---

---
Check our other posts
We try our best to bring quality content. All feedback is welcome so please comment on what you like and dislike so we can get better :)