It appears I have forgotten to post the 8th update and skip straight to 9. (See links at the bottom)
Trip Summary
We've arrived in Kyrgyzstan's city Osh (Ош) after visiting two big lakes and four high passes. The road has been very bumpy but we made it on August 14th after cycling a further 1250 km.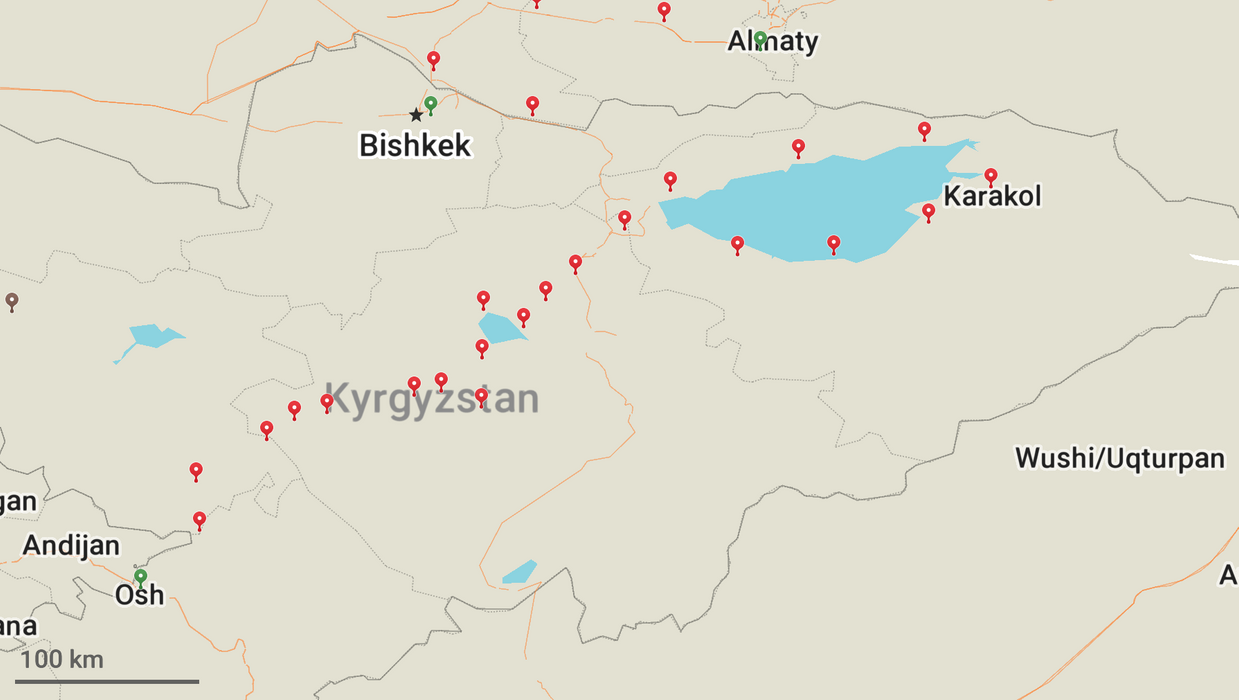 A worthwhile excursion to the lakes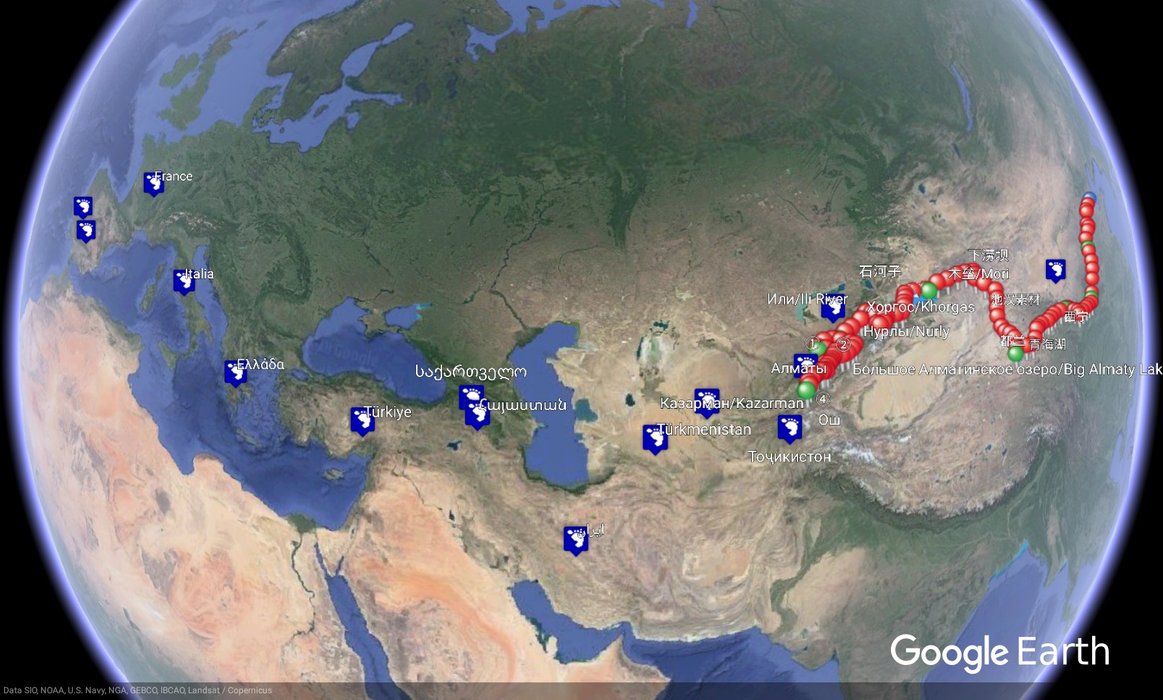 Issyk-Kul vs Son-Kul: which is "kul-er"
Issyk-Kul is a massive salt water lake with resorts scattered around but still plenty of places to camp. Son-Kul is much higher up (3000 m) and is a fresh water lake with communities living in yurts scattered around. Issyk-Kul had decent road all around with plenty of fruit trees on the side, whereas around Son-Kul we were completely off-road and cycling through barely marked grass and fording rivers all the time. At both lakes we swam to wash off, but fresh water is always nicer. Though it was immensely difficult and slow to cycle around, Son-Kul is definitely our favourite.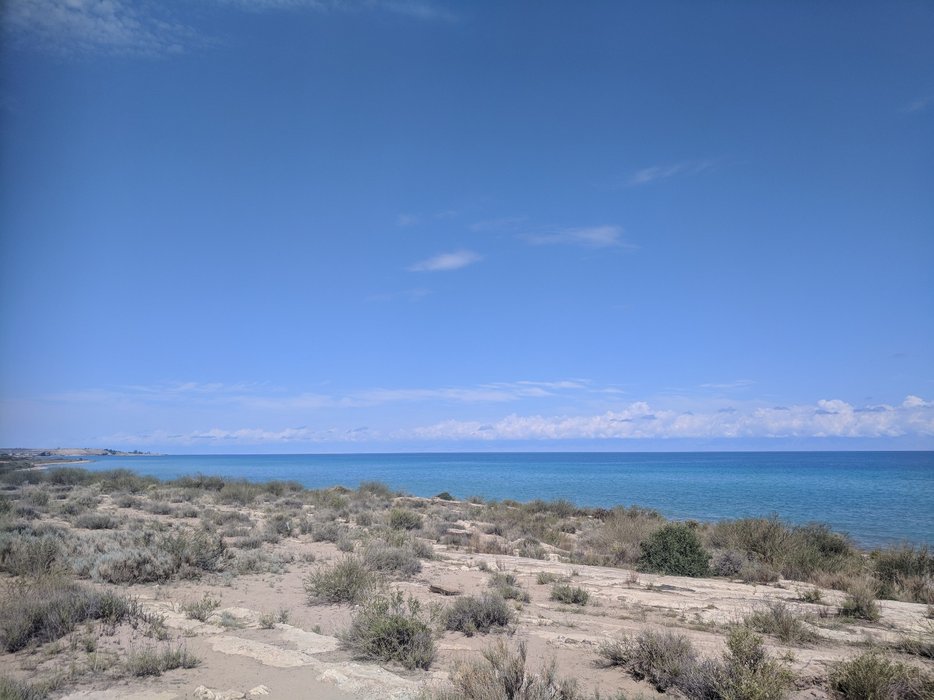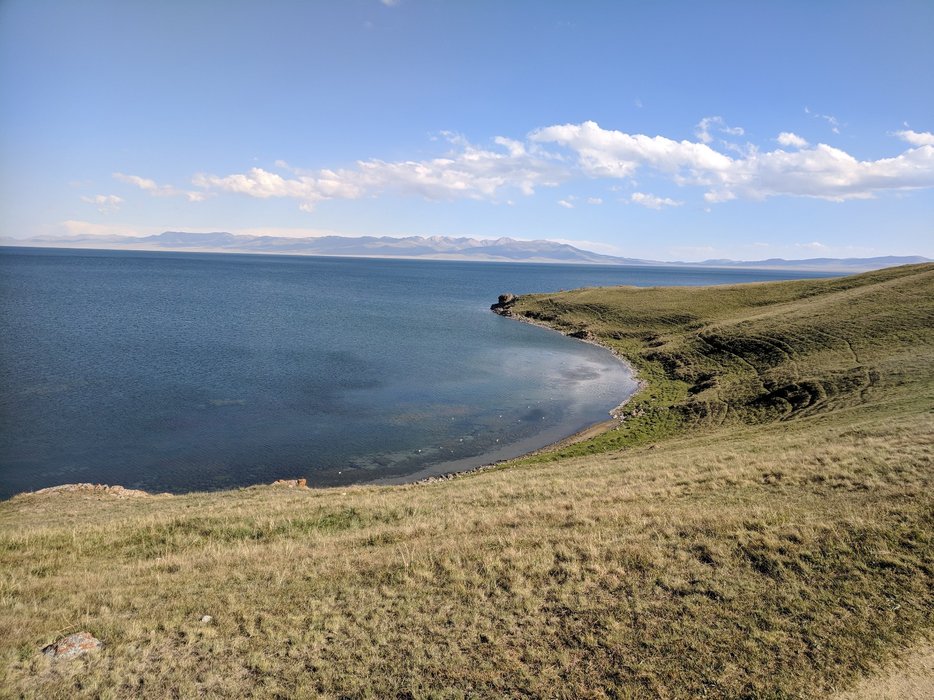 Please Sir, may I have some more?
There's children everywhere we went, and you're guaranteed to receive greetings from them. While it's nice to see happy smiling kids, we've learned that through past tourists giving them treats, they have now started begging for it. Even if we had some we couldn't give it as we need them to keep pushing forward. Needless to say we didn't give them any and replied with "don't have, sorry". This reminds us of the tipping behaviour we encountered in our previous Southeast Asia tour and the mandatory $1 tip for "stamping" our passport.
Welcome to Aotearoa New Zealand…maybe
Back home in New Zealand there's been a lot of talks about tourists that travel on a low budget, such as hitch hikers, tour cyclists, freedom campers, backpackers, etc. It has mostly been bad publicity like "stealing our low paying jobs — undercutting pays, or going to the toilet at public places", but that's just only the worst of the bunch. Sadly this has caught on outside of NZ, potentially making budget travelers feel unwelcome?
Why has this suddenly come up in our blog? We recently met two German cyclists planning to travel in New Zealand and they asked us…
Does New Zealanders still welcome tourists?
We said yes, of course, but that made us cringe inside at how bad we have been treating our visitors. We felt ashamed. It seems now people are thinking twice before making the trip to New Zealand as it is now deemed to not be a tourist friendly destination.
Four Passes and no A+
During this part of the trip we climbed over four passes and the journey has been difficult. Most of the time we slowly made our way on gravel road, occasionally at 12% gradient too. However, the camping spots were so wonderful, we can't believe how easy it was. We had a campfire almost every night.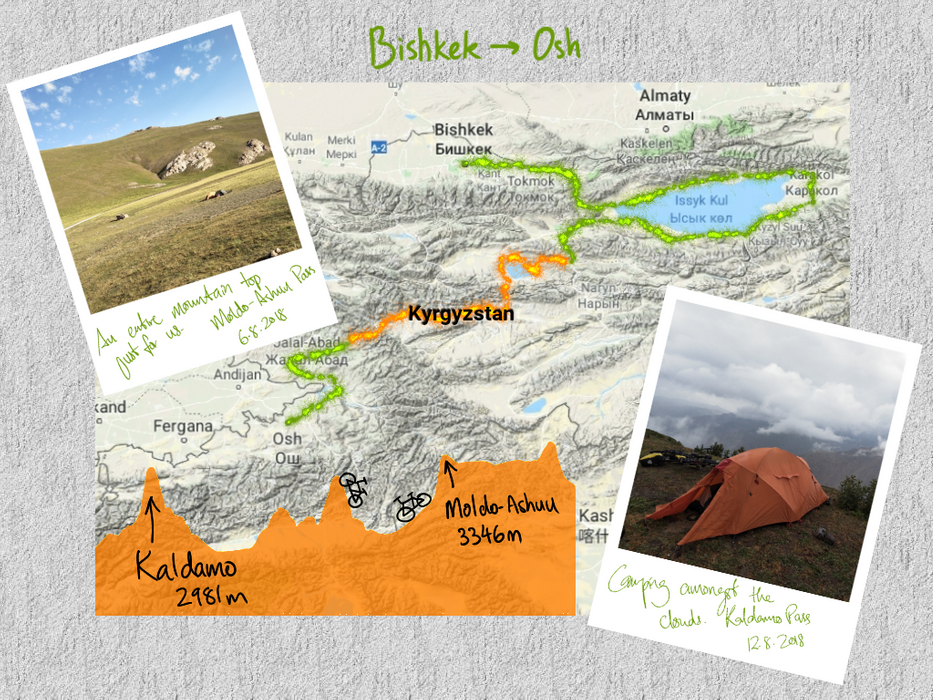 The passes were 3453m, 3346m (Moldo-Ashuu), 2762m and 2981m (Kaldamo). The view at the two named passes were so nice we decided to camp there!
Sharing with a new friend
As we left Issyk-Kul we met an Italian cyclist going from Bishkek back to Italy. Our roads were pretty similar so we've been biking together since. Together we've shared meals, information around the routes, campfire building techniques and various other skills essential to enjoying the great outdoors.
He had a few things we didn't and have decided will try to get them in Osh: a water filter, and fuel bottle and cooker. Although the cooker is not cheap, with one litre of fuel (45 som/$1 ND) you can cook for a week doing 3 meals a day, plus drinks. It'll pay off in the long run, as our tent and sleeping bags already have.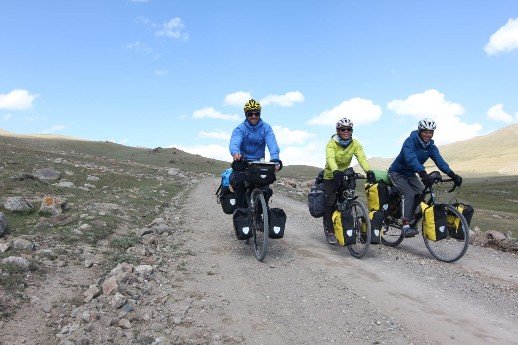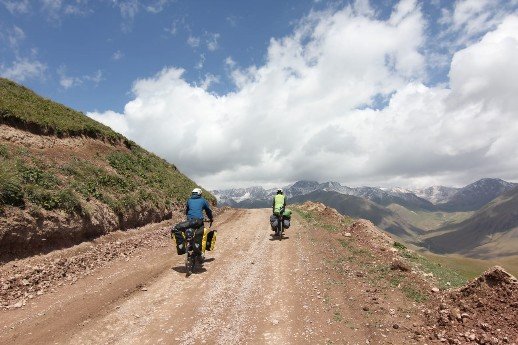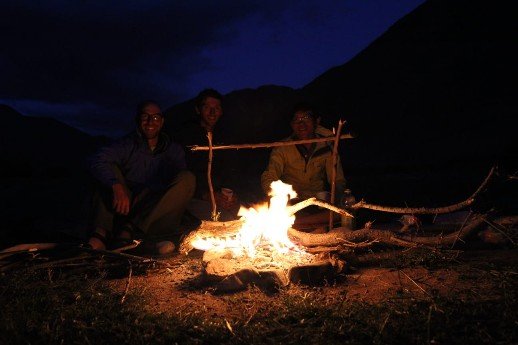 Here's your change
One time we bought some fruit and veges off a guy selling at the back of his truck and expecting 10 som (NZ 20¢) change. Instead, he treated us like good friends and gave us nectarines, more cucumbers, and a generous bunch of grapes. Normally a small change like this gets you a matchbox or some lollies.
Where to next?
We'll head towards Tajikistan and explore the renowned Pamir Highway. Fingers crossed for minimal punctures and maximum blue skies!
---
Did you enjoy reading our trip updates?
Here is a list of our updates so far on Steem. Please upvote and follow us as we continue our way through Eurasia.
(Trip Status #8: Osh this)