After traveling the south and spending some days in Hanoi, we were ready to explore the north of Vietnam as well. From Hanoi's central train station we grabbed a night train to Lao Cai. Around 250 kilometers as the crow flies from Hanoi. Lao Cai is mostly used as a hub for people who want to explore the north of Vietnam, people like us. Most famous among tourists in northern Vietnam is the Sa Pa region, a little south-east of Lao Cai. Expect a lot of tourists over there, especially during high season. So what's a good alternative with a similar outcome?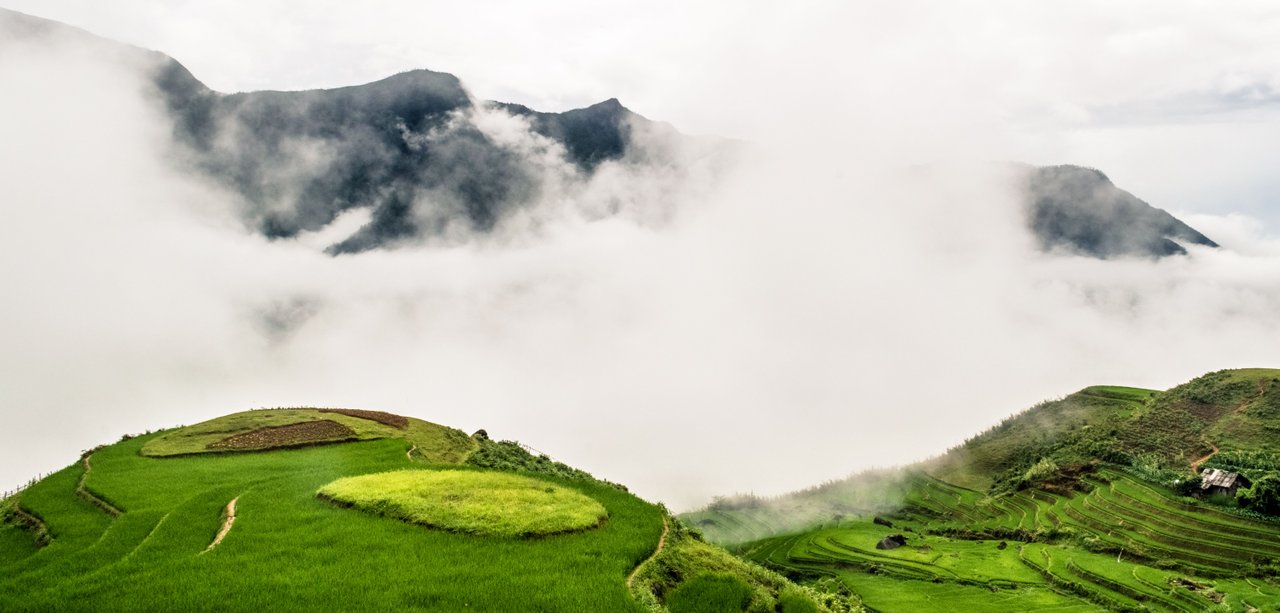 Typical Sa Pa view
Tourism has been booming in the Sa Pa region the last few years. The region is populated by different tribes, mainly Black Hmong. But also some smaller ones like Red Dzao, Tay, Giáy, and Phù Lá. Because of the presence of so many ethnic minorities the Sa Pa region is famous for, aside from the stunning scenery, its cultural diversity. However upcoming tourism has resulted in dealing with annoying sales tactics of these local hill tribes who switched from their traditional activities to fabricating and selling all kinds of handcrafts to the massive amounts of tourists that visit the area every day. Think about clothing, bracelets, wallets etc. We saw it first hand when arriving in the town of Sa Pa by minivan from Lao Cao. As soon as our minivan caught there sight, they tried to show us their goods. Friends of us visited this region back in 2008 when tourism was still at an early stage (a little bit like the Ha Giang area nowadays which is even further north in Vietnam). A huge difference with today.
We heard mixed stories about nowaday Sa Pa and decided to go a little off the beaten track and visit the town of Ta Van. 11 kilometers southeast of Sa Pa. Since the road to Ta Van leads mostly through mountains, it takes about 40 minutes to get there from Sa Pa. The taxi dropped us off as far as he could go and we walked the last part towards the homestay we booked.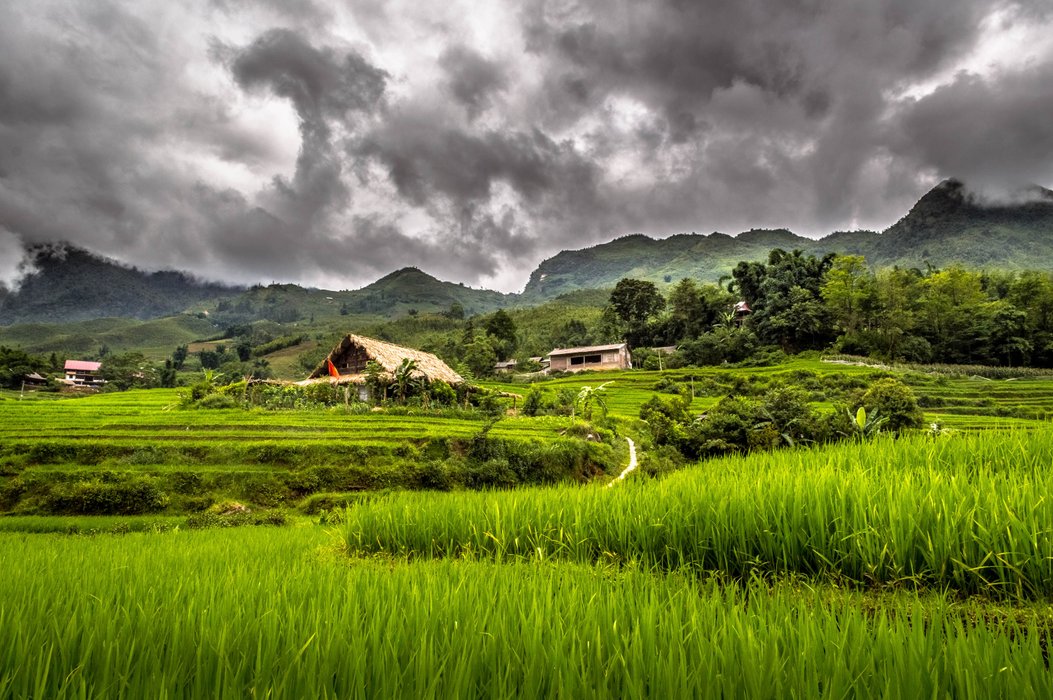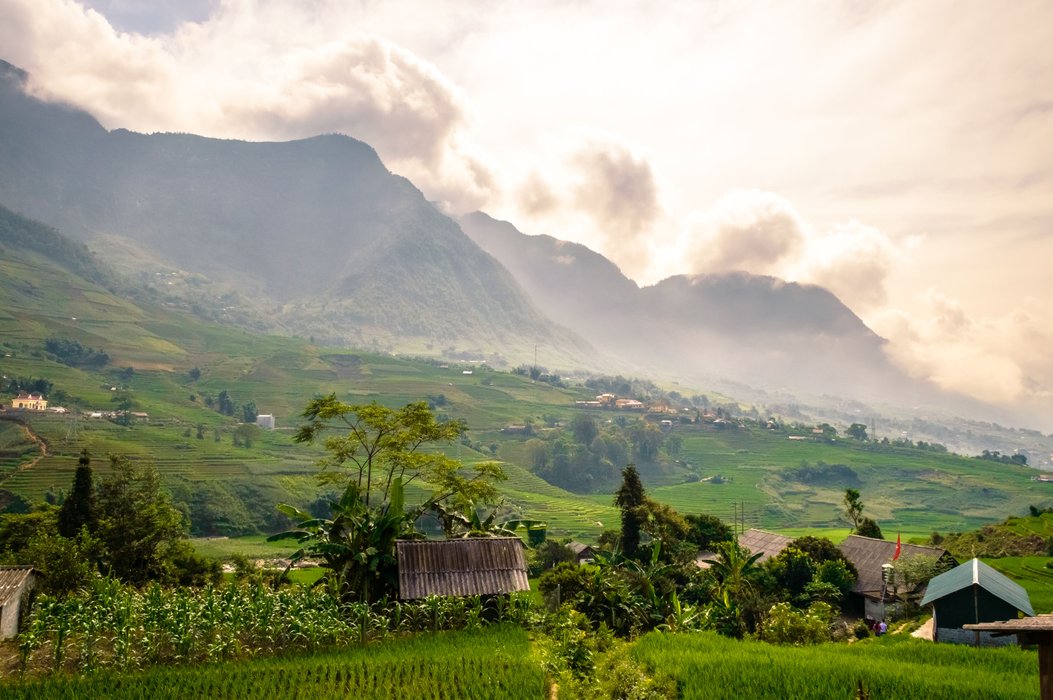 Photos of some houses in Ta Van
Ta Van is a small and peaceful village. Aside from the tourist that stay there and the tourist that walk through the village when they are hiking, there is not much going on here. So why go there?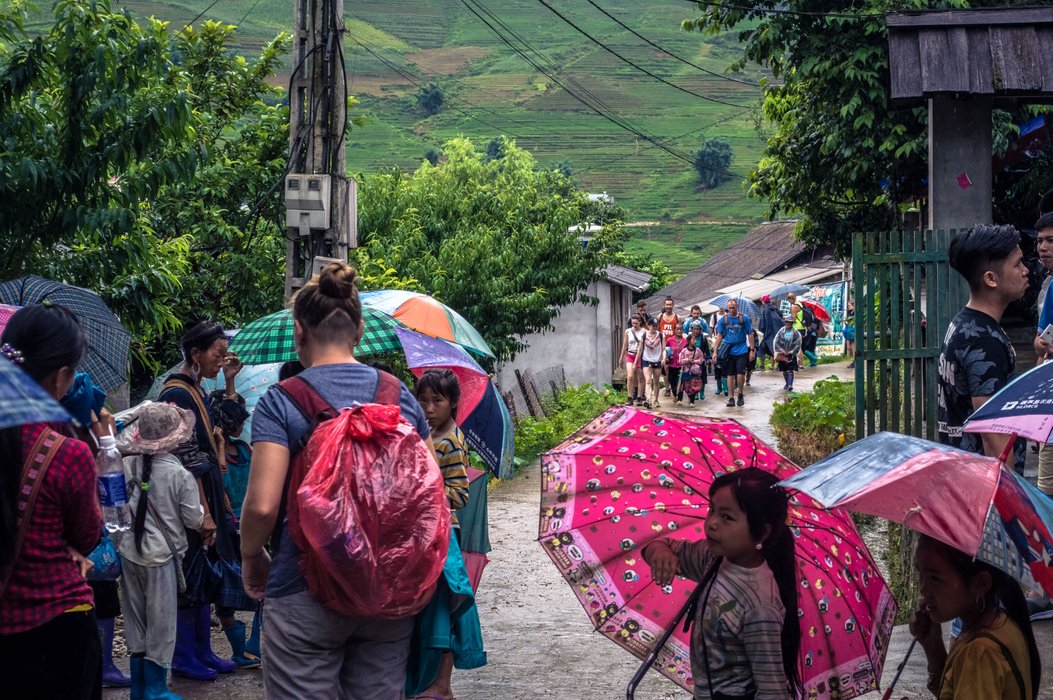 Hikers crossing Ta Van
Well firstly, the region is great if you enjoy hiking. This part of Vietnam is widely known for its panoramas with endless rice fields. Depending on which time you are visiting, either green or yellow. Another thing is the amount of cultural diversity that you will find here. With so many tribes living in this region, it's really interesting to see all the differences between them.
Hiking
We stayed in Ta Van for a few days and had a great time. On the second day, we went out for a hike. Our hostess arranged a guide for us. A woman from the Black Hmong tribe. She was carrying for a while but that did not seem to impede her in guiding us through the, sometimes quite rough, area. We started our hike in the morning and that usually meant some rain and fog (we were there in July/August) for a while. The path went uphill right from the beginning and it was quite slippery because of the rain.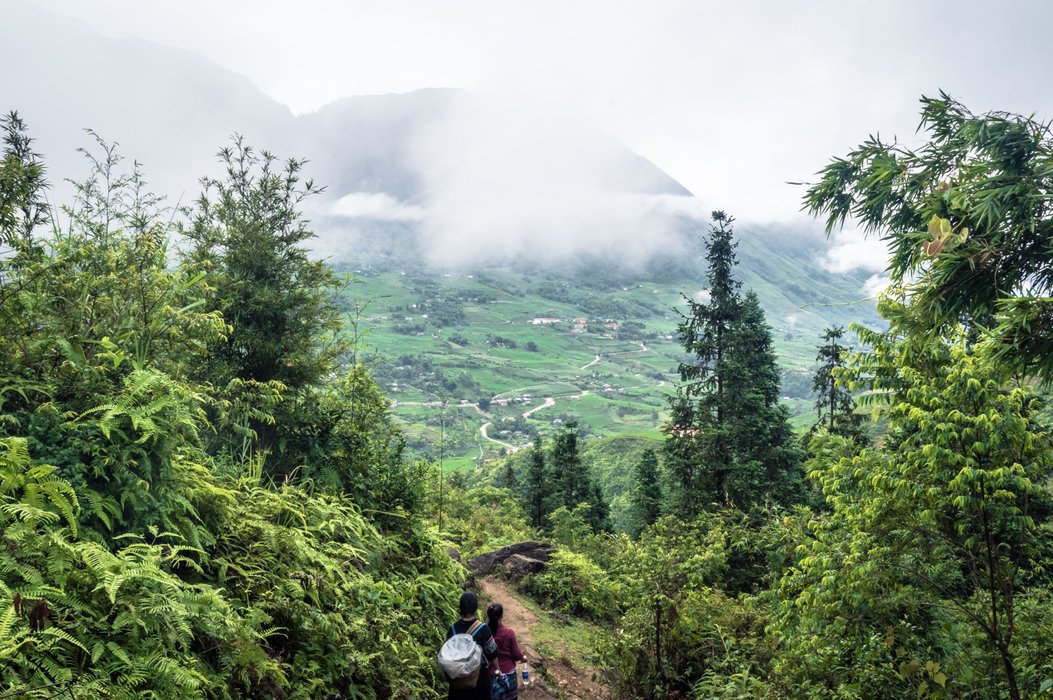 Some photos I took from the hike
After a while, it stopped raining and the fog cleared now and then so we could enjoy the view a bit. We caught some beautiful views over the valley with the rice fields, just as we expected. Our hike was about 14 kilometers long and we crossed through multiple small villages, belonging to different tribes. Most easily recognized by there characteristic clothes with bright colors and skillful handmade patterns. Our guide told us a lot about the area, how most people earn their money by growing indigo plants (which are used to make denim jeans) etc. You should definitely do some hiking if you visit this area.

Red Dzao tribe members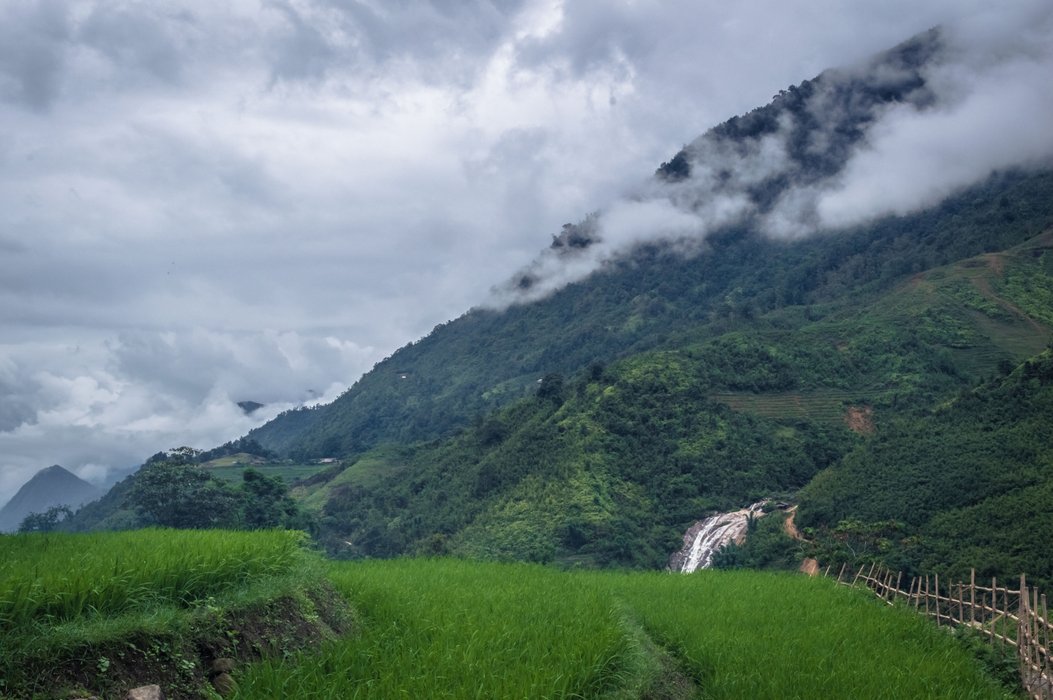 Waterfall which we also visited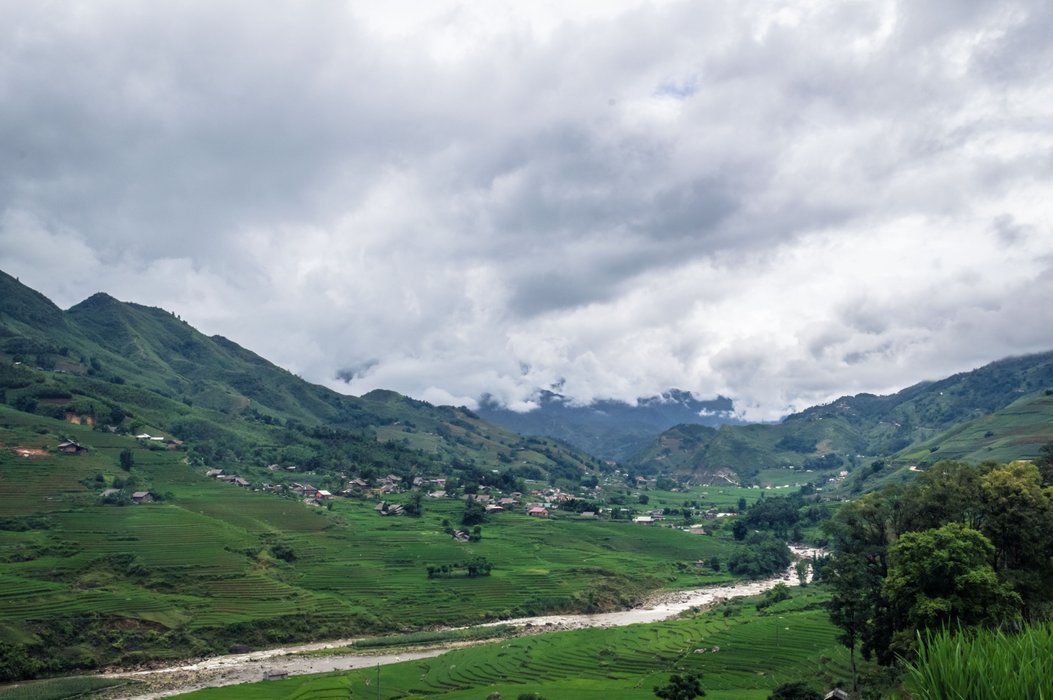 The village Ta Van
Cooking
Another thing we did was a cooking class. We always try to attend a cooking class when we are visiting another country. We both love cooking and eating so a cooking class is a perfect opportunity to get close with all the dishes we had been eating before. It was just the three of us that day and she held the course in the kitchen of her own house. We made some really nice dishes that day which we chose ourselves the night before. After the hostess was back from the market with the ingredients, we started straight away. We made:
Pho (of course)
Fresh spring rolls (of course)
Banana flower salad
Tofu with spring onions
Black rice pudding for dessert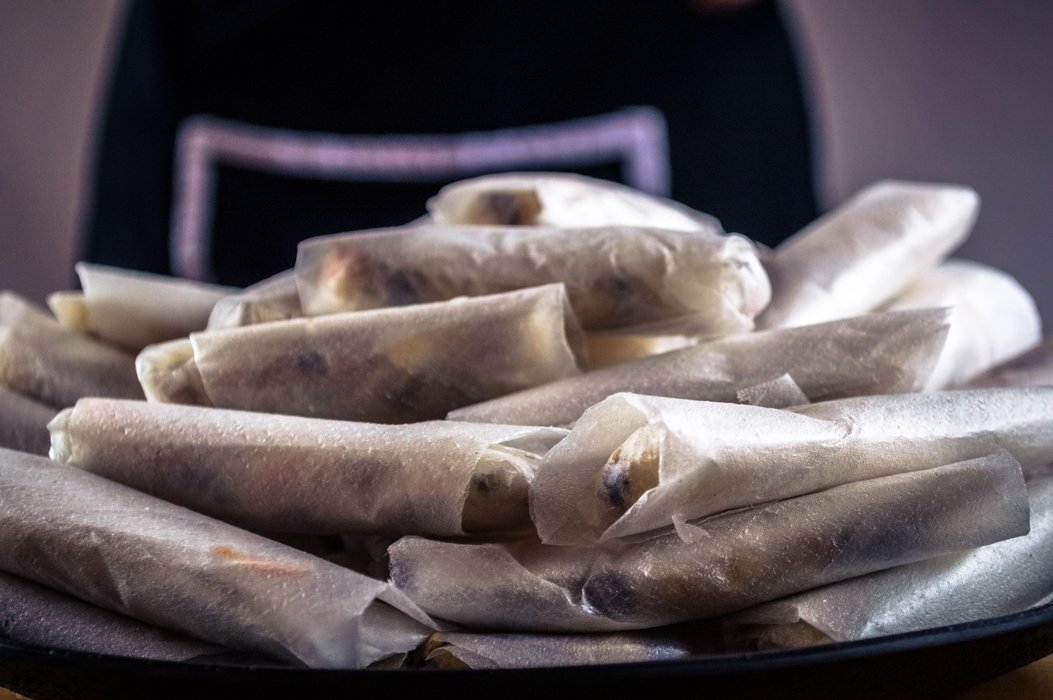 Fresh springrolls
She told us a lot about the different ways to prepare the dishes and about the ingredients that are used because it can vary per region how it's prepared. After we made all these dishes, we prepared the table outside on the veranda and had them as a delicious meal! Of course, we made too much so we wrapped up the leftovers and saved them for dinner later that day. The homestay offered family dinners every evening for which you can apply. So we got to share our attempts with the rest and they turned out to be pretty good. We left the course with our own cookbook so that we could make the dishes back at home (if we can find the right ingredients).

Banana flower salad

The spring rolls and the tofu with spring onions
So why should you visit Ta Van? Although sellers will find you in Ta Van as well, it's less crowded than in Sa Pa and the surroundings are the same. It's a great place to stay for a few days, do some hiking, attend a cooking class. We had a lot of fun for sure. I'm going to call it a night here and leave you with some photos I took of some Ta Van inhabitants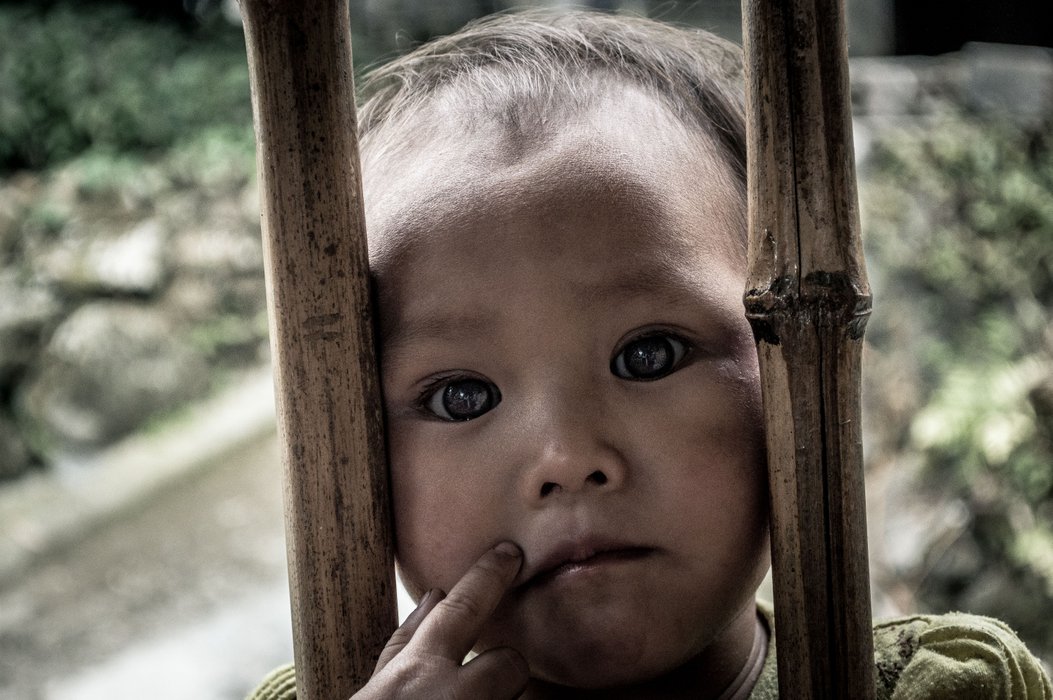 ---
If you enjoy my work, please consider upvoting/ resteeming it and follow me for more travel blogs around the world. Also, check out my Steepshot account for regular photo updates!

---
Similar posts that you may like: