These clan jetties of Penang were never tourist attractions before... they were just places where people lived. And they settled there years ago, and their ancestors more than a century ago!
And suddenly today when photographs have become collectibles, and most sought after by tourists in this instagram age, they have suddenly become locations for photo shoots, be they for fashion spreads, weddings or just selfies with the sunset...
These water villages lie along the Weld Quay on the eastern coastline of the capital city of Georgetown. Close to the port, they were where the Chinese port workers settled within their respective clans ~ hence the name, Clan Jetties.
And this shall serve as my #WednesdayWalk for @tattoodjay


---
The homes lie on the right and left of the wooden walkway that extends out to sea
---
Found at the start of the wooden walkway
No idea if these had any special meaning or just for decorative purposes
I was especially intrigued by the wheel-like imprints on the cement
---
Sea-themed guardrail
---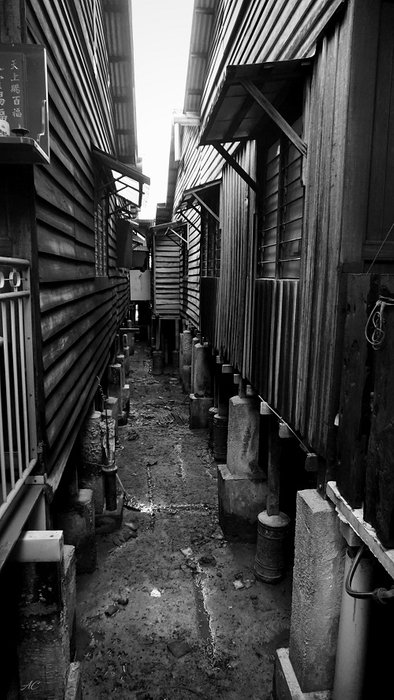 Between the houses...
The houses stand on stilts over mud flats which is what you are seeing now as it was low tide that evening...
However, when the tide comes in, you'll be seeing the sea here
---
View of the nearby Hean Boo Thean Kuan Yin temple
Seems it used to get flooded when the tide was especially high... before renovations started in 2011 improved its situation and it currently stands two-storeys high!
It is marvellously lit up at night!
(See photos below)
---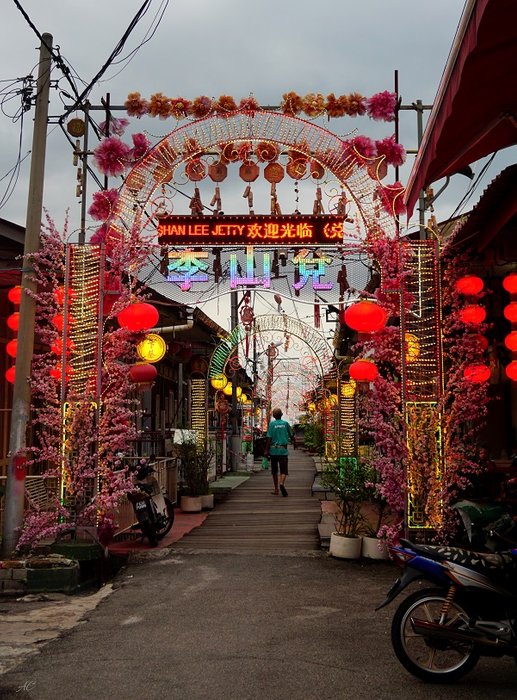 The Lee Jetty was the most fancy
Welcoming sign in lights, arches and lanterns, you can't miss this!
---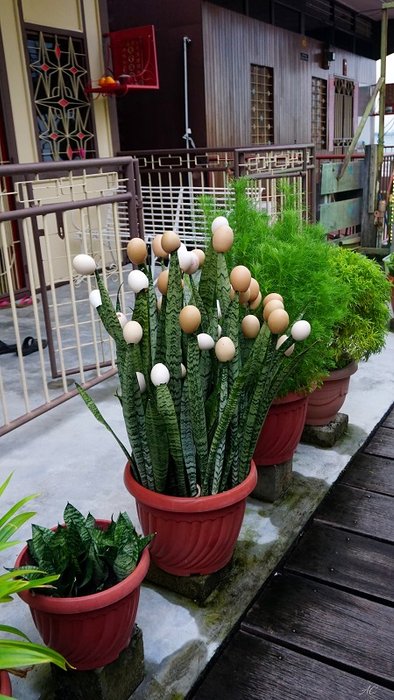 Now, this is a sight I had not seen in years, since my childhood!
The mother-in-law's tongue plant (as it is commonly known here, or snake plant)'s leaves always used to be capped with empty egg shells
No idea why or how that habit came about, it just was!
Maybe to protect from kids getting their tender fingers pricked by its sharp ends... maybe...
Now you know why it was nick-named such! 😏
I haven't seen this for a long while now, definitely not in Kuala Lumpur any more
I just had to take a photo of it!
---
That was the atmosphere when we got to this jetty's end
The wind had built up, the sky was stormy as was the scene
Thank goodness it was low tide, and we had to contend with only mud flats!
And not raging sea waters...
Although, that would be a sight too!!
---
Next was the Tan Jetty
Rough mud surfaces make for interesting shots!
As well as abandoned half sunken boats...
---
This is the actual colour shot of the monochrome I did before
Totally lovely blue hour...
coupled with the amber light along the walkway...
make for stunning contrasts
---
Getting moodier...
Lights of Butterworth, on the mainland, across the strait
---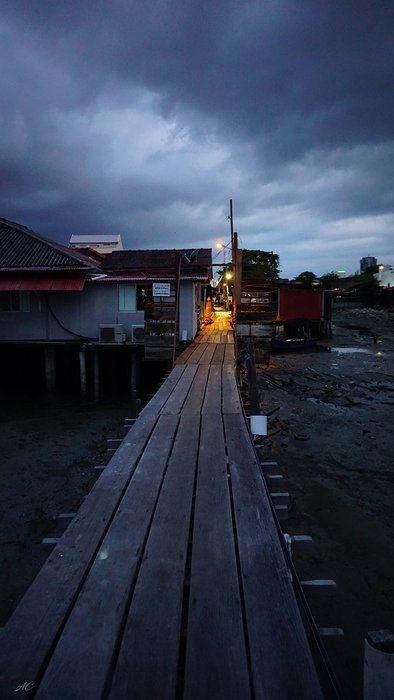 Take a look backwards every now and then...
A habit of mine
---
See the temple up in lights...
Like a fairyland
---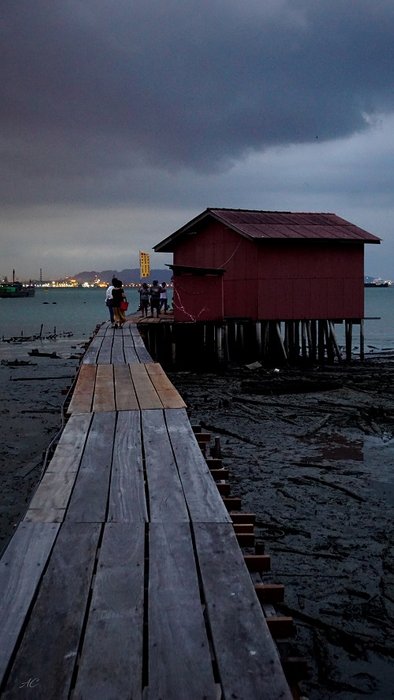 The Red house
A fishing store
Not many people left out here as it had started to get windier, with random drops of rain
---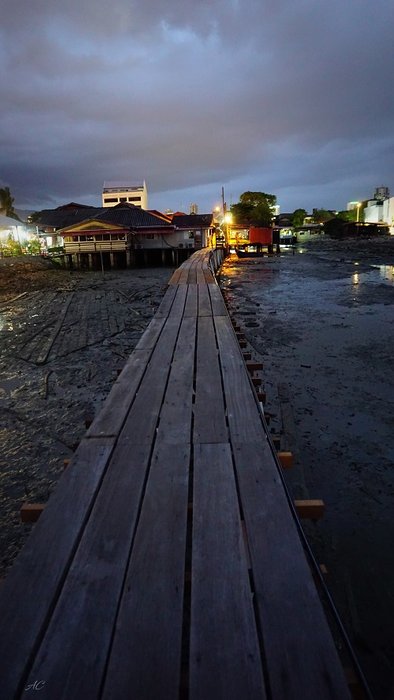 We were already quite a distance out
Might as well get to the end...
despite the weather warning us to get back!
---
The lighted temple against the many lights of the city
And the reflection looked good too!
---
One final shot
Always one last person who was in no hurry to leave...
Bigger and more drops of rain, as well as stronger winds blowing in made us quicken our steps back to land
I'll be back!
Besides there were a few more jetties we hadn't seen yet...
---
Captured with SONY A5100 | © image & text original content | click image for fullscreen view
---
---


My recent visit to Penang was an eye-opener as well as a re-visiting of familiar places. Previous posts on my visit:
1 - 'A many faceted Pearl' ~ Introduction post
2 - 'Caturday is alive and well in Penang!'
3 - 'It's the gold that brought me here...!!!'
4 - 'The Crossing (aka The Arrival)'
5 - '🎝 How much is that kitty in the window...? 🎜'
6 - 'Clan jetties at dusk' ~ a monochrome introduction


---



I'm with QURATOR... Are you?

Vote for Qurator as a Steemit Witness
via steemit.com or steemconnect