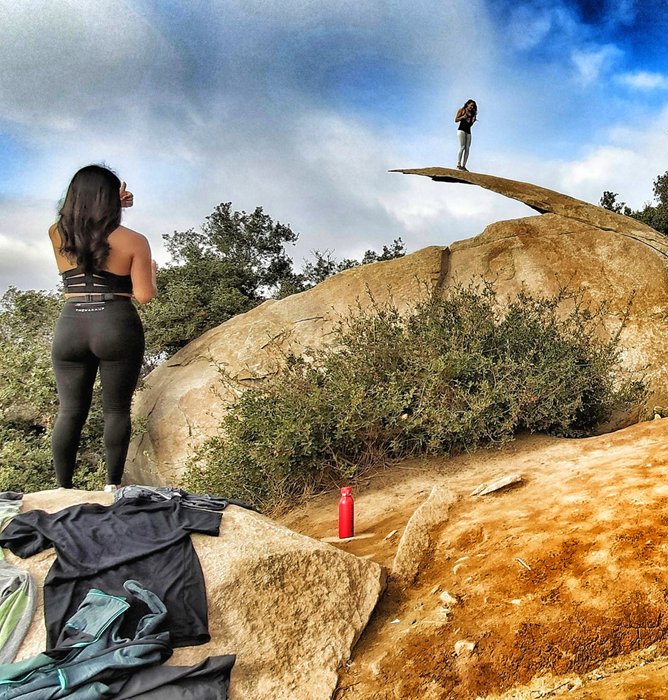 Everyone is knowing potatoes, this root vegetable native to the Americas, who has conquered the whole wide world mostly as chips and frites. But near nobody knows the giant monument mother nature has build for the legendary food just a short drive away from the city of Ramona, well-unknown town in California with 20.000 citizens and a bizarre fate. The town was onces grounded as "Ramona", but later new named in "Nuevo" because another californian town named "Ramona" too. But after the other Ramona has died "Nuevo" got back his birth name again.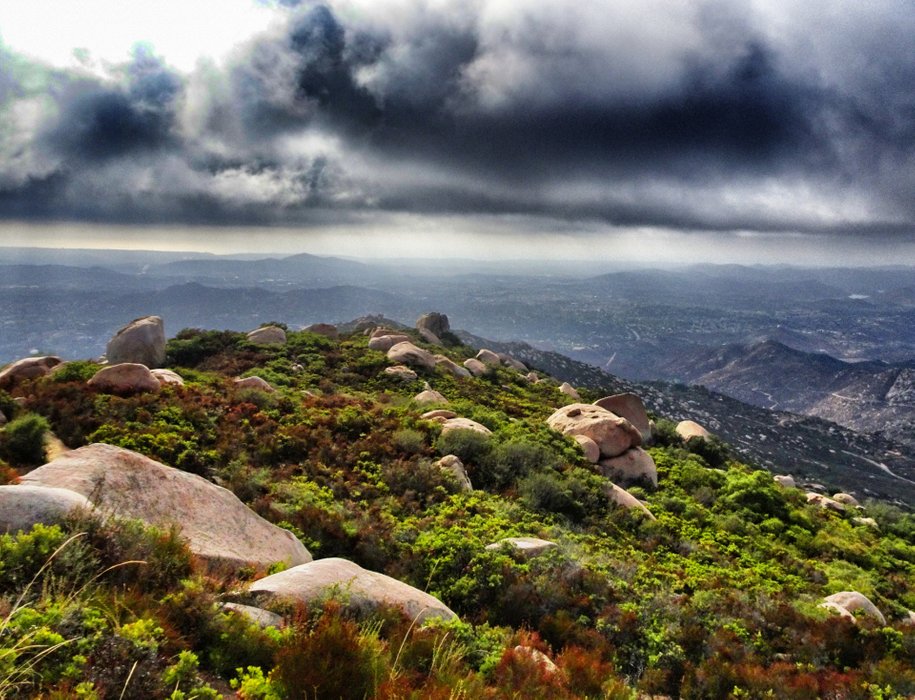 Eight miles (or 13 km) away from Ramona, a short ride on highway 67, you will find this monument called Potato Chip Rock. It's not man-made and it is not easy to reach, but the walk up to the hill to the Mt. Woodson summit is a must have for every Instagrammer: The Potato Chip Rock they called so because he is looking like a potato chip, is a famous place for making pictures with a kind of thrill makes all of your follower are excited about it.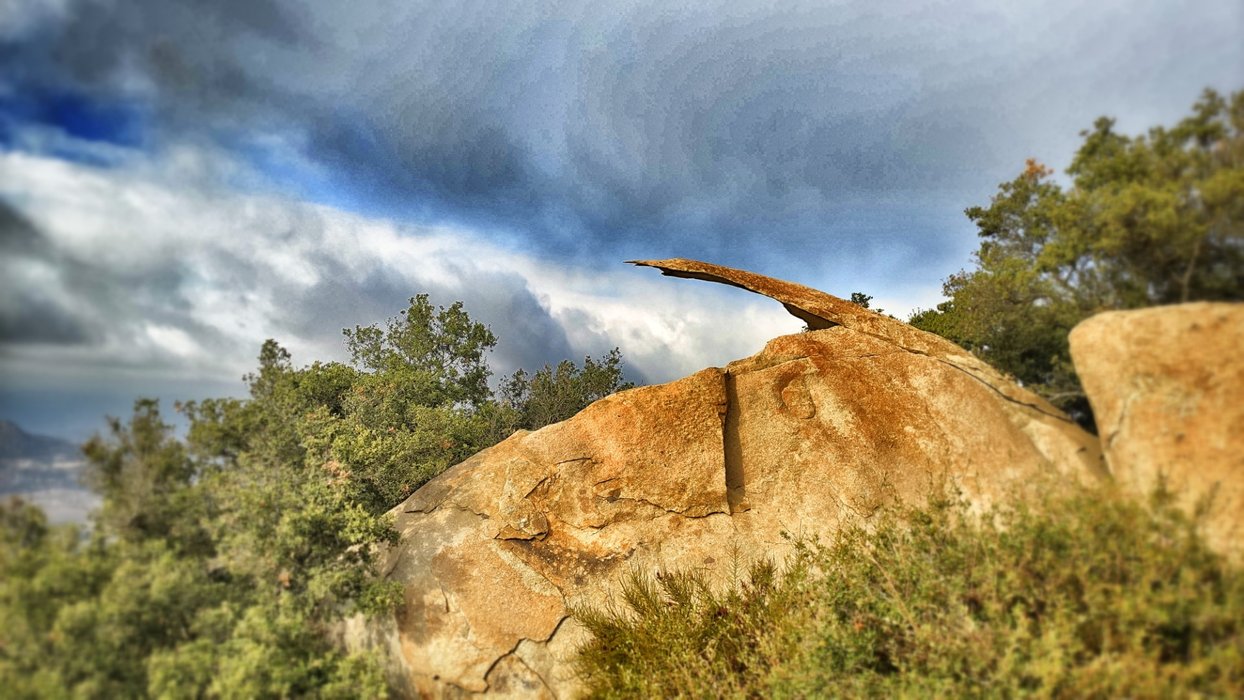 But to get the right angle you have to climb up some difficult rocks and you have to jump over a rift. No deal for one who is afraid of heights or has a height phobia. All others can stand upright the adventure without fear: The thin rock plate 100 yards below the summit looks as if it is about to break and fall. But it is much older than you might be think, maybe hundreds of thousands or millions of years. So the probability the rockplate break up when you on the seven feet long tongue it's near zero. No, it will not happen before the day comes and it happens against all probabilities.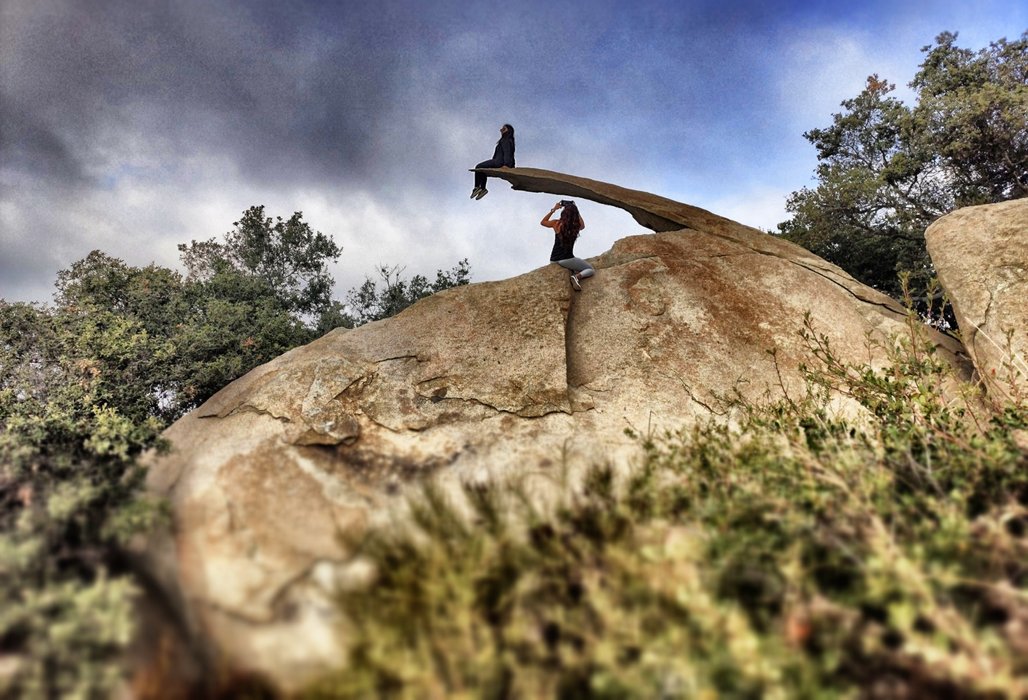 Long way to go to this day, so you can be a hero for everyone home when you stand smiling on the rock and look at the area with unmoved face. It's a real good place to look around the landscape. From the elevation between 1800 and 2000 ft that you reach after a hike of approximately two or three hours, on a good day you can see Del Mar and Solana Beach and behind this citys the glimmering Pacific Ocean .
But don't stay that long on the tongue. The next Instagram-girl is right behind you and waits for her chance to geat famous for her fearlessness!


More pictures under the link section.
Follow me on my journey through America:
Los Angeles: The City of Angels where the devil has his home
Salvation Mountain: The man who made a hill for god
Bombay Beach: The fine art of deep depression
Anza Borrego Desert: Meet the monsters made of steel
Joshua Tree: Holy trees under a blood red sky
Area 66: The last secret of the aliens
Ghost Town Oatman: Where the mule does rule
Route 66: On the road that kicks
Grand Canyon West: No-pics allowed of this beauty
Grand Canyon: Scenic views into the abyss of earth
Graveyard of giants: The Jurassic Park at the Navajo Trail
More than monumental: The heart of the wild west
Arches NP: The biggest bow you've ever seen
Zion Canyon: Ice-cold feet in narrow waters
Bryce Canyon: God's glowing stones
Las Vegas: Home of Bad Luck
Red Rock Canyon: Road under the ocean
Death Valley: The dry throat of the desert
Mt. Withney: High on thin air
Mono Lake: Eating flies on a salty shore
Golden Gate Bridge: 80.000 miles of steel wire
Sequoia: Beyond the everlasting trees
Yosemite NP: Crazy climbers at El Capitan
High Sierra: The wonder of the Sierra Waves
Alcatraz: Into the home of horror
Richfield: Where Easy Rider is alive
Alabama Hills: Blue skies over Hollywoods West