Málaga, a city that was on my list but I never got to it. Now, as it was the starting point for the #nomadcruise, I had the perfect excuse to pay it a visit. I booked a few days extra because in the back of my mind I had the idea that I then could grab a beach day or two. But my plans for trips never work out the way I planned...
I was pretty tired to start with and arrived late in the evening. I checked into my hotel in downtown Málaga and was lucky enough to find a restaurant for some late night food. I had 3 full days in the city before the boat would leave. Plenty of time! I went to bed excited for the next day.
That morning, I slept in, asked the cleaning lady to come back the next day. The weather was amazing, but I couldn't really get myself started. It was already 2 pm when I decided it was taking too long. I got a quick lunch and jumped on the hop-on-hop-off bus to get a feel for what was going on in Málaga. The first round, I hardly ever leave the bus so that I can decide on my priorities based on everything there is to see. It became soon clear what I wanted to see first...
The discovery of Centre Pompidou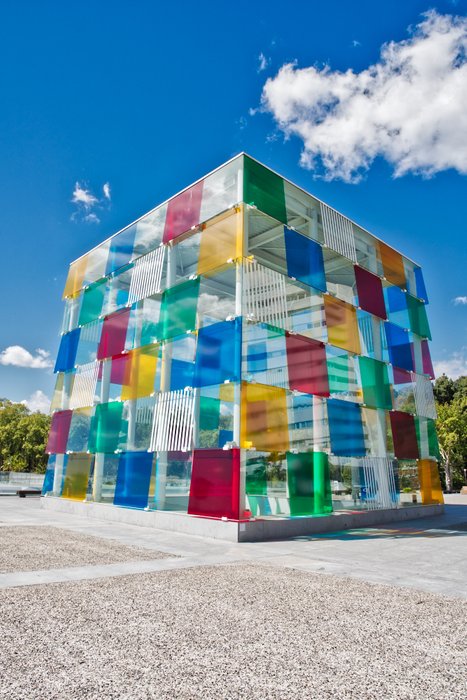 "What is that colourful glass thing there near the port?". Anything shiny, colourful and/or made of glass gets my attention (if I want it or not). I had no idea what it was, but it was gorgeous. I walked around it a few times to take some photos and realised there was a building attached to it. "It must be so cool from the inside!".
The port where it is standing also looked really nice. There was a sort of market with a few terraces and shops. When I walked downstairs and followed the walls with the square holes, I suddenly stood in front of the Centre Pompidou and everything became clear. Instead of walking on a square, I had been walking on the rooftop of the Centre Pompidou. Since I thought it was included in the "Malaga Experience" ticket, I decided to pay it a visit. At the counter, I seemed to have misunderstood and had to buy a ticket anyway.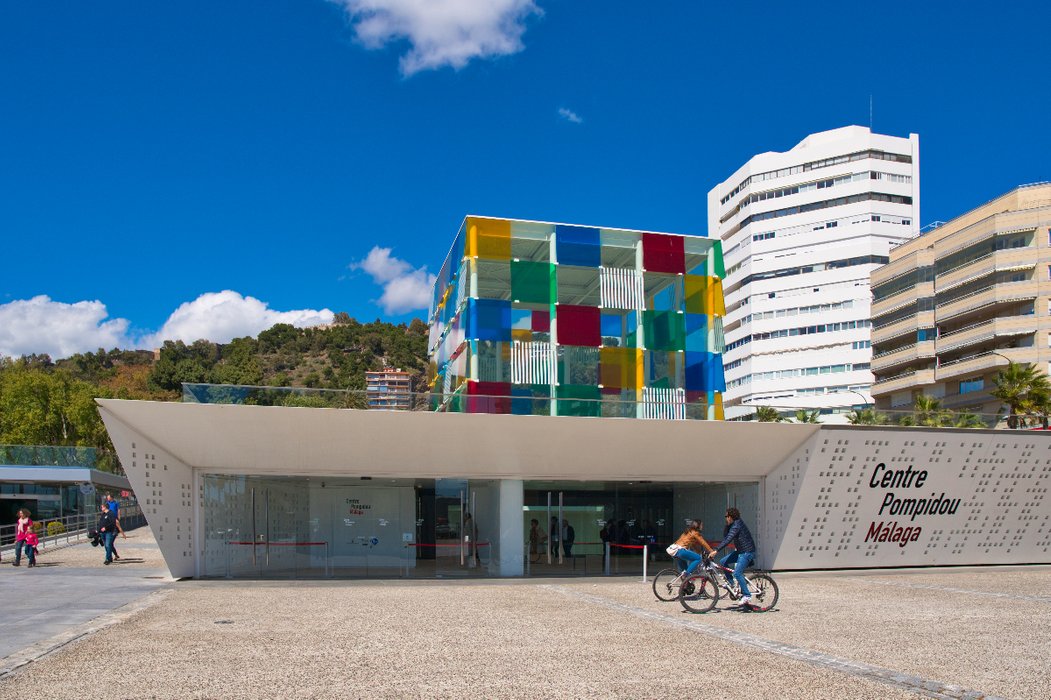 The "permanent collection" wasn't that extensive, but pretty interesting. And it is always fun to run into a Miro! Their collection is called "Modern Utopias" and will be there until 2020. It is a combination of paintings and sculptures, where I preferred the second more this time. The tin bed was just brilliant! And sheep in front of the Miro? Just the combination itself became another art piece!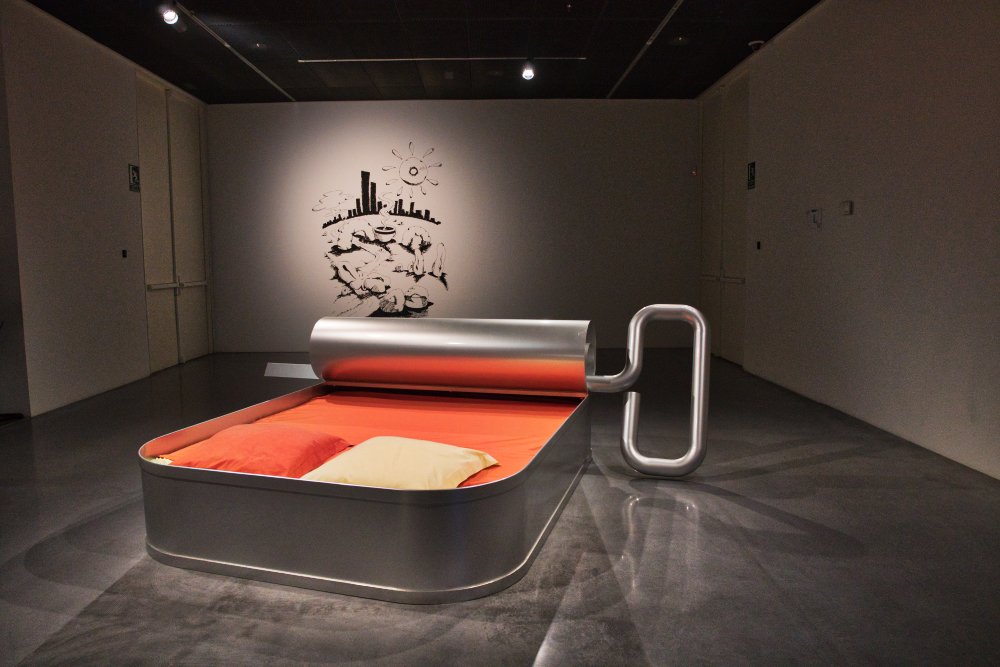 'NY, 06.00 AM', by Franck Scurti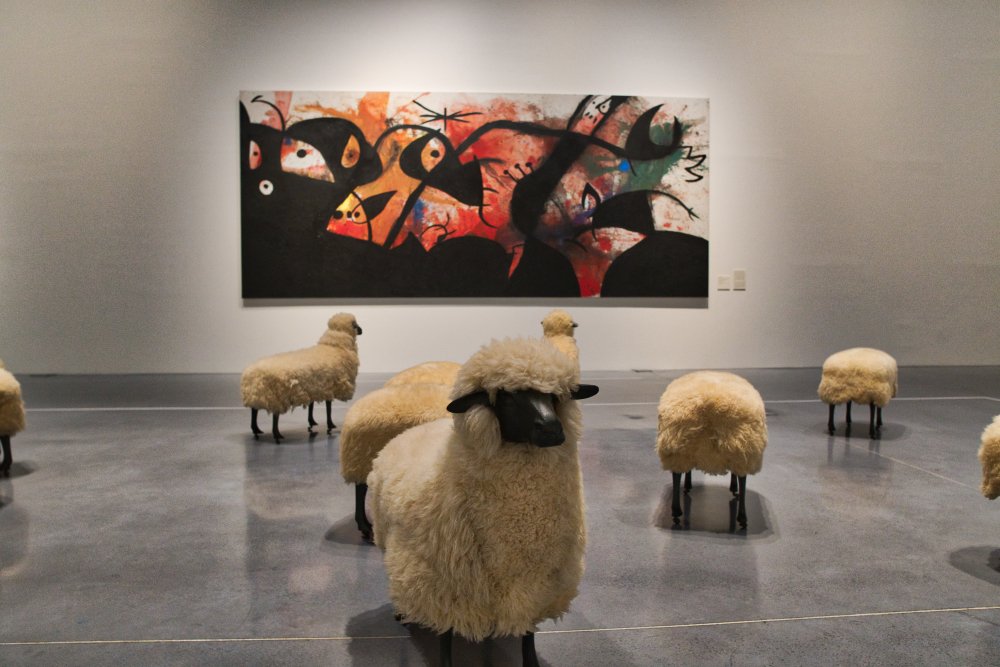 'Flock of Sheep' by Lalanne &
'People and Birds in the Night' by Miro
---
The rest of the port
I was outside again pretty quickly. Which gave me time to explore the rest of the port while waiting for the next boat tour to leave. The most eye-catching thing around here was the structure that works as a massive sun-blocker on the promenade of the port. The strong shade it gave asked to be photographed and so I did happily follow up on that.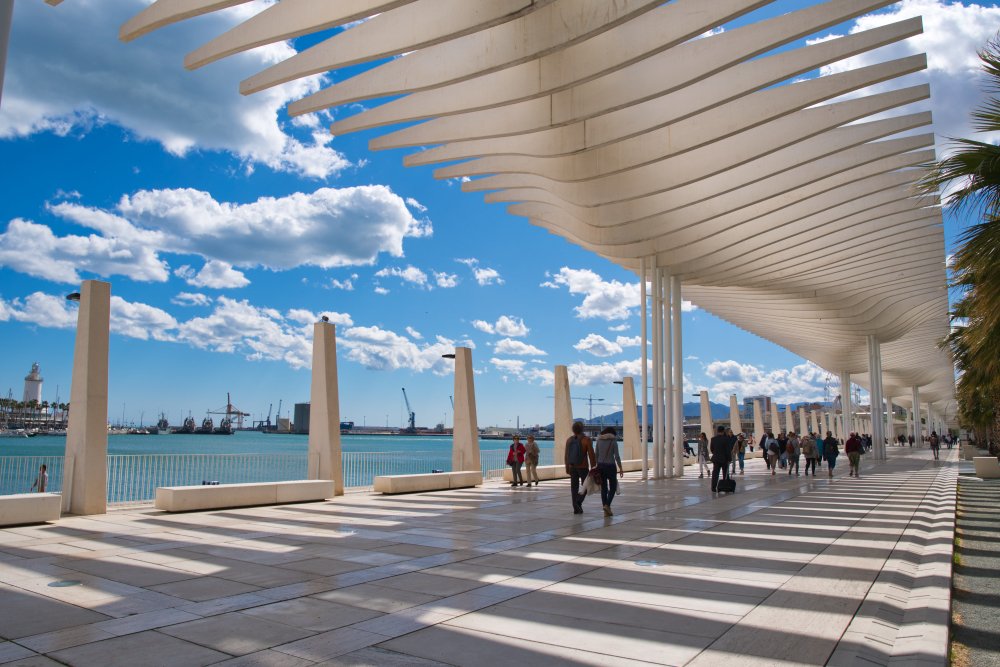 El Palmeral de las Sorpresas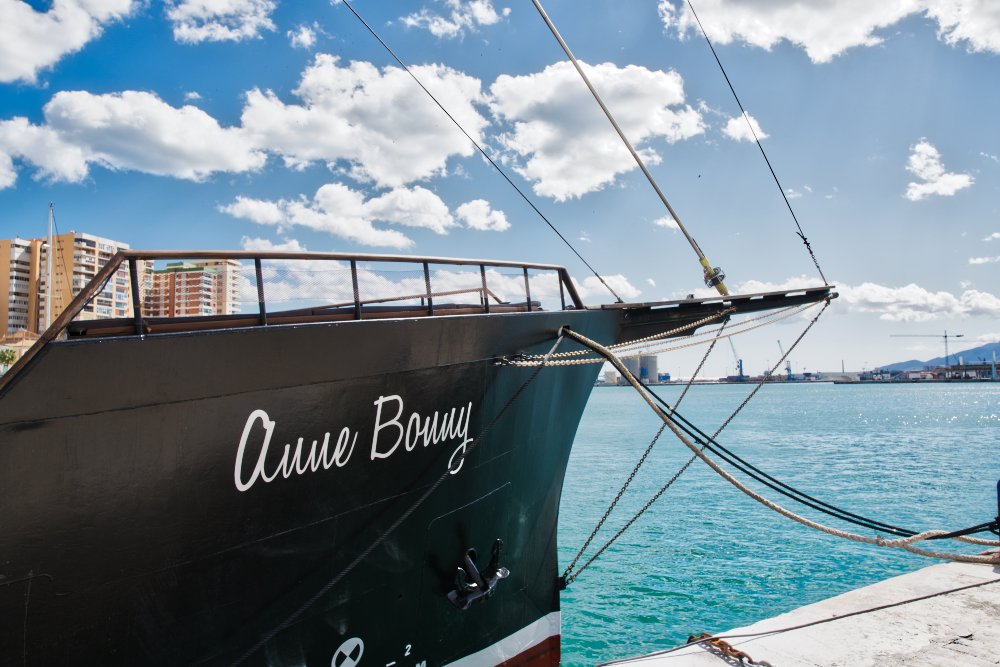 A 1905 original steamboat now tourist attraction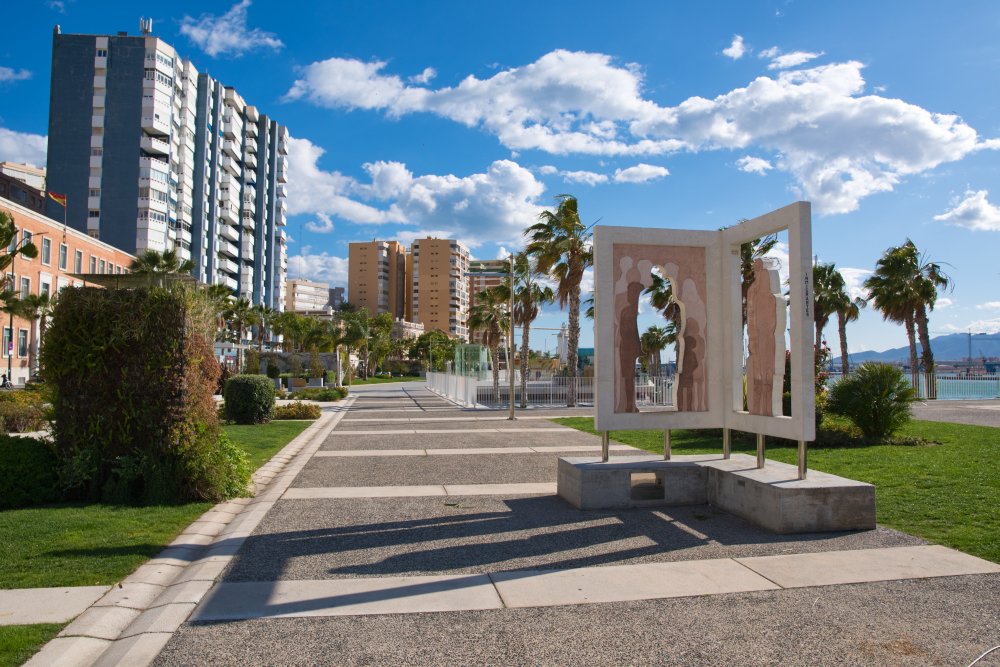 The Immigrants monument
---
This area is just one of my favourite areas of Malaga. It is colourful and creative. There is an art gallery/bar almost underneath the promenade. The market is very inviting. It looks great from the water. And even if it rains, it has it's charm!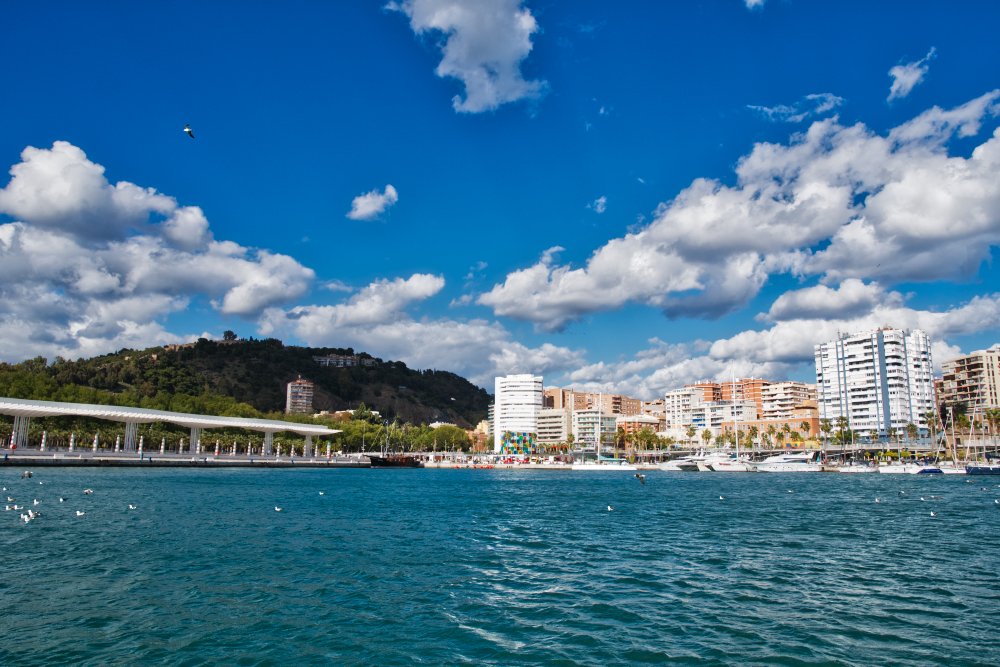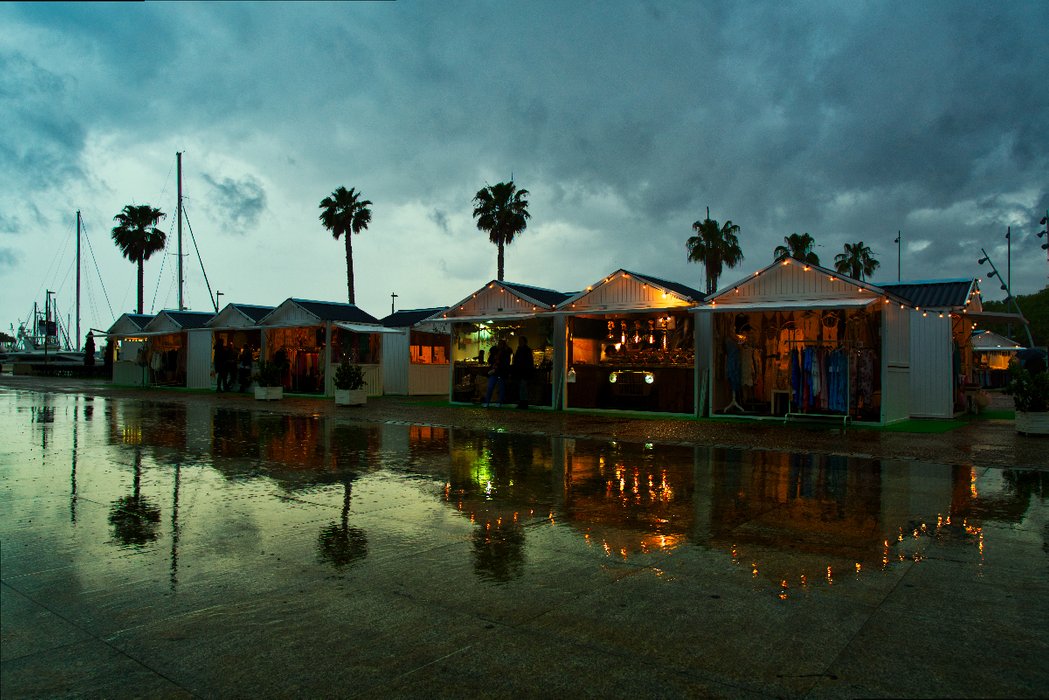 Gibralfaro Castle
The most dominant hill in Málaga is mount Gibralfaro. It is the perfect spot to overlook the city and that is the reason of a castle being once built on top of it. It's foundation dates back to start of Málaga city, which would be about 770 BC. It has changed many times along the way and was almost completely destroyed.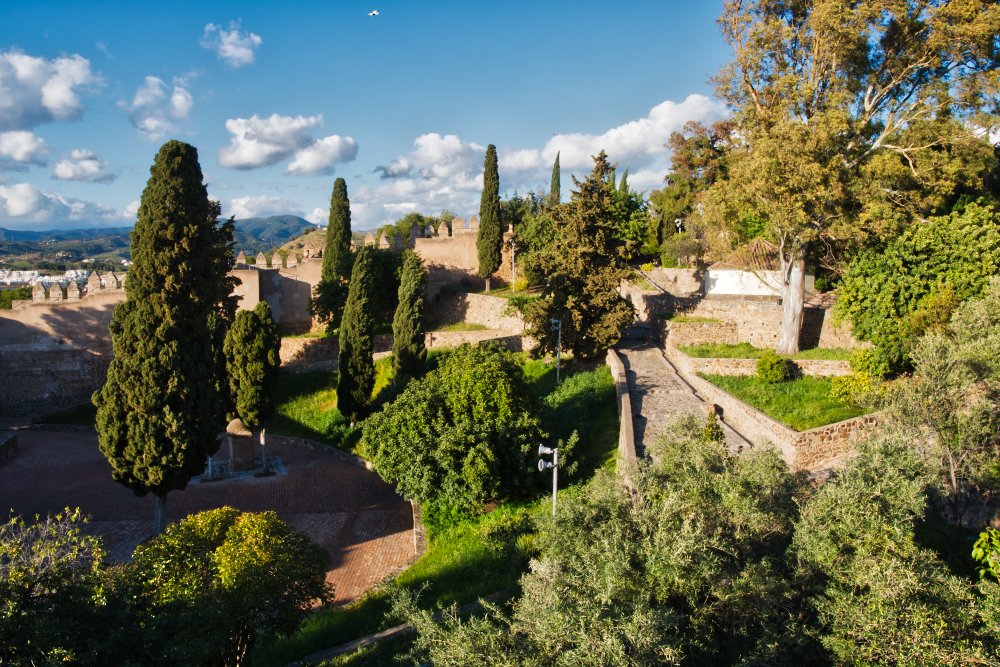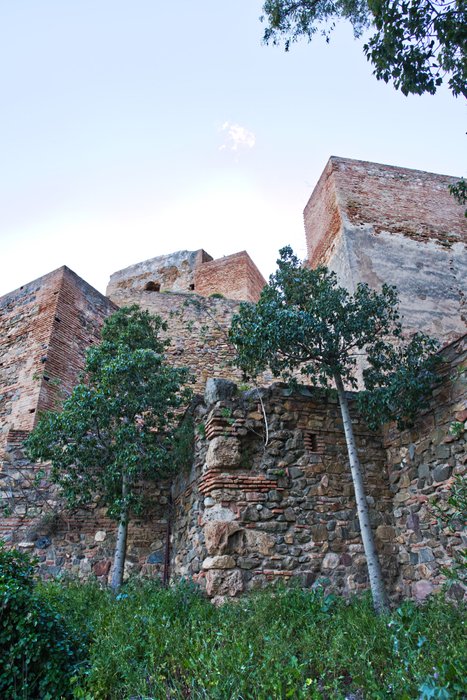 But as you can see, it is now pretty much restored. Walking around the fortified walls was great. Every corner gave you a different view of the city and the sea. I love how the area was filled with trees. That might not have been part of the original setup, but it makes it stand out against other castles that I have seen. Now it is almost like a giant park.
---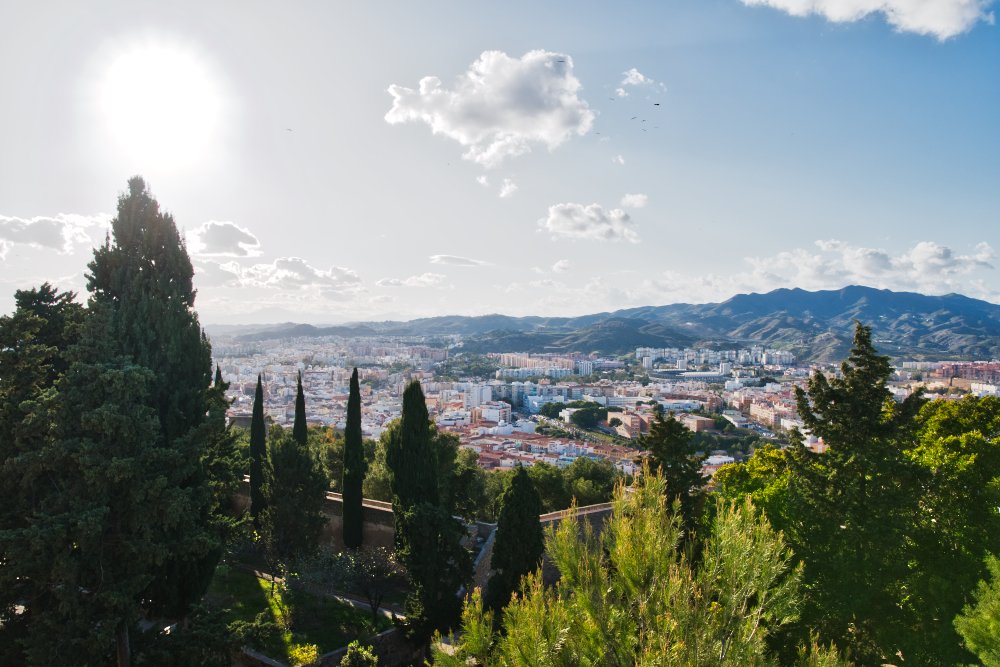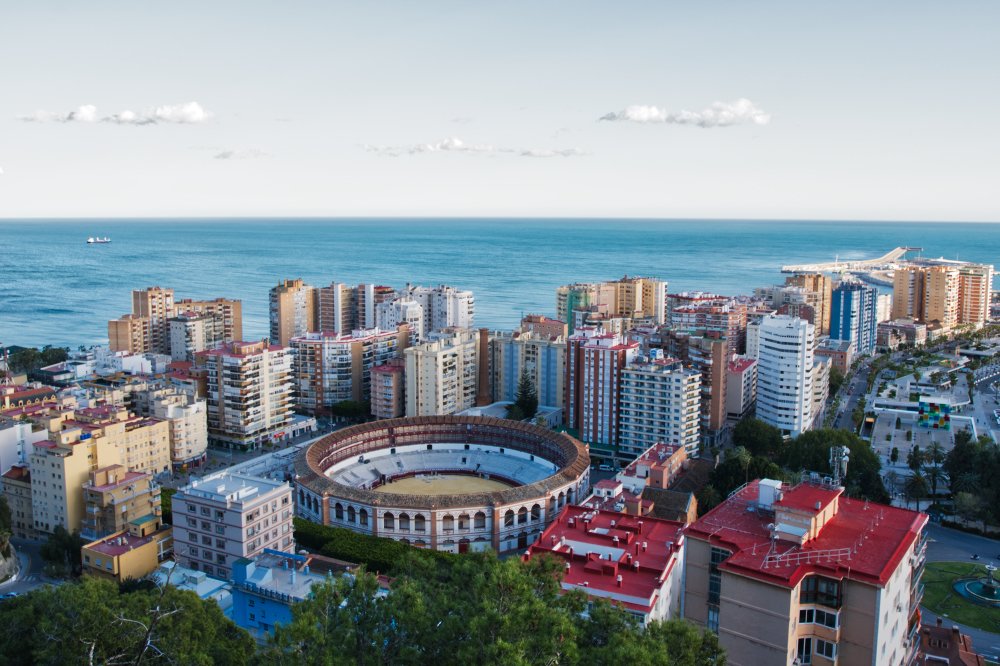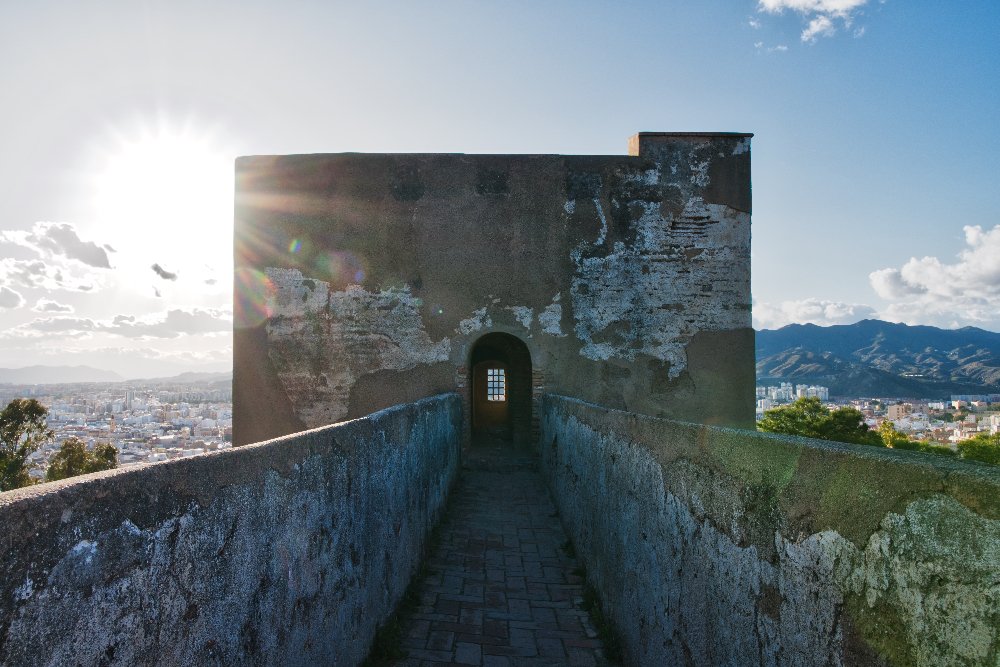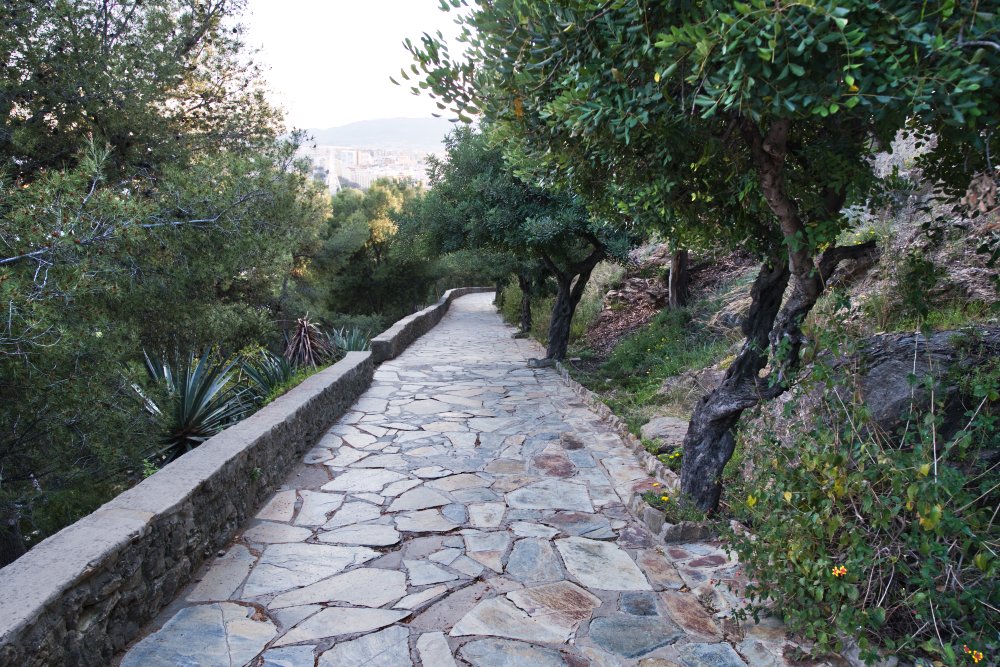 ---
The hop-on-hop-off bus dropped me off at the top of the hill to visit the castle and I decided to walk back down to the city, which in theory is a short walk. However... the path was sometimes pretty steep in combination with slippery stones. I was wearing the wrong shoes with not enough grip, so I struggled to get down without falling. But it gave me plenty of time to enjoy the views and the fact that there are so many young local people trying to act romantic on this hill 😉.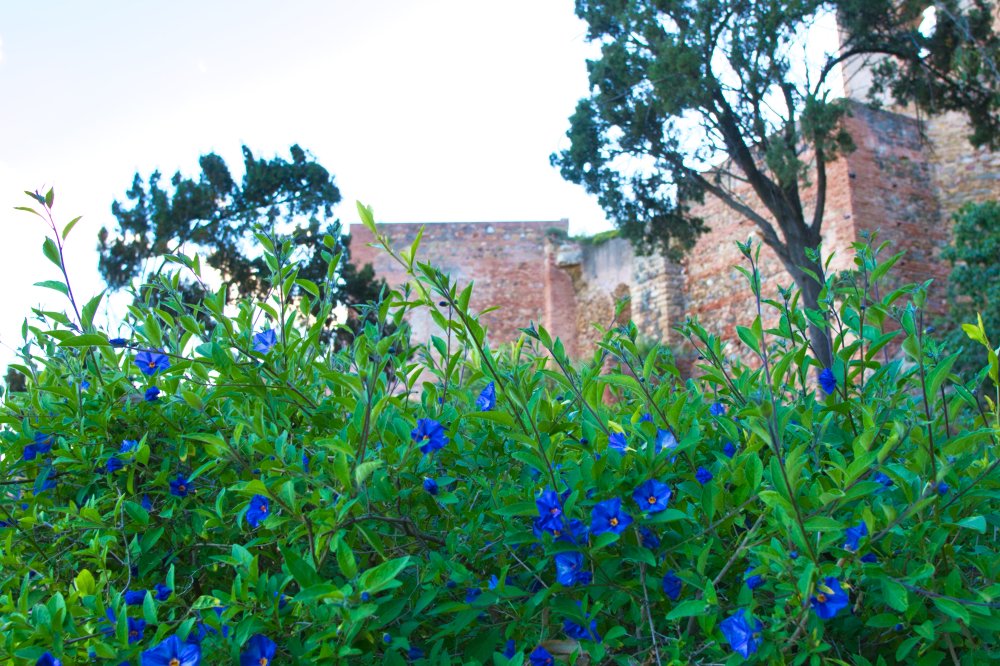 Cathedral
The hostess in my hotel told me to visit the Cathedral of Málaga (Which she followed with a huge list of other things). It is not really something that you need to be made aware of since it is pretty much a building you can't ignore when you are in this city. It is the second highest church in Andalusia.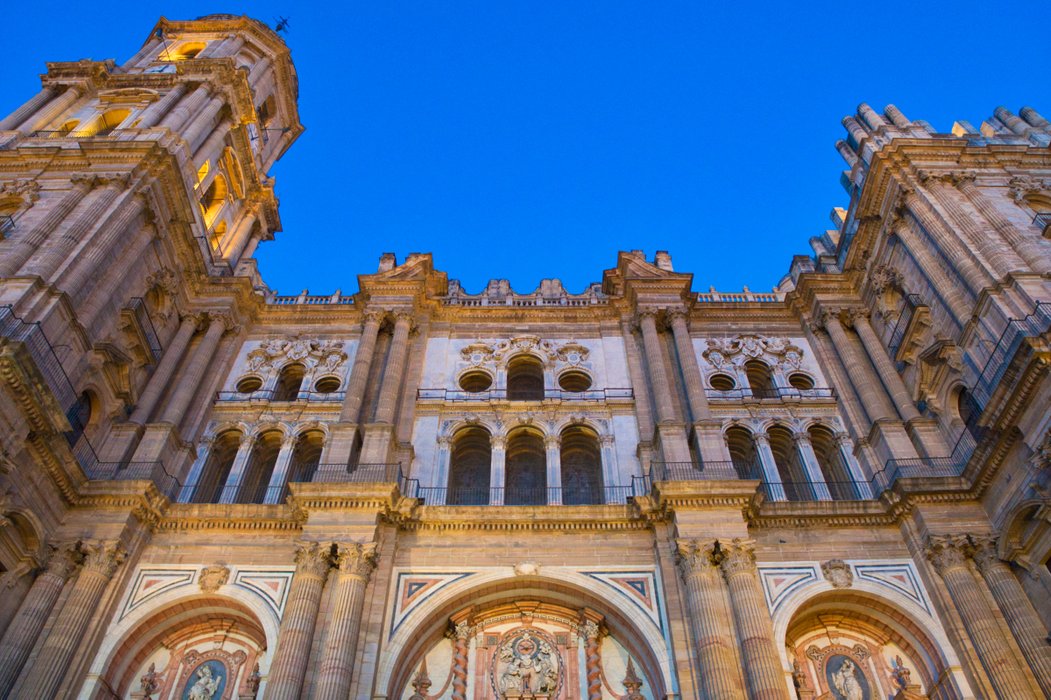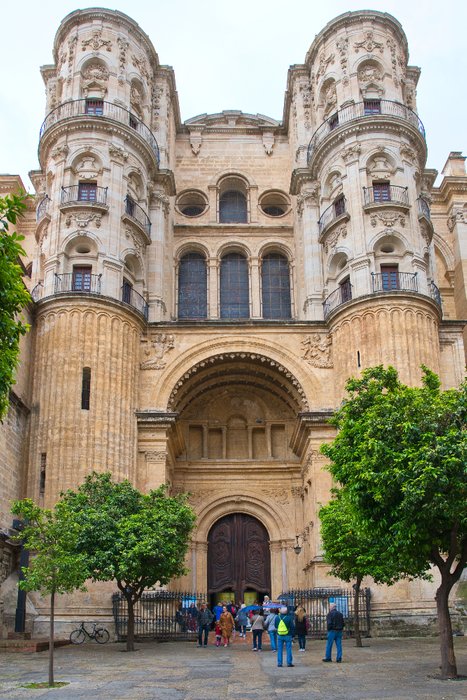 I didn't go inside. I might have seen too many churches in my life to still be impressed to see the religious decorations. But I have been walking around it many times. In sun and rain. Just because it was always in my way if I wanted to get to someplace in the city.
Fun fact about this cathedral: One of the towers was never finished. The official reason is that the fund for the church went to the US to become independent. But research of the archives indicates it was used for reconstruction of a road in the city (where my hotel was at).
Málaga at night
At night, it is just like any other city in Spain. Amazing restaurants and waiters trying to convince you to eat at their place.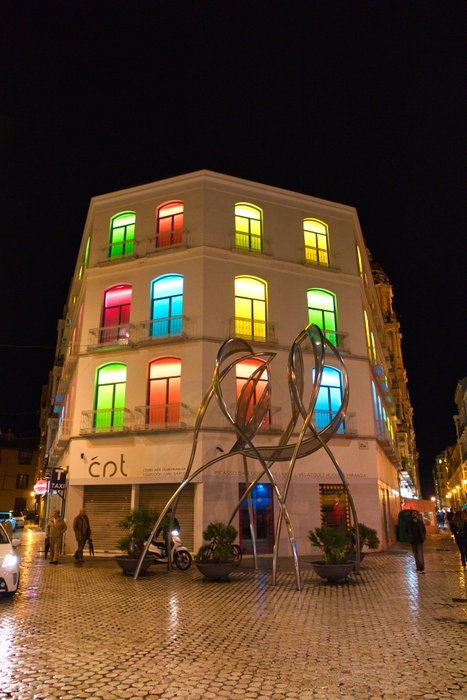 Centro de Arte de la Tauromaquia
The weather was terrible these few days, so we didn't spend much time on a terrace. Luckily, there were plenty with terrace heating... but still! The rain just doesn't go that well with some Mediterranean snacks and wine.
I soon found a restaurant that I liked a lot and stuck with it the rest of my trip. I am just a sucker for a great steak-house!
---
Near the water
While on the bus, we crossed the Guadalmedina river a couple of times and noticed the amazing graffiti. I told myself that whatever happened, I shouldn't forget to check that out with my camera. So then it started raining... and raining... and raining. And I kinda forgot about it until the last day when I planned on visiting the modern art museum.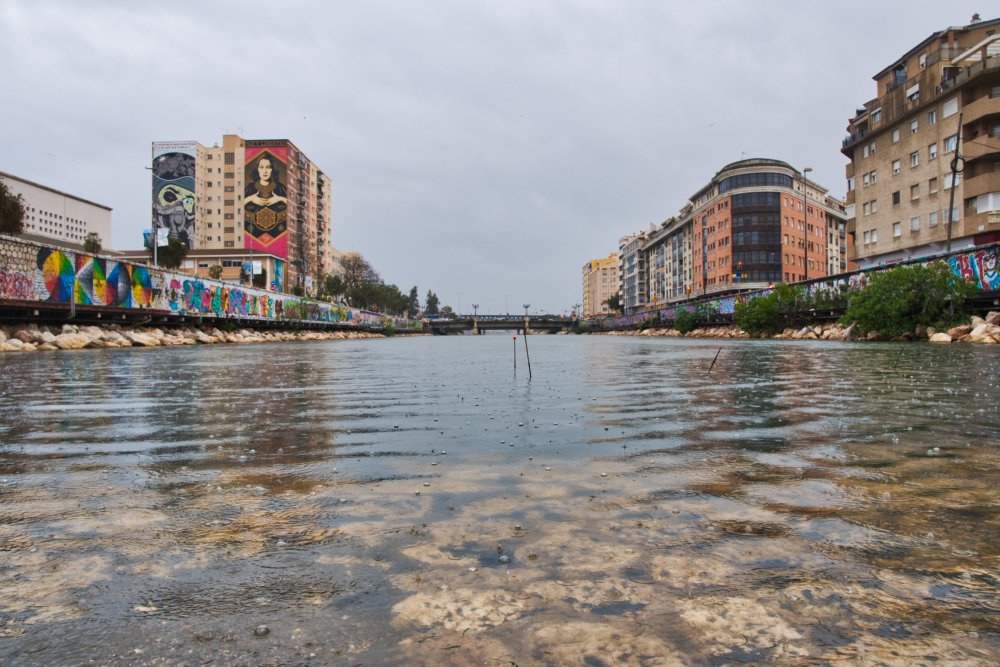 My favourite piece of streetart was the bridge painted in rainbow colours! The river bed felt a bit dodgy to be at (homeless men built their tents there), but I really wanted to catch that. So I tried ignoring the dog poop and found a good enough spot for my photos.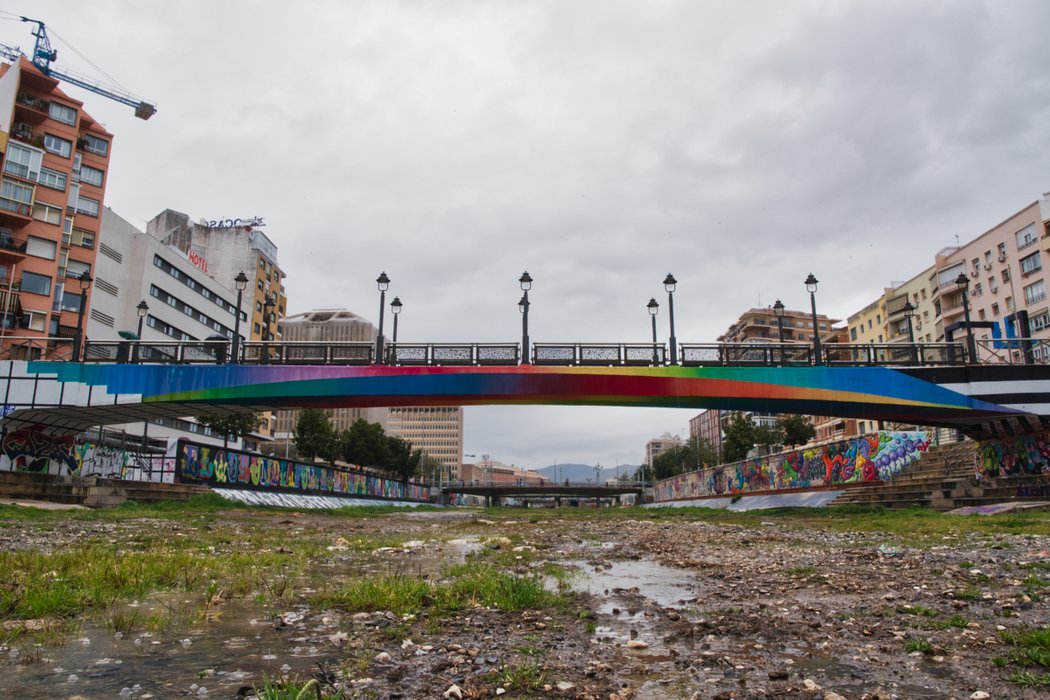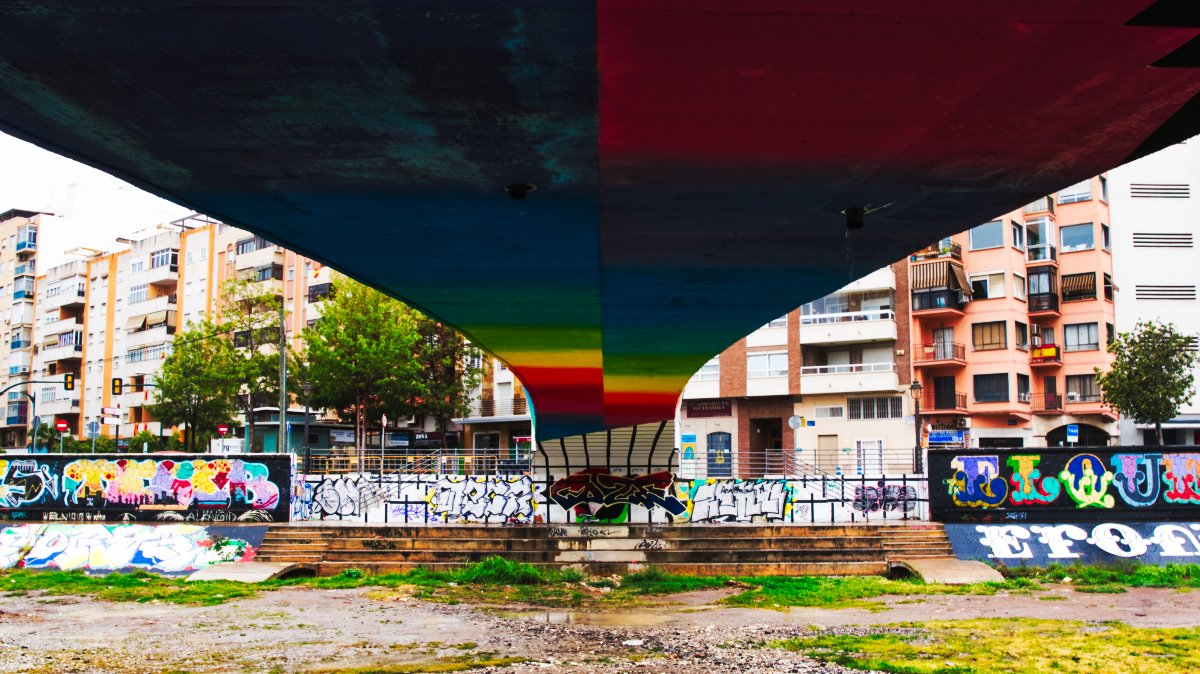 Centro de Arte Contemporáneo
The contemporary art museum in Málaga is located next to the rainbow bridge and has free entry. That makes sense when you walk around it because the art collection isn't that large. However, I loved the wooden carved people statues by the German Stephan Balkenhol.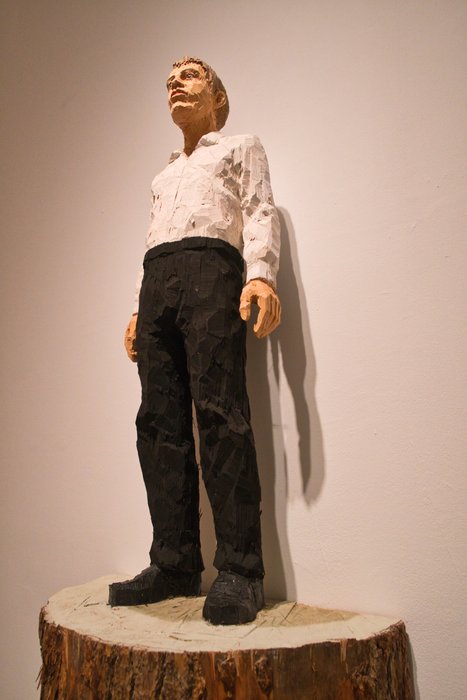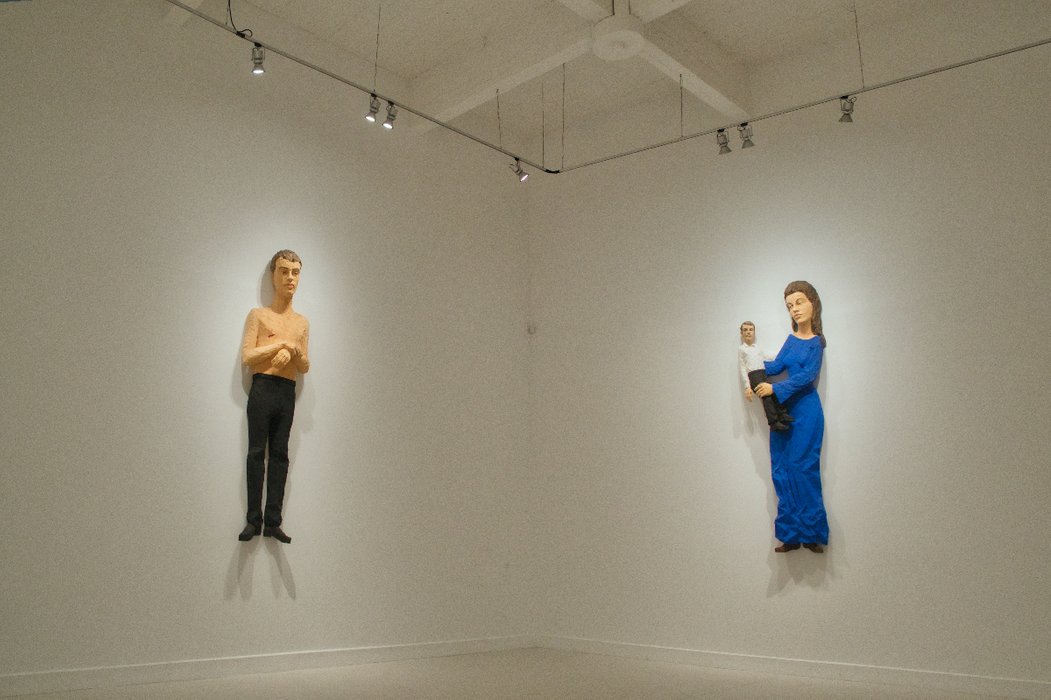 If you have the chance, go check it out. But I think it will leave the museum after the 22nd of April. So you might be lucky that it moves to a museum near you soon enough!
---
The rain kept coming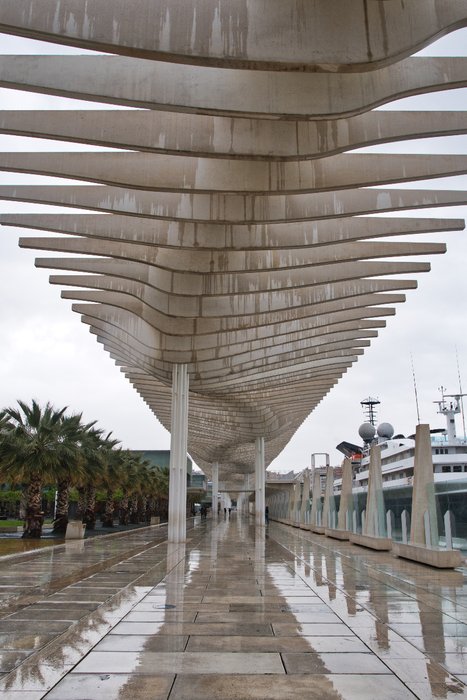 The people in the city must have been very confused, but it kept raining for 2 full days. The nice part about it was that the streets were so empty because of it. I am not made of sugar and I wanted to see what the city would look like in the rain and took a few photos. I prefer the sunny Málaga, but this was a nice treat for a change! But it may be obvious that I would have preferred at least 1 beachday 😉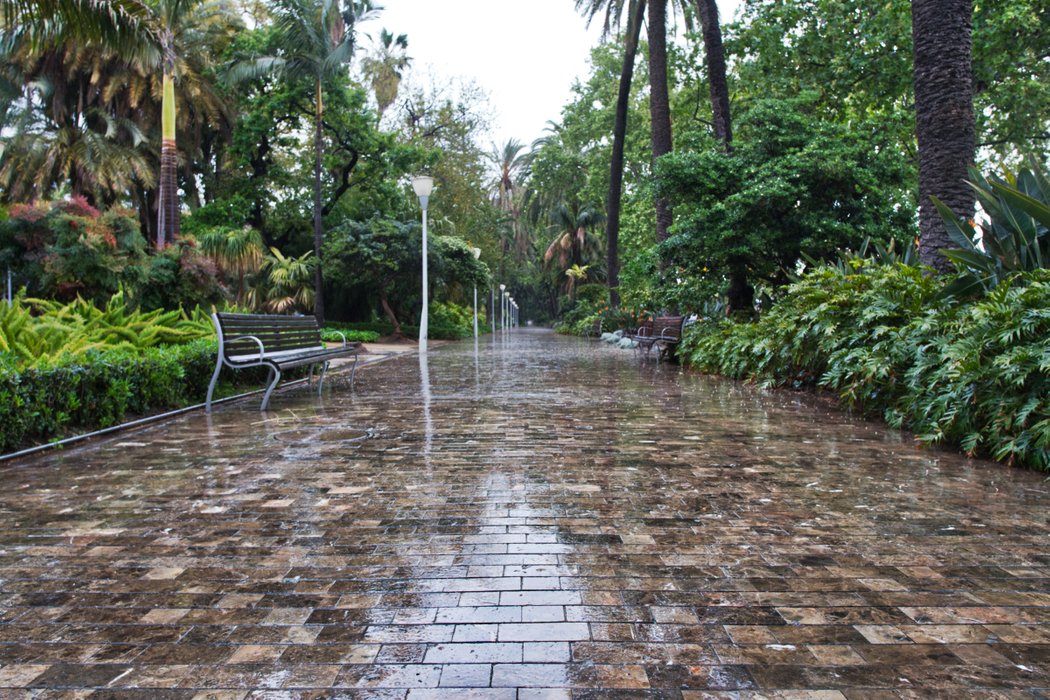 Also in this series: