Day Five: My morning started with another "brutal" winter day in Tucson, land of the "snow birds." The temperatures were way down in the chilly high 50s (°F). I almost had to put a jacket on. Almost ... 😉
With my remaining "wish list" items completed the night before, it was time to leave Tuscon and head west. Goal: Visit two special places and drive over 300 miles. An ambitious schedule!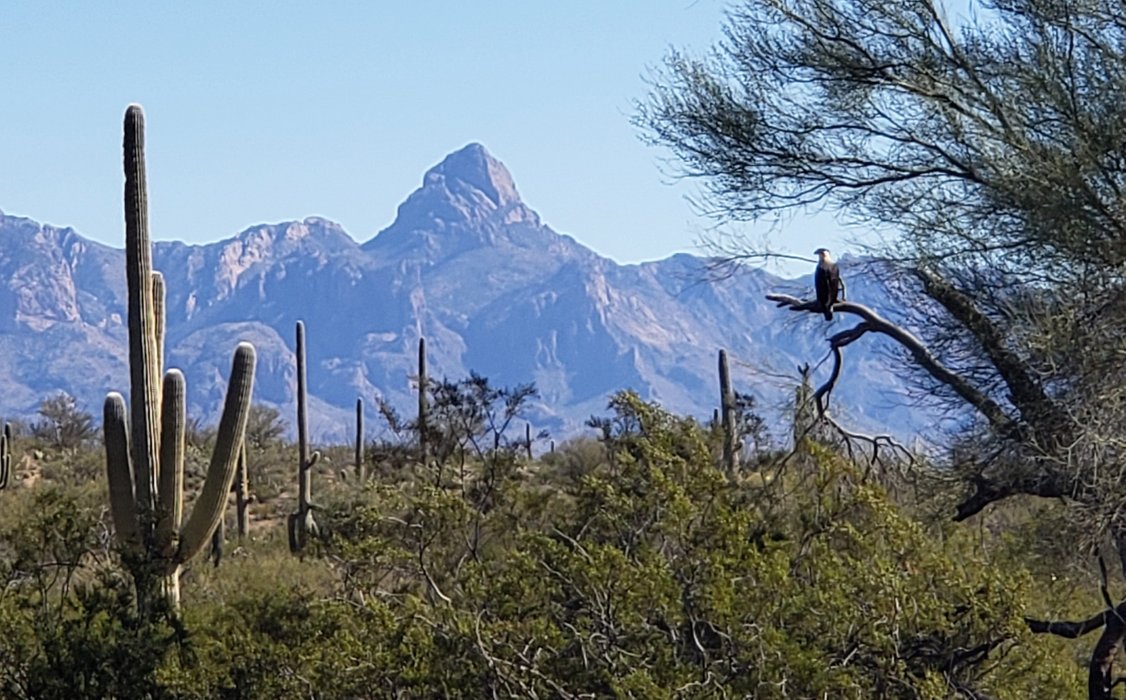 Photo: Crested Caracara Watches Over Access to Baboquivari
The first stop was to revisit the site of one of the most strenuous days spent in my lifetime. The day I climbed and descended Baboquivari, sacred mountain to the native Tohono O'odham people of southwestern Arizona.
I think you'll really enjoy this one!

Baboquivari Peak - Sacred Mountain
Baboquivari Peak is the most sacred place to the Tohono O'odham people of southwestern Arizona. It towers over the desert floor below and is an imposing sight from a great distance away. The closer you get, the greater that feeling becomes.
Forty years ago (boy just writing that makes me feel older ...) I talked a friend of mine into climbing this peak with me. The only smart thing I did, in preparation, was to insist we camp out in the desert the night before. Then we got up before sunlight and began our adventure.
That day was one of the most strenuous days of my lifetime. I really didn't have any idea of what I was "signing up for."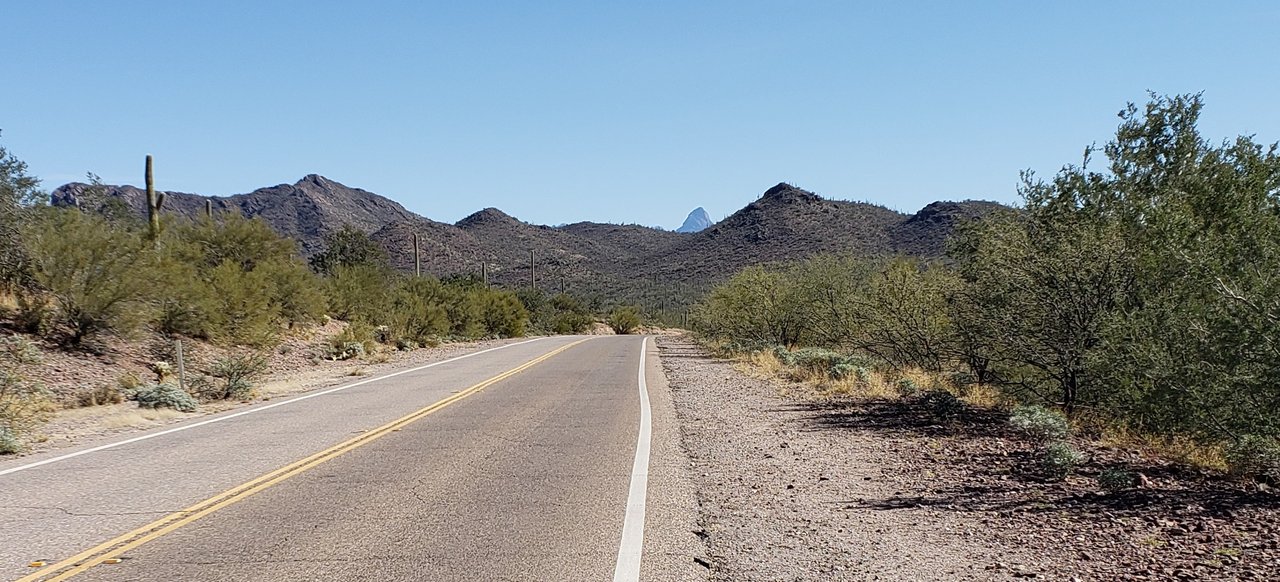 Photo: Top of Baboquivari Heading S. on Hwy 19
In returning to see it again, you turn S. on Hwy 19 from Sells, Arizona. You see it towering over nearby mountains, as you approach.
On the way to the District Office below, I had the privilege of capturing the introductory photo above, with a Crested Caracara perched in a desert tree. I felt very fortunate to get this photo, as soon after the bird flew off!
Photo: District Office Check-In Point
Before you can drive out to the mountain, you have to register at this office. In so doing, I was advised there was a lot of illegal immigrant activity in the area and to be careful.
I had noticed numerous Border Patrol trucks, plus I had to pass through a checkpoint, on the way to this photo. I had never experienced anything like that, when I had lived in Tucson in the late 1970s.
Once you leave the District Office, you have a little over 12 miles of dirt road to travel, to get to the base of the mountain. Be forewarned, this is not a passenger vehicle road, although some might foolishly attempt it. You need a truck or at least a vehicle with good clearance!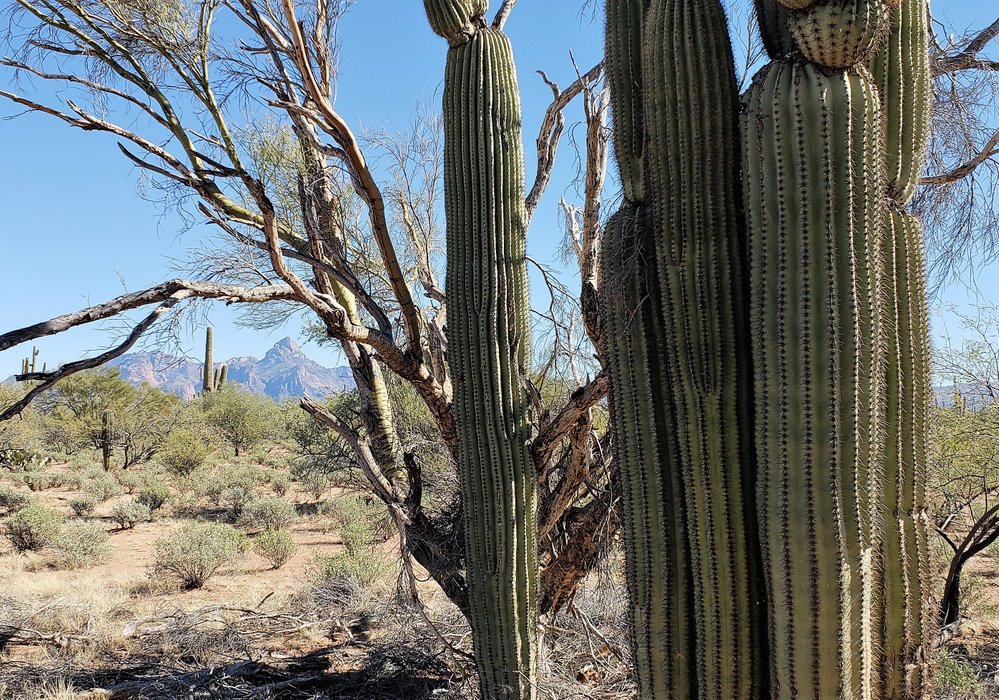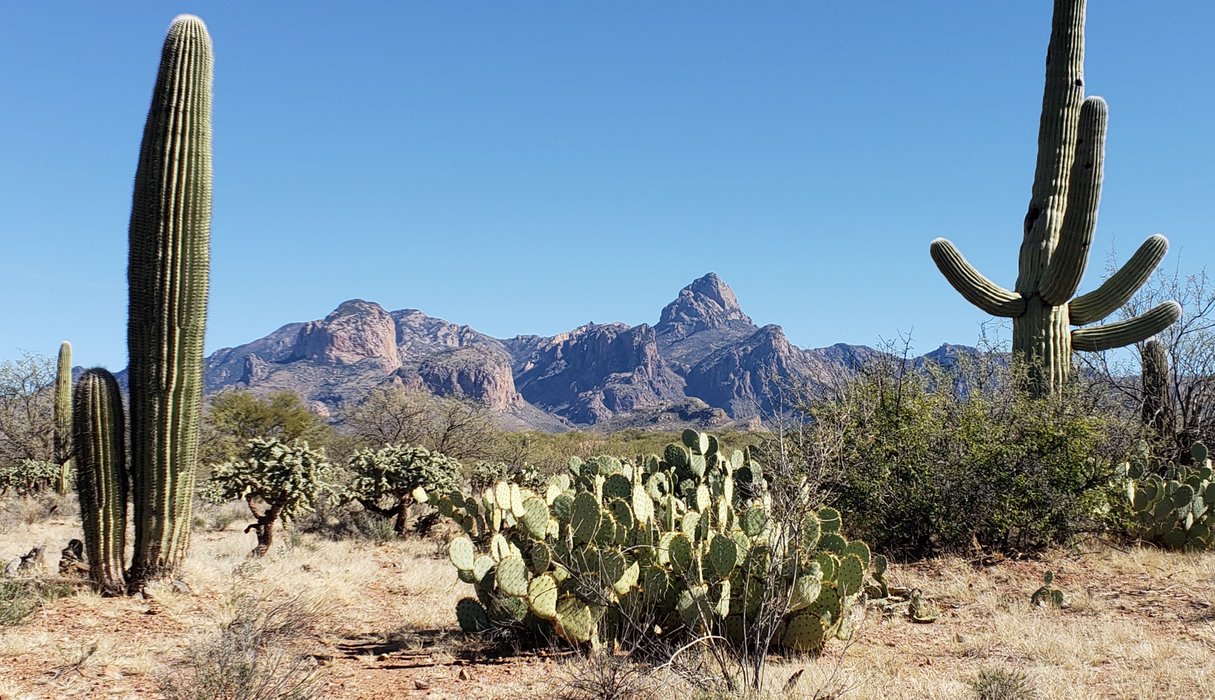 Photo: Getting Closer
Today was a great day out in the desert. I happened to be the only one who was interested in going out there, as I saw no one else.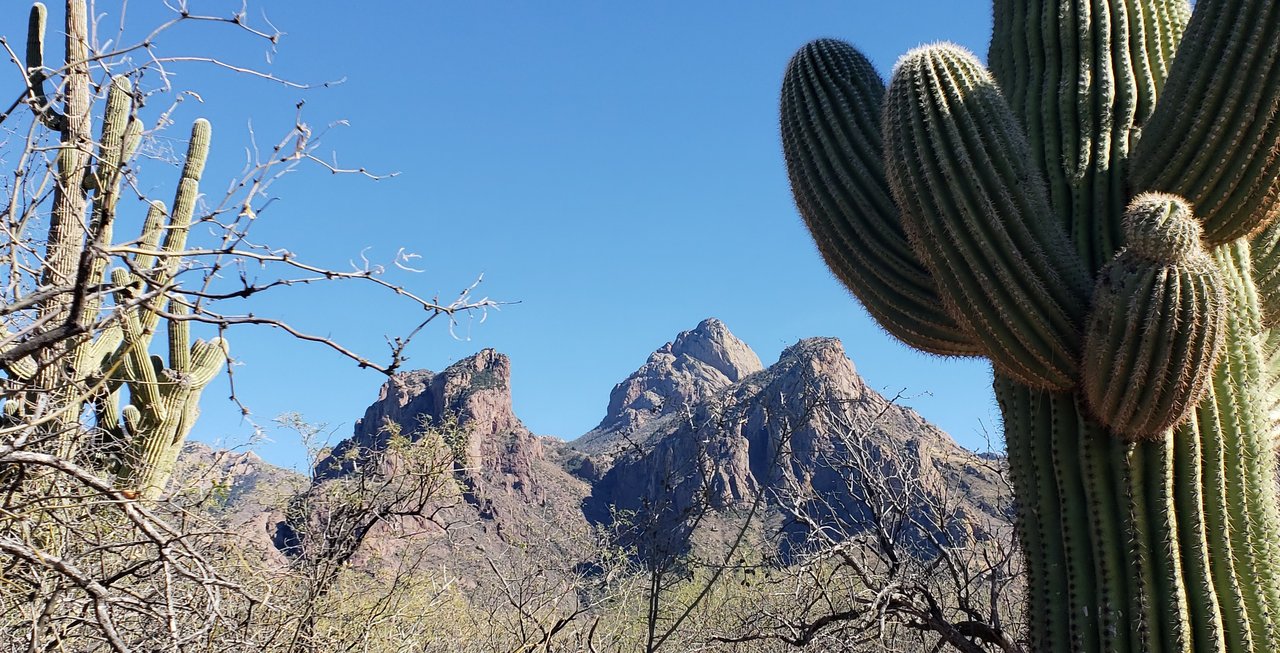 Photo: And Closer ...
Getting to this spot, I stopped awhile and just admired what a tremendous mountain Baboquivari is. And I reminisced about the climb my friend and I had made forty years earlier.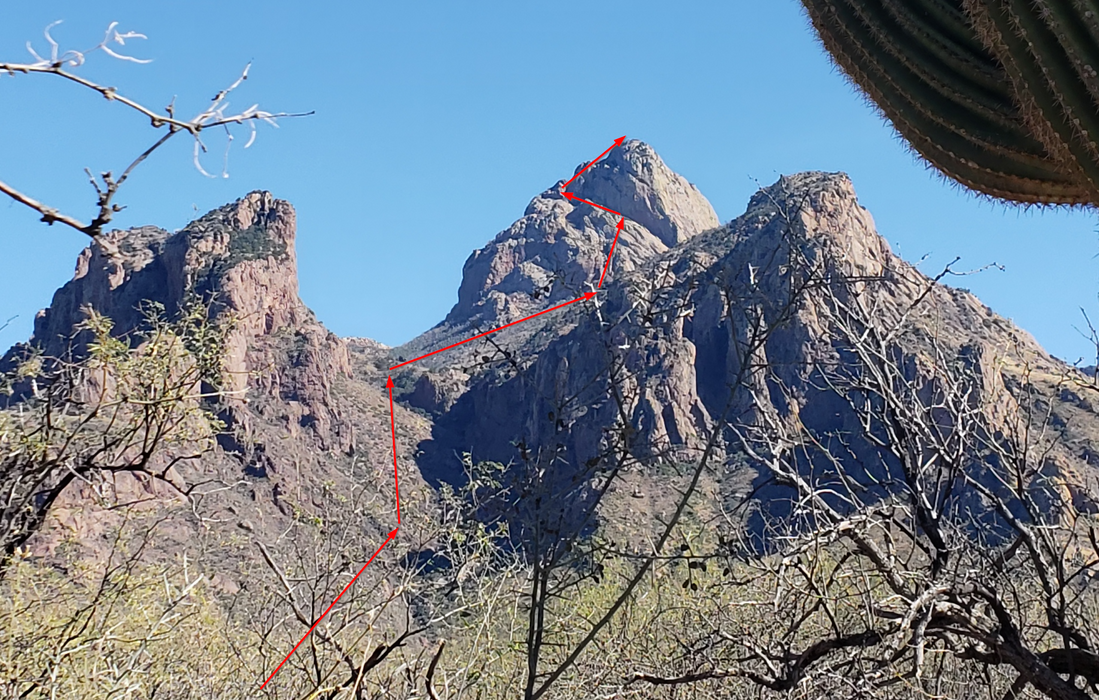 Photo: Route in 1979!
Given there was no discernible trail, we were left with "bushwhacking" our way up this mountain. If you read my post yesterday, about my hike in Catalina State Park, then you read what walking through these mountains is like.
That hike yesterday was nothing compared to what we did in 1979. We were already somewhat "shredded," by the time we were about half way up the mountain.
Then, the vegetation changed (3rd arrow) to being much more densely packed and leaning downhill, so we were fighting our way up through it, at an angle. We had packs on, which caught on all the vegetation, so it was exhausting.
So much so, that when we got to the base of the rock, we elected to climb up out of there on it. Taking our chances rock climbing, without ropes, vs. continuing to struggle against the vegetation.
I distinctly remember the first ledge we reached and looking back over what we had been through up until that point in the day. And eating some salty corn chips and drinking lots of water. They were the best tasting corn chips ever, due to our exertion and the great need for being replenished.
Once at the top, there was an amazing sense of accomplishment. We had been told, on a clear day, you can see all the way to the Gulf of California, as the peak is pretty close to our border with Mexico. I don't recall seeing that, but you could definitely see a long way off.
Climbing down and being short of both water and time, before sunset, we were very fortunate to find something of a trail, which helped considerably. If we had not found that, I don't want to think about what we would have faced, trying to complete the climb back down, in the dark. Through those plants again ... We were definitely not prepared for that. Nor were we prepared to spend the night on the mountain.
Baboquivari is 7,730 ft. in elevation. Sells is 2,392 in elevation. A difference of a little over 5,300 feet. I've done a lot of climbing and hiking in my life and I've certainly climbed great elevation differentials than this. It seemed, at the time, reasonably achievable.
What I failed to grasp, was none of my previous experiences compared to this climb, given all that is stated above.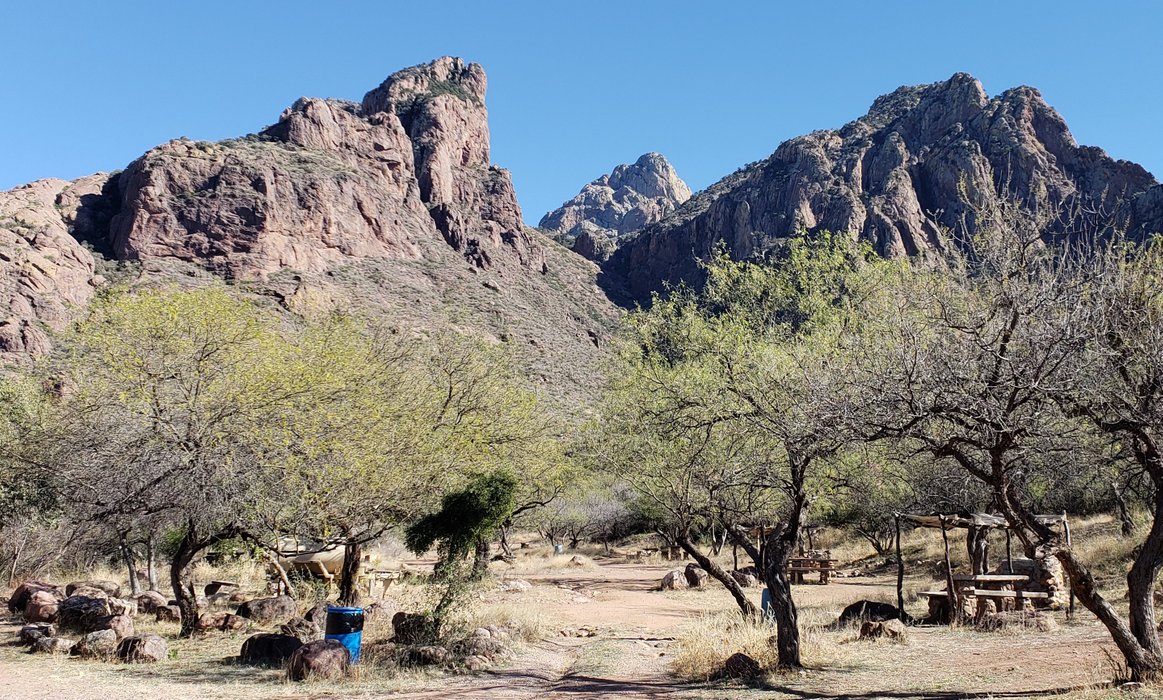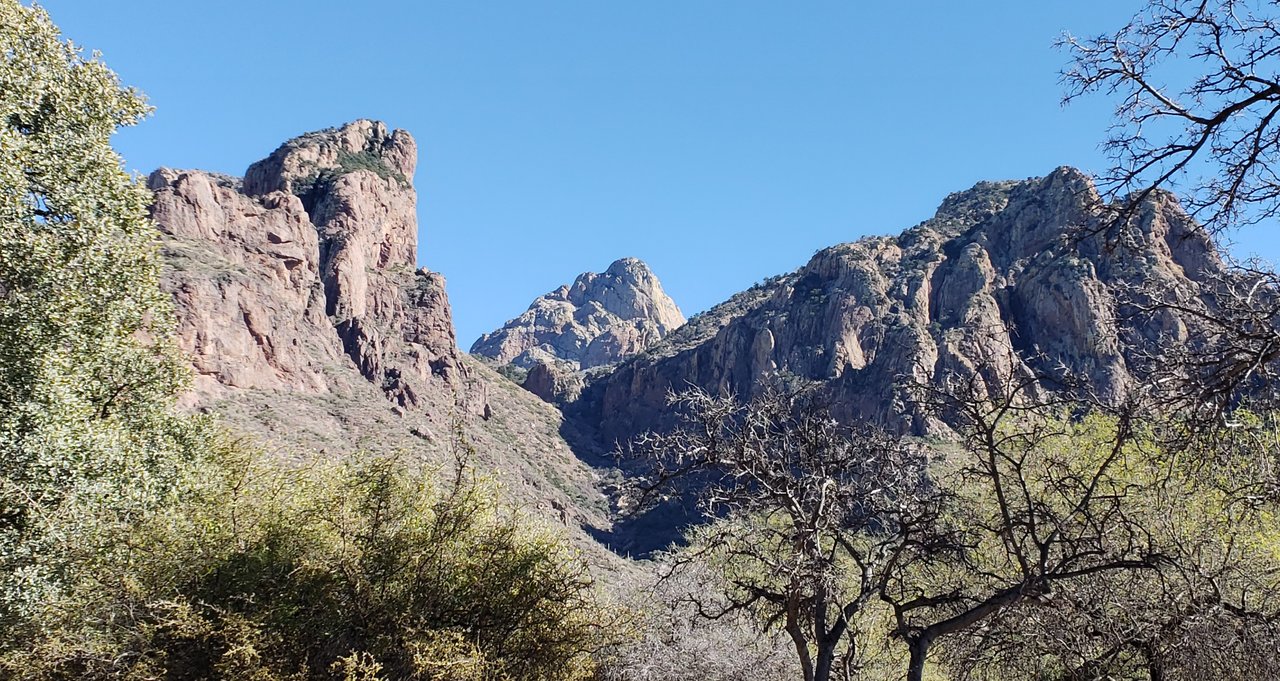 Photo: Base of the Mountain
In reaching the base of the mountain, I spent a considerable amount of time just taking it all in. Again, I was there alone, with just a gentle breeze blowing. I honestly do not remember what time of year my friend and I climbed this peak, but I know it was not in January and was considerably warmer.
Which is why we were in some trouble with the amount of water we had taken. It is easy to underestimate how much water a person needs in a climate like this one.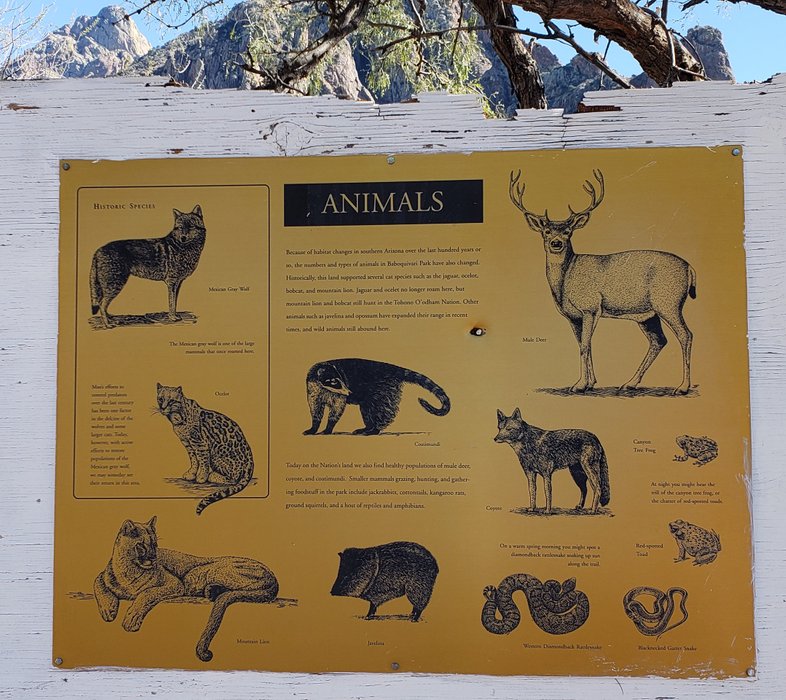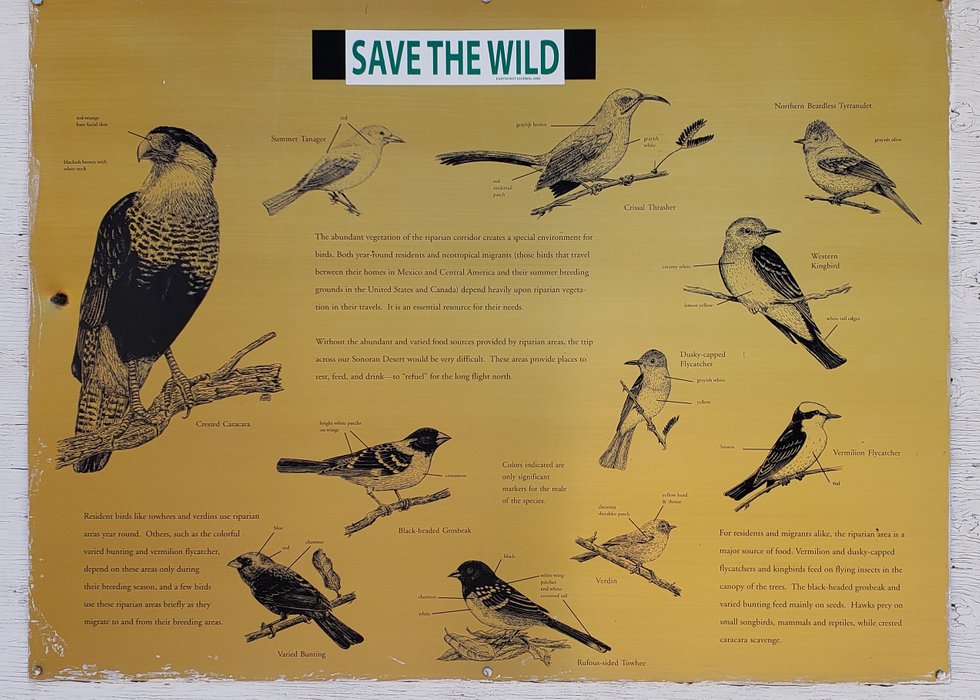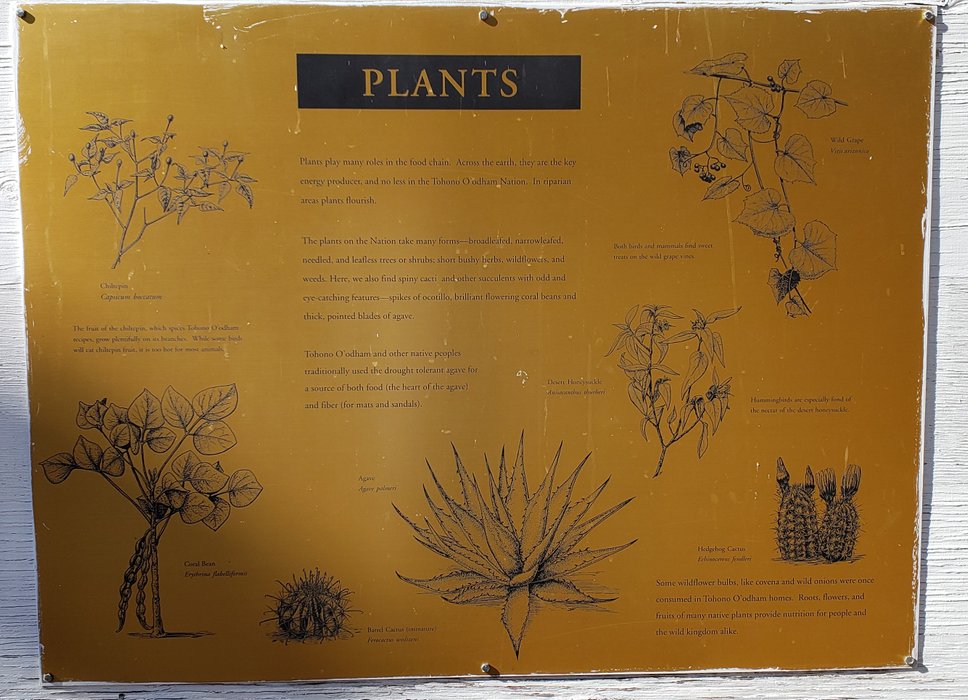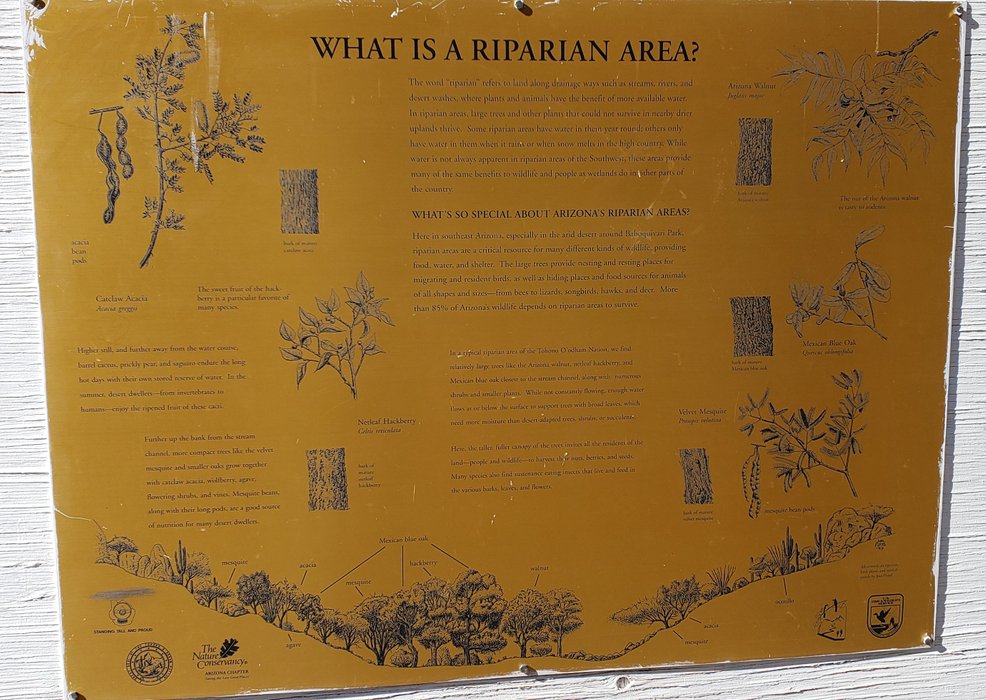 Photo: Baboquivari Wilderness Area Information
The information above illustrates how diverse the plant and animal life is around this area, even though it is a desert. Notice the javelina pig. In returning to this area, the one time after my hike and before moving to the Northwest, I was privileged to see a herd of these animals, in the little canyon off to the left of the main peak.
Fortunately, they were at a distance, where I could observe them safely. They are not to be trifled with, as they have been known to do serious injury to both people and pets.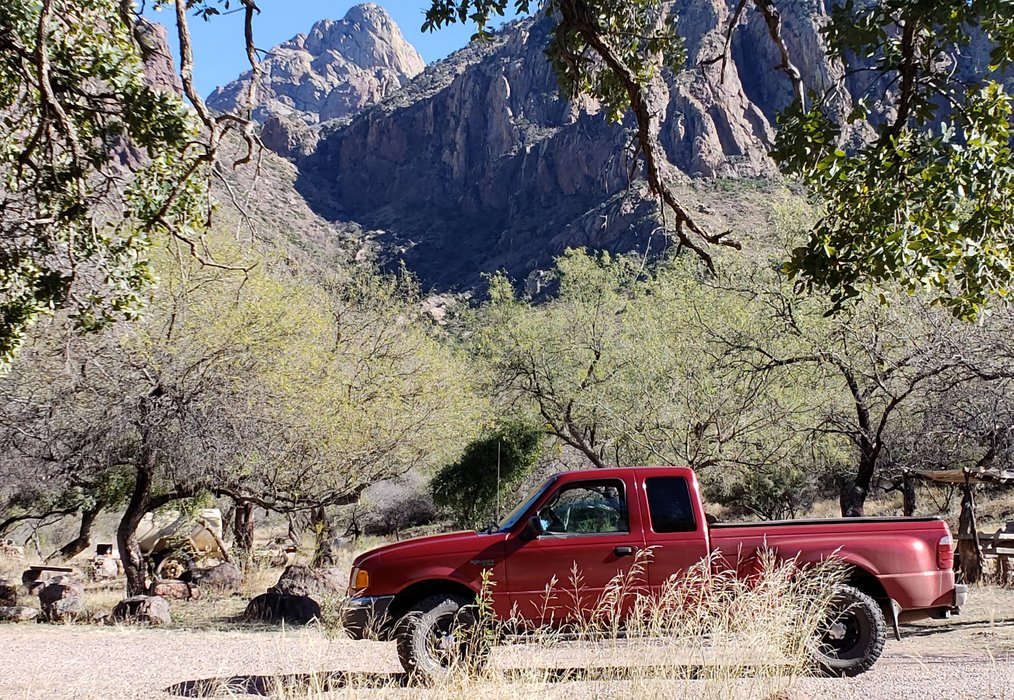 At the end of the visit, I regretted both not having more time and not having someone close to me to share it with. These challenges are unavoidable and we've likely all experienced them, at one time or another.
I am very grateful, though, to have had the opportunity to relive this great memory.

Baboquivari Mountains Bonus


On a peak at the very north end of these mountains in an observatory - Kitt Peak National Observatory. With 22 optical and two radio telescopes, it is the largest, most diverse gathering of astronomical instruments in the northern hemisphere.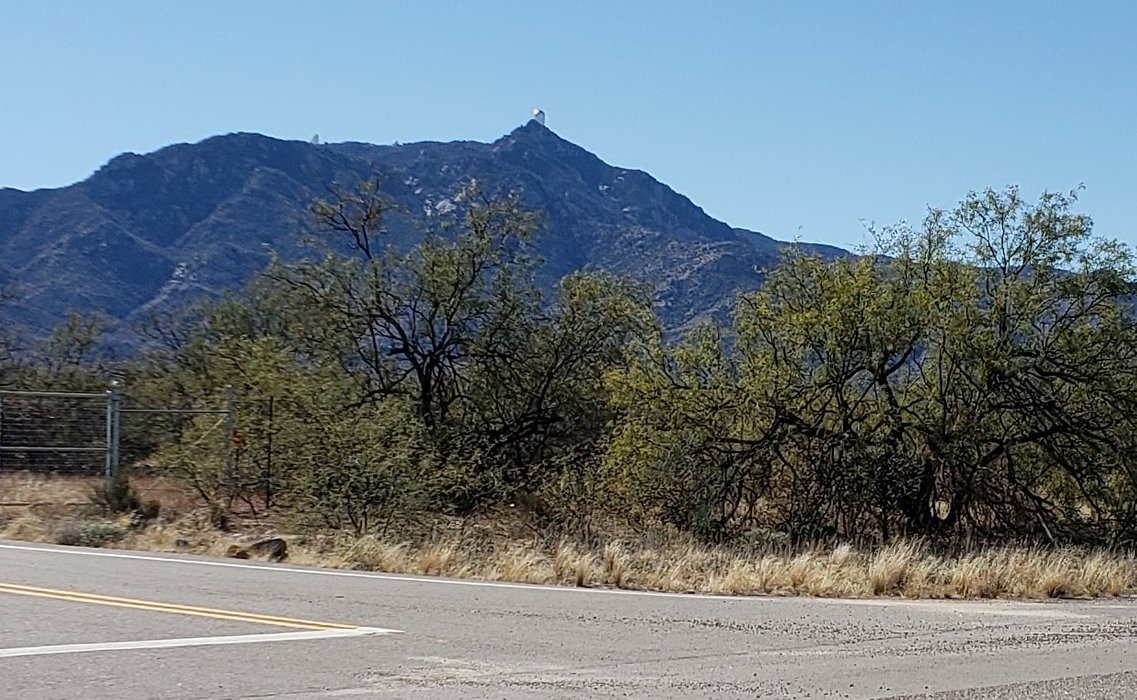 Photo: Kitt Peak Observatory from Hwy 86, Looking South
Why would it be placed here? My memory of the answer, having visited it once, was "light polution" is such a problem for astronomers and their equipment. This location is so far out in the middle of nowhere, that "light pollution" is minimal.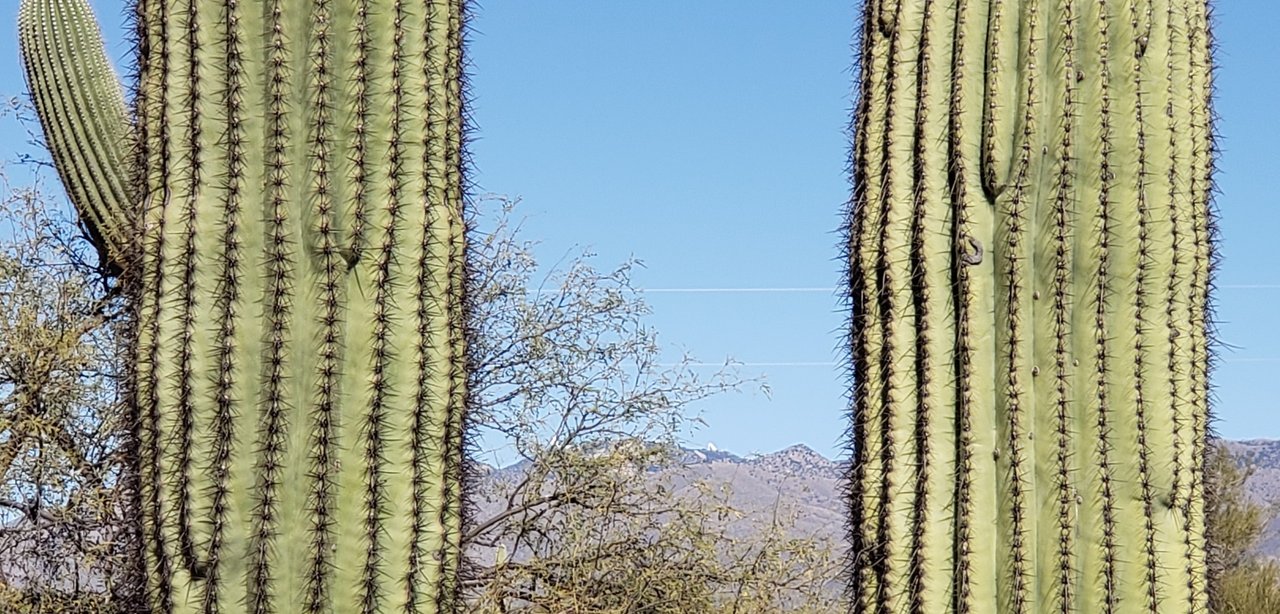 Photo: Kitt Peak Observatory on road to Baboquivari
On our one visit, we were very impressed by it and decided we needed to come back again and spend more time. Unfortunately, that never happened.
If you are in the area, along with visiting the subject of this post, I'd highly recommend visiting this observatory!

Closing


This was the first of my two objectives for the day. I have written one post for each, as that is a requirement of the @steemitworldmap community. I love that app and there are some great people in the community!
Overall, another great day in "@roleerob's excellent adventure!" Thanks for going along with me, dear reader. I'd love to hear any feedback you may be inspired to provide.
Until "next time," all the best to you for a better tomorrow, as we all work together to build our Steem Community! 👍 😊
Respectfully,
Steemian @roleerob
Posted using SteemPeak and "immutably enshrined in the blockchain" on Friday, 25 January 2019!
---
"R2R" Note: My "shorthand" way of referring to what I first wrote about in my Reflections: My "Road to Recovery" Trip post. "Road to Recovery" <=> "R2R" ... 😉

Image sources, unless otherwise noted: My trusty smartphone!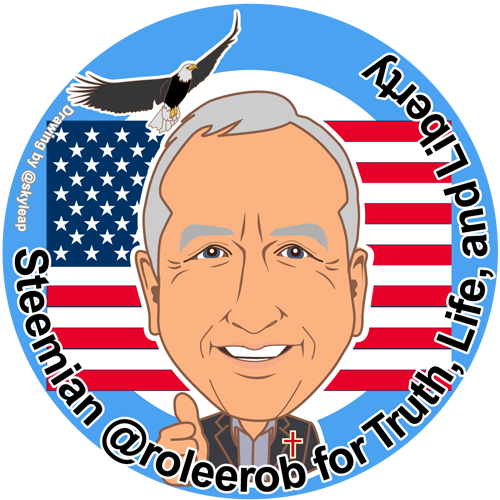 If you liked this post, you might enjoy others in my "Road to Recovery" Travelogue series:
This account is protected by @dustsweeper