Hello, folks!
---
Greetings from Ukraine! Yes, I am back home and I decided to write down my adventures, experience and thoughts about my most recent vacations, while Georgia's on my mind... Yes, I know Ray Charles had in mind U.S. GA, but his song is the best expression of my feelings...
Previously on my Diary:
Something to mention, while I remember.
It was surprise for me that all hotels we stayed at had only instant coffee. I booked only those with 9 and higher rating on Booking.com.
Local people are slow. Any cash register - supermarket, ice cream shop, subway, pharmacy, whatever. Never in a hurry, those guys... Not seller no customer. Just take it as a fact, relax and enjoy your holidays. It works.
Tamar of Georgia, or Tamar the Great (c. 1160 – 18 January 1213) reigned as the Queen of Georgia from 1184 to 1213 (Wiki). Don't be surprised when (I said when, not if) you will see ancient cave or sacred place or likely named after Queen Tamar. That doesn't mean she has to do with the subject, but she is loved and greatly esteemed figure from the past.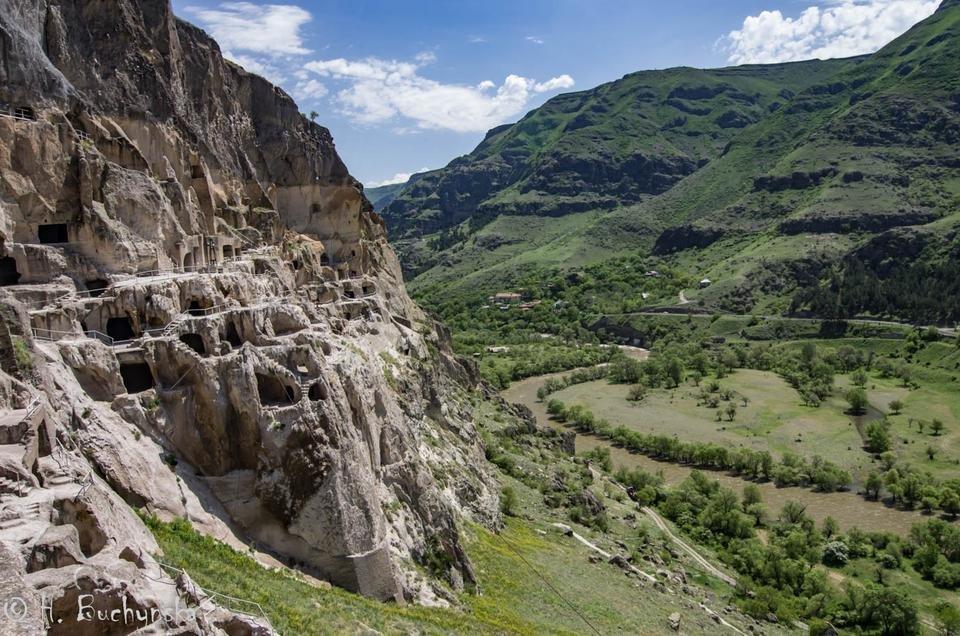 Vardzia
In the morning I was happy to leave Hotel Rio and Akhaltsikhe, and go back on road towards cave city of Vardzia.
As we approached, landscapes became more and more exciting. I could not take my eyes off the window. The only person who was slightly disappointed was Levan our driver, as he needed to watch the winding road.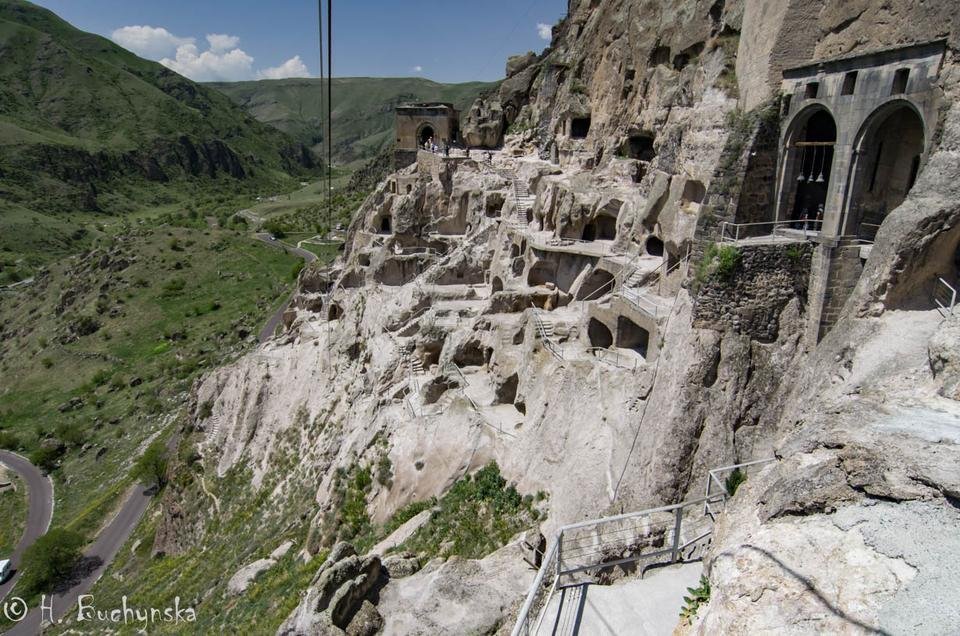 If I drove the car myself, it would be hard for me to hold back the constant desire to stop the car and rush to photograph new and new mountain views. But winding road leaves little chance to a photographer (or a driver) to stop, as it is narrow and there is no space for a car (that's why it is forbidden by road signs).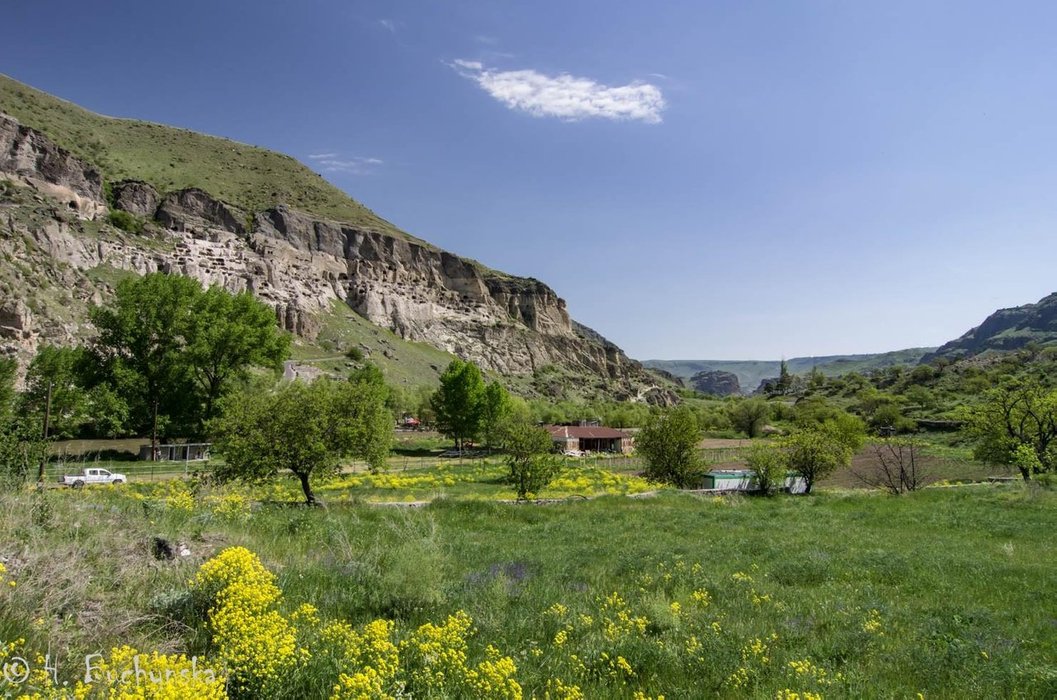 The cave city is located on the left bank of Kura (the river we drove upstream all the time) near the village with the same name. On the other side, there is a picturesque valley of the river.
The history of the settlement is typical for the Caucasus. The country was constantly attacked by enemies. For the protection and survival required an impregnable fortress capable to accommodate civilians and soldiers as many as possible.
Nature has made the task easier for constructors: the fortress did not have to be built, all they needed was to fill in the rock caves. People lived in the caves long ago. The monastery-fortress was built on the border of Georgia, from the south-west it was to block the Borjomi gorge in the valley of the Kura River and was intended to protect the border areas from attacks by Mongolian, Iranian and Turkish troops.
During the reign of Queen Tamara, the settlement of Vardzia was turned into a fortress city. The Church was built, which later grew into the famous Vardzia rock monastery.
As usual, we took a guide, and he followed us all the way. Monastery has 13 floors and 3 secret tunnels. After an earthquake one tunnel became visible, and now it is a part of tourist itinerary. We passed it and exited at the bottom of the rock.
In general, it is an interesting landmark and a very picturesque place. I met a group from Cape Town and the USA! I was really amazed that people travel so far to visit Georgia.
Khertvisi fortress
Unnoticed, it turned cloudy, a rain or thunderstorm was coming. We got into the car with first drops and drove back to Tbilisi.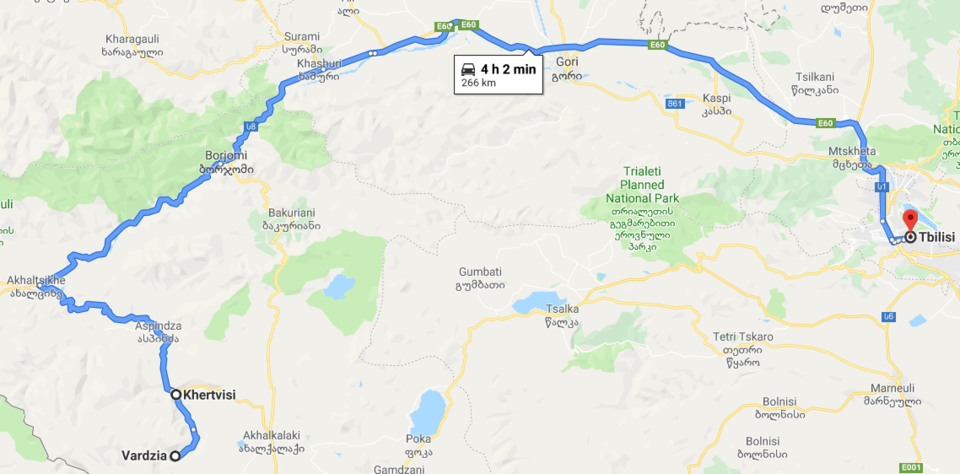 Georgia is a country of a great many fortress and churches, I am not sure someone can tell an exact number of them. Though, so...
Anyway, on the way to Vardzia we passed Khertvisi fortress that stands right above the track and agreed to visit it on the way back.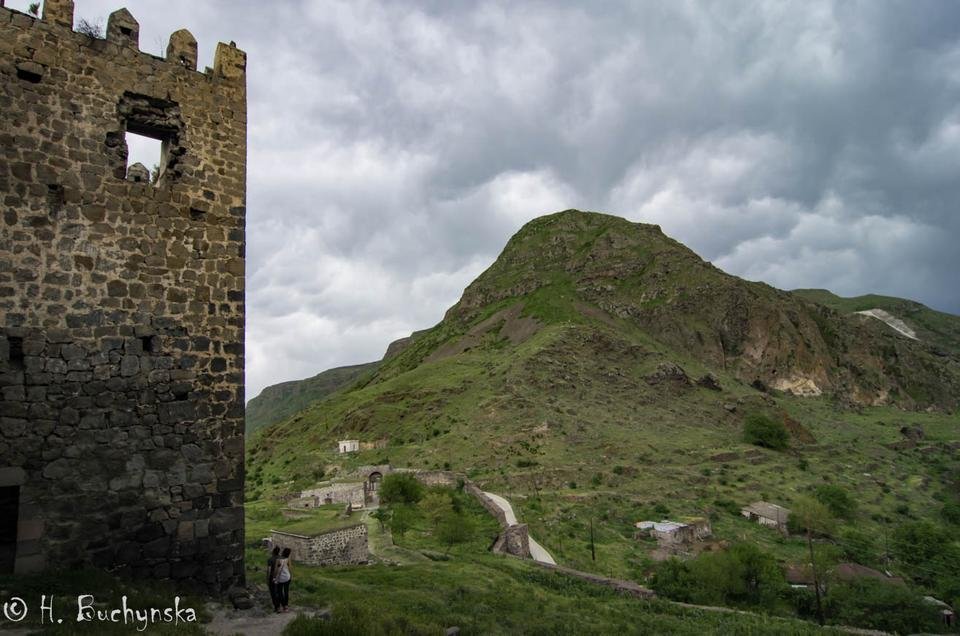 It turned out to be a quiet place, no cashier desk and payment for entrance.
Khertvisi is one of the most ancient fortresses in Georgia. Even though the date of its construction date is unknown, there is a proven fact of its standing on the Great Silk Road. It isamazing but despite all millennia it has survived in its original state. The mountain, on which the fortress is standing, wonderfully combines history and the present. At the foot of the mountain there stand small rural houses of local residents; and hundreds meters above them the impregnable wall of fortress is towering. (source)
And I just let you enjoy the views...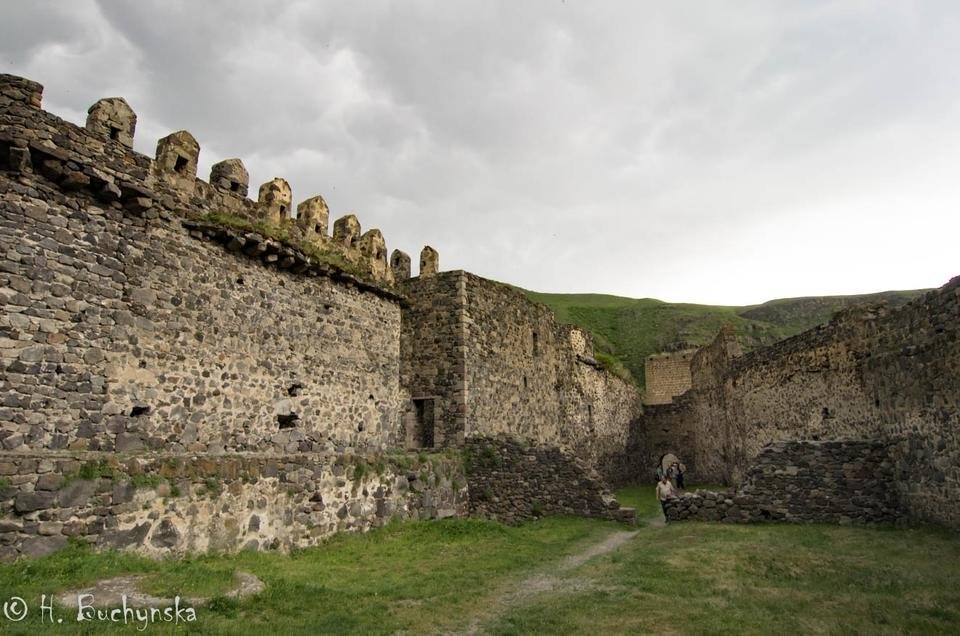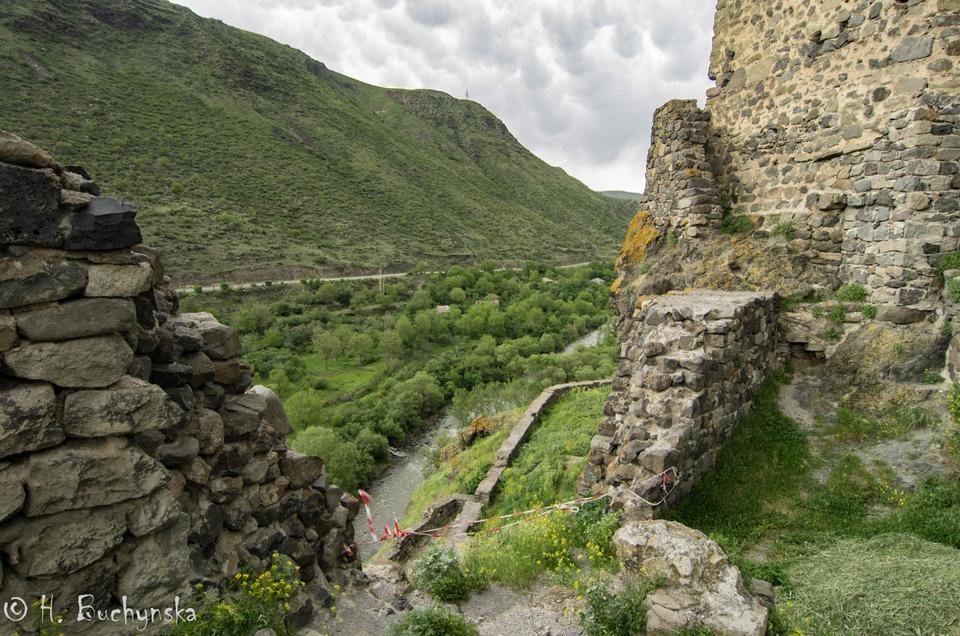 Night Tbilisi
We arrived relatively early, and got enough time to drop our baggage, got changed and finally went for a walk to see Tbilisi in night lights, as I failed to do that on our first day. This time we stayed in another hotel, it is located in the lively district of the central part of the city. Here it is:
[Old Key Hotel]:# () And the photo of the hall (from my smartphone)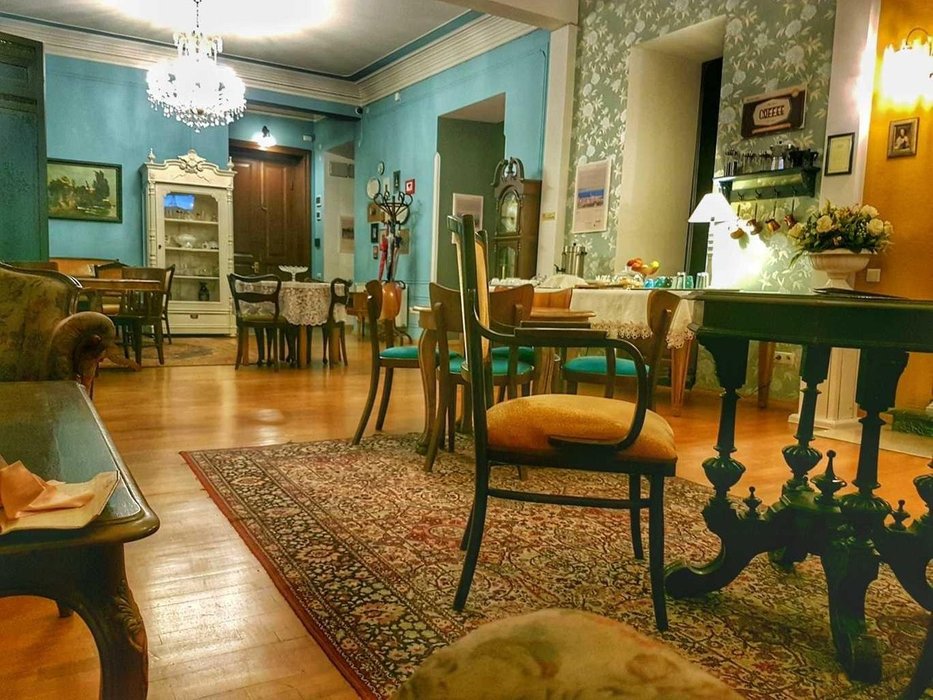 We entered some pedestrian area with summer grounds on both sides. We met barkers every 2 meters, and finally, choose a place to eat. I was surprised that they had 1 barker and 1 waitress, and both of them were too busy to bring our orde, so that finally the cook broke down and came out with our meal. I could not understand why do they invite people and then don't want to serve them. Anyway, the meal was okay, and we moved on.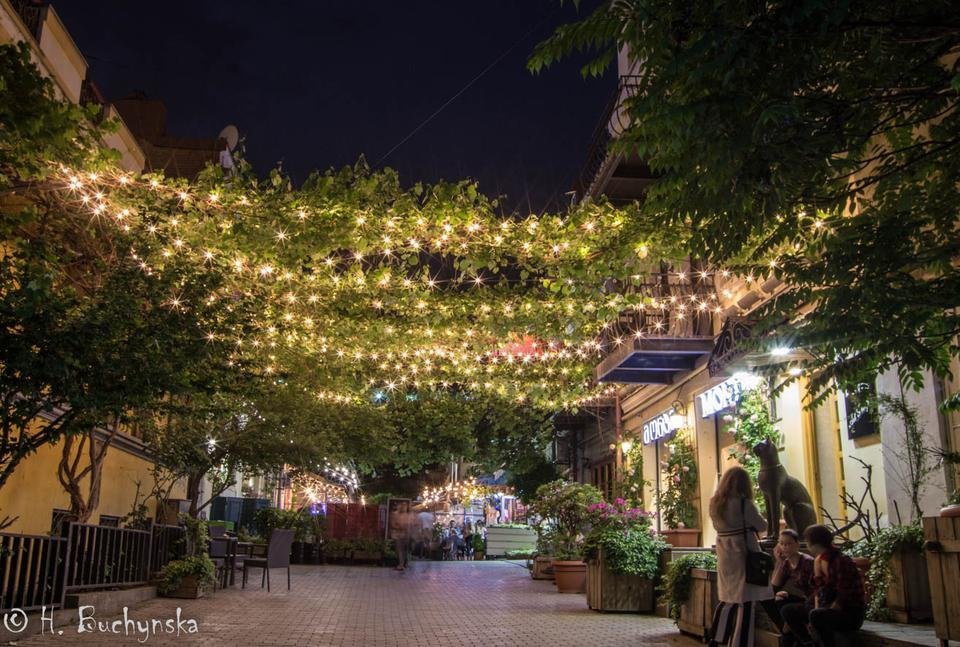 The influence of the east is noticeable in the city. Almost every bar or restaurant offers to smoke hookah.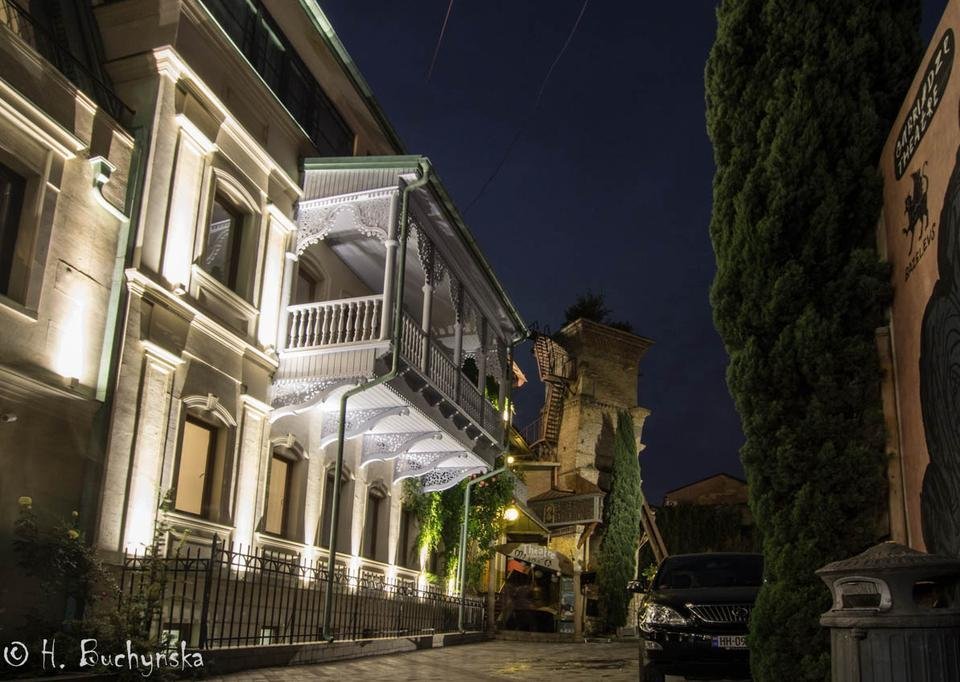 It was Saturday night, and streets were full of people from all over the world talking, smiling and taking photographs. Also a lot of youth from school age and above, they also had fun in their own way. Tbilisi is an amazing city. When I walked in the streets, here and there something invisible, elusive reminded me of now of Rome, then of Stockholm, or even my beloved Ukraine. The city seemed to be very cozy, and at the same time modern and festive.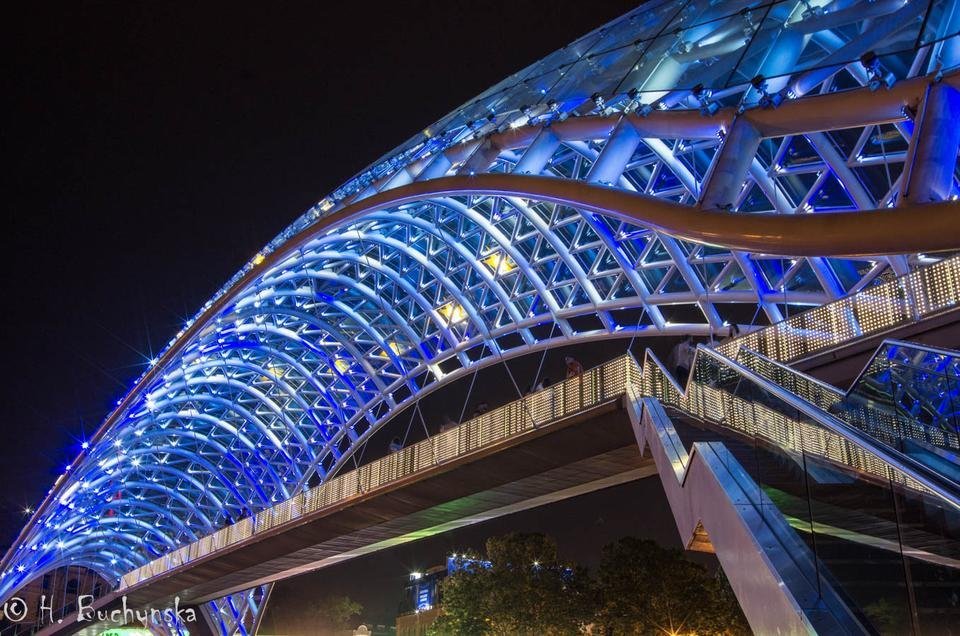 That's all for today. I hope you enjoyed it!
I greatly appreciate your time, and your comments and even upvotes :)

Unless stated otherwise all photos used in my posts are taken and owned by myself, if you wish to use any of my images please contact me.


Regards,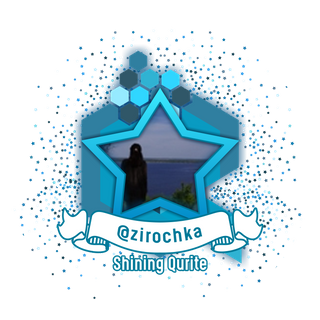 I am with @qurator, do you?