Hope you're not tired of hearing about how awesome Koh Phangan was before the pandemic. Today, we'll be covering food on the island. Koh Phangan is a tourist island and you'll be able to find a wide range of interesting local and western foods that match your tastebuds and budget.
The first two parts of the series covered the places I stayed, some nightlife, and the amazing beaches. Did you miss the first two parts in my Koh Phangan series? You can find them here...
Local Food in Koh Phangan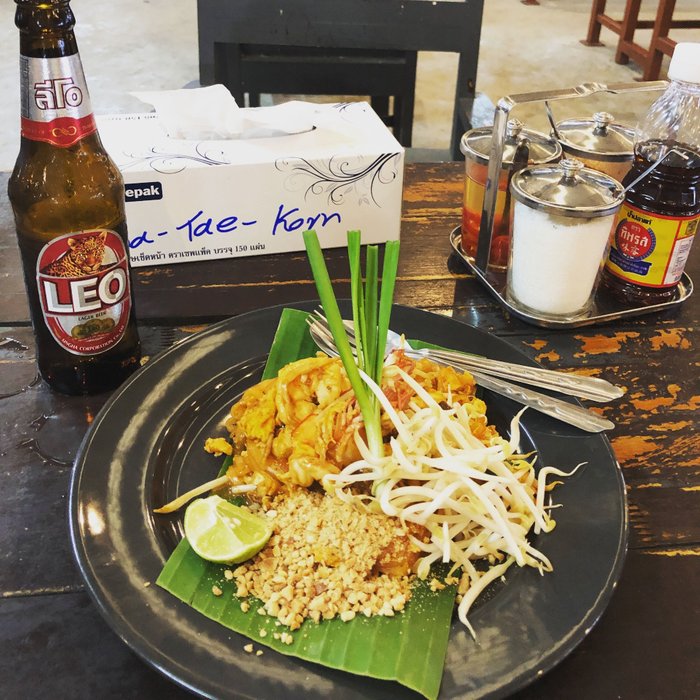 One of the main reasons I travel is to try the local food. I love experimenting and testing almost any dish. Koh Phangan didn't disappoint. I was able to find all my favorite Thai dishes while finding brand new flavors as well. 
Some of my favorite "go-to" dishes include tom yum goong, green curry, pad krapow, and papaya salad. These dishes offer a variety of tastes and textures that keep eating interesting. You can find dishes like this at small local restaurants or the food court in Thong Sala for less than $2 USD!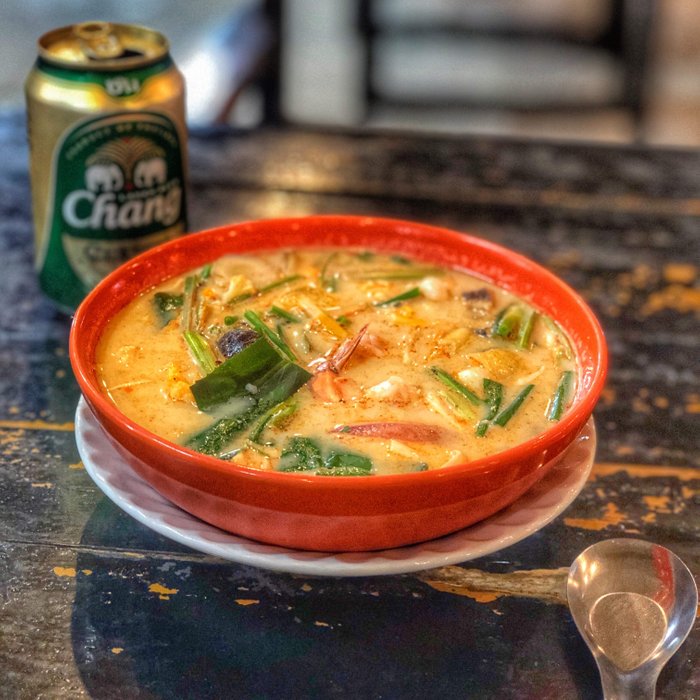 My home base in Koh Phangan was right between Thong Sala and Haad Rin. This gave me quick and easy access to a wide range of local restaurants, cafes, and street food. Don't be afraid to try any of the restaurants. While I did have my favorites, I would still try out the other local restaurants to help support everyone while I was in Koh Phangan.
Street Food In Koh Phangan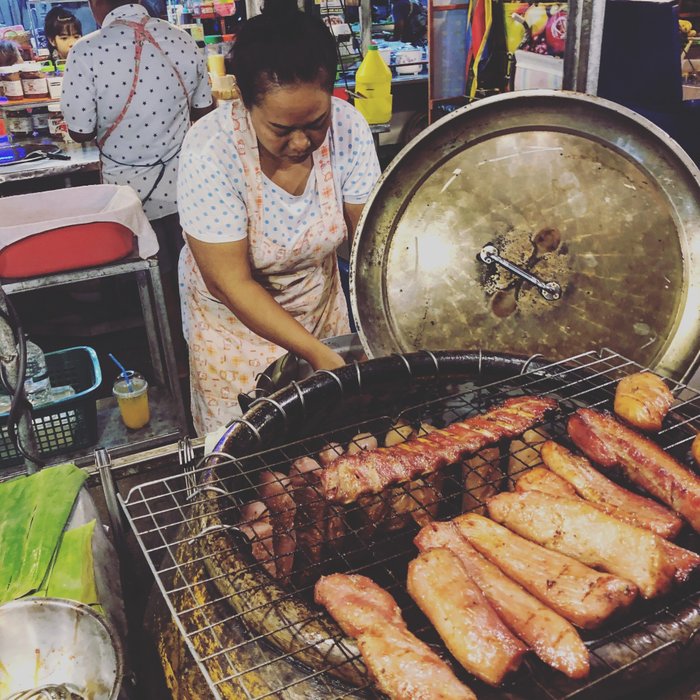 No one does street food like the cooks in Thailand. Koh Phangan is no exception. The vendors offer a wide range of cheap and tasty delicacies. From meat on a stick to deserts, you can find something that will delight your senses. It's also incredibly cheap! You can easily feed yourself for a few US dollars by visiting the local night markets and just wandering around until you find a dish that looks great.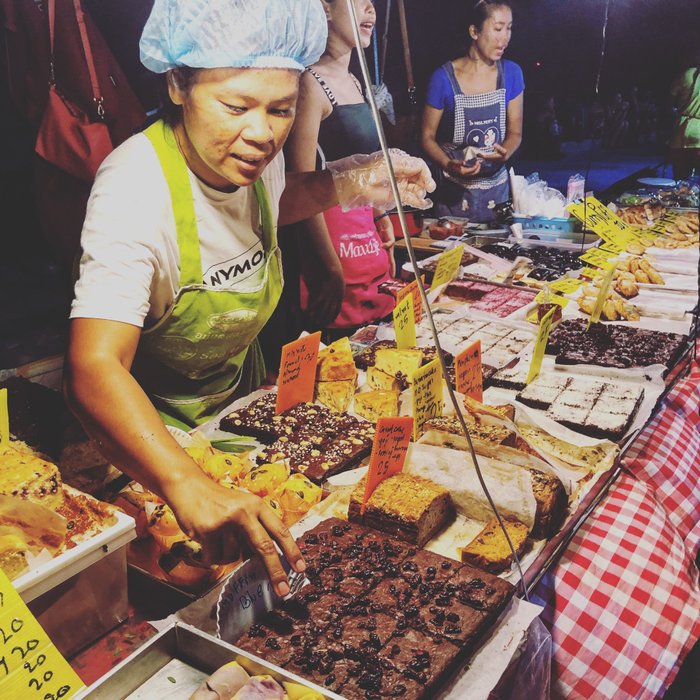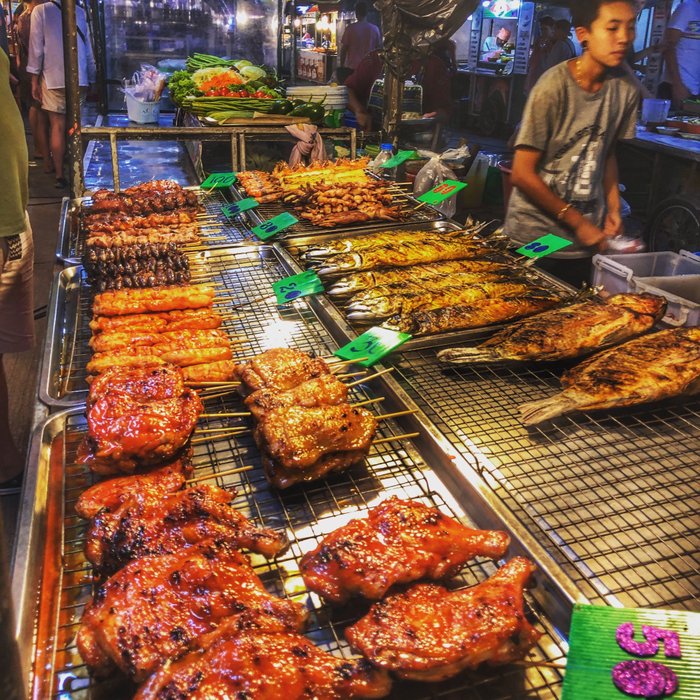 Almost every dinner I ate on the island was at one of the night markets. After a tough day on the beach or doing "digital nomad' stuff, you could go to the market and enjoy food and beers with friends. Don't miss out on the night markets in Koh Phangan!
Looking for a Fancy Meal in Koh Phangan?
Koh Phangan is a tourist island and there are no short of fine dining establishments. While I'm normally on a budget, I do like to splurge every once in a while. You can find steaks, seafood, Italian, Mexican, Russian, English, French, and a wide range of Asian restaurants around Koh Phangan.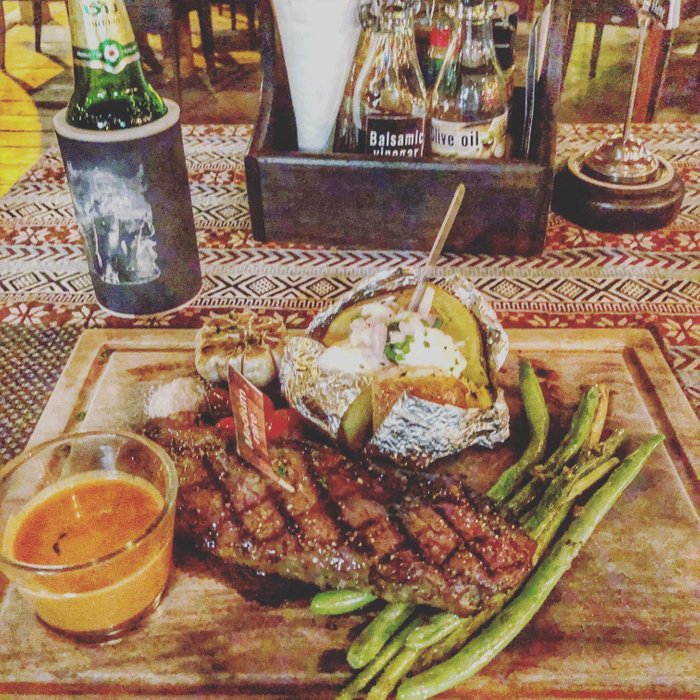 I was able to find an excellent steak on the island at Outlaws Saloon on the southern coast of the island. It was so good I ate there twice while visiting Koh Phangan. The decor and food reminded me of the Outback Chain Restaurant back home. The prices were reasonable and the steak was one of the best I've had in Southeast Asia.
You can find fresh seafood everywhere on the island. From crab to whole fish, there is something for everyone. Oysters were also readily available and inexpensive. Fisherman's Restaurant and Bar provide me with a delicious feast. The restaurant has a cozy atmosphere and is located directly on the beach.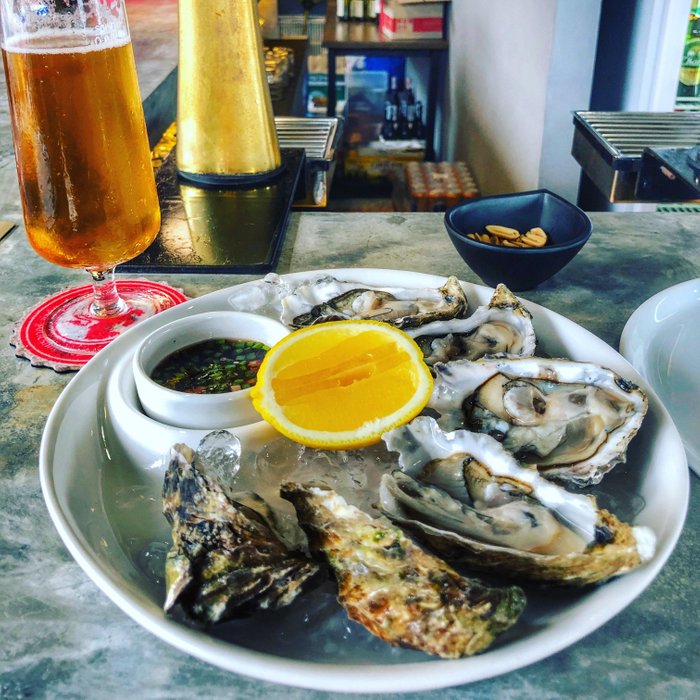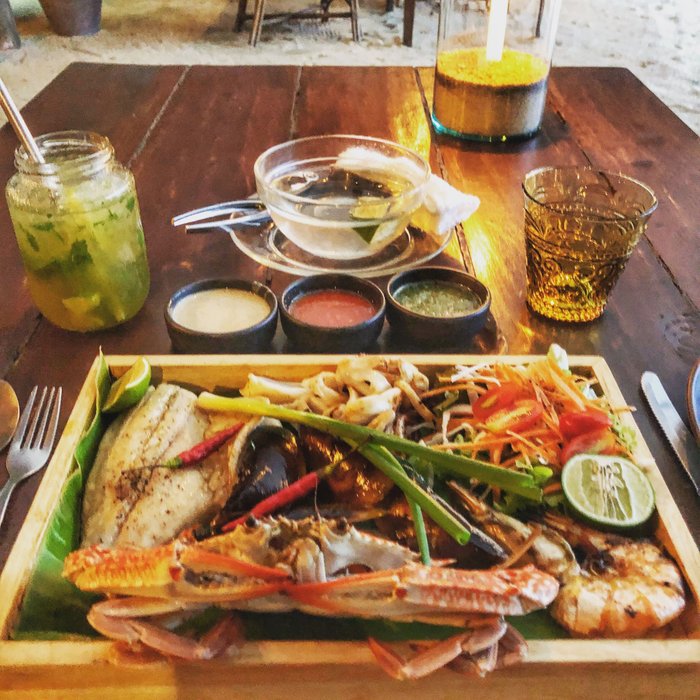 Time for Breakfast
While traveling, breakfast normally consists of a cup of coffee at my favorite cafe. I literally run on coffee. If you're the same, you'll have no issue finding high-end cafes that can pour the perfect drink. From a simple americano to a flavorful ristretto, you will find a barista that is up for the task.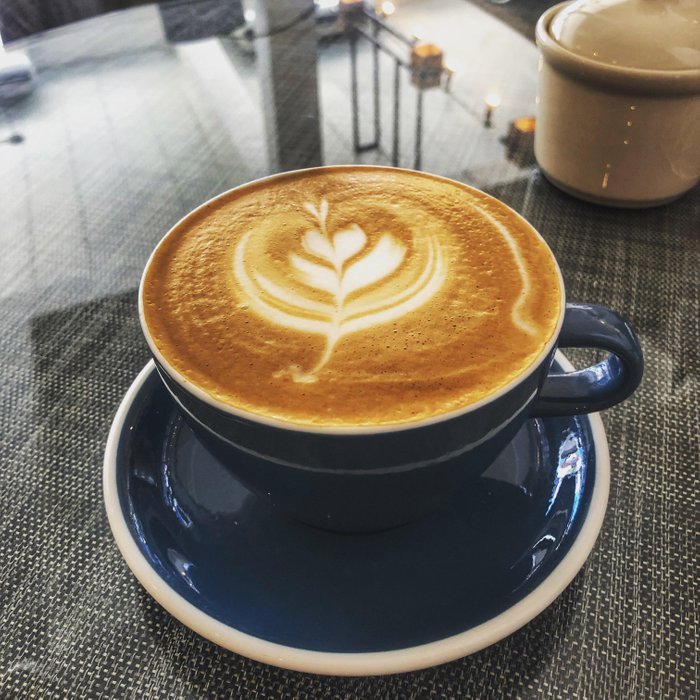 While most breakfasts consist of soup or meat & rice, I Sometimes miss traditional western breakfasts. Whether you are looking for a full-English breakfast or sweet pancakes, Koh Phangan is filled with cafes and restaurants that will meet your need.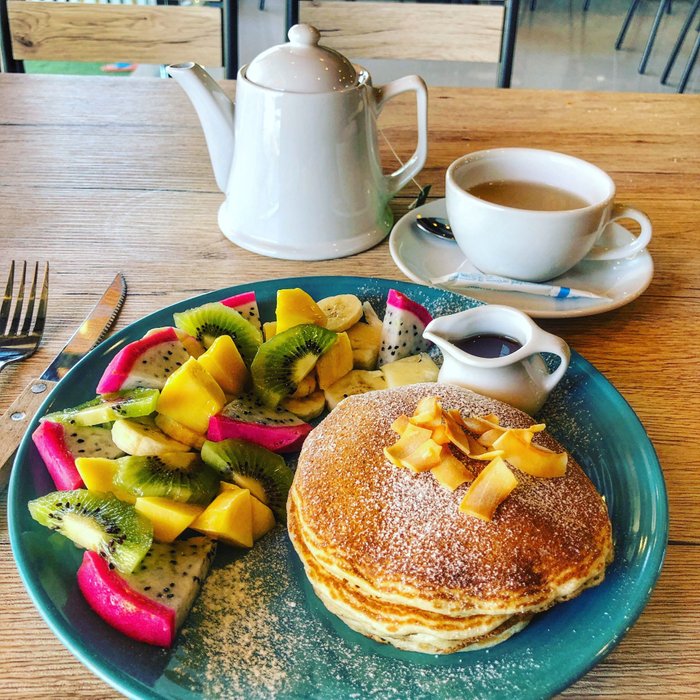 Are you in Koh Phangan Now?
The pandemic has changed the world forever. These images and this story were from the last time I was in Koh Phangan in mid-2019 before the pandemic. 
Since then Thailand has been on a wide range of lockdowns and quarantines and tourism has ground to a halt. I feel for all the amazing business owners on the island who are trying to make ends meet until tourism can return. 
Once travel bans are lifted, you can be sure that Koh Phangan is one of the first places I will be returning to. It is my first home in Southeast Asia and holds a special place in my heart. I hope to see everyone back on the island again soon!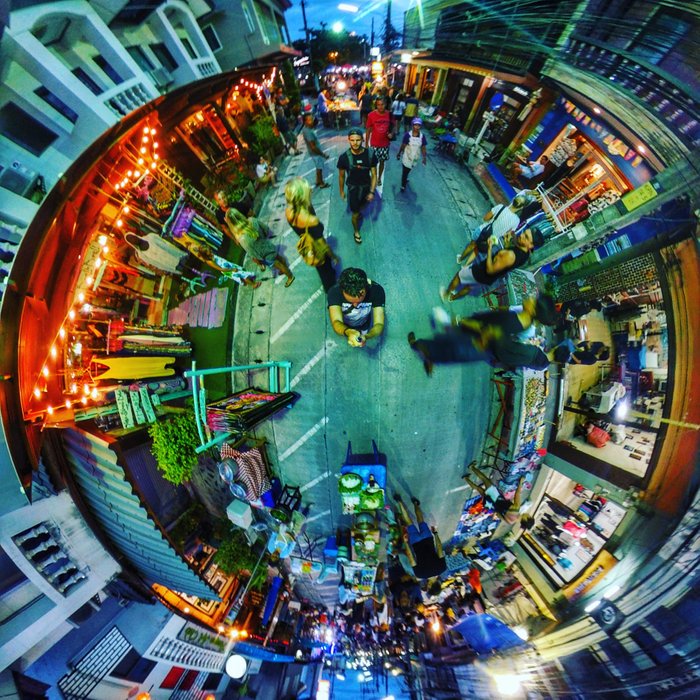 Five-Part Koh Phangan Series
So this story turned into a five-post series. Want to keep reading? You can find the rest of the story here...
Koh Phangan Part 1: Bluerama Resort and the Black Moon Party
Koh Phangan Part 2: Beach Life at The Relax Beach Resort
Koh Phangan Part 3: Food in Koh Phangan
Koh Phangan Part 4: Daytime in Koh Phangan
Koh Phangan Part 5: The Full Moon Party In Koh Phangan
Let's Connec
Let's Connect
Currently based in Siem Reap, Cambodia, I'm a solo-traveling, digital nomad. Due to the pandemic, I've been living in Siem Reap for almost 2 years now. While I'm hoping to get back on the road soon, I'm not in a rush. 
I'd love to connect with other travelers, digital nomads, gamers, or residents of Cambodia. Don't hesitate to say hi or send me an upvote!
You can learn more about me and my company at OneZen.me.
Socials 
Facebook Instagram Twitter Website