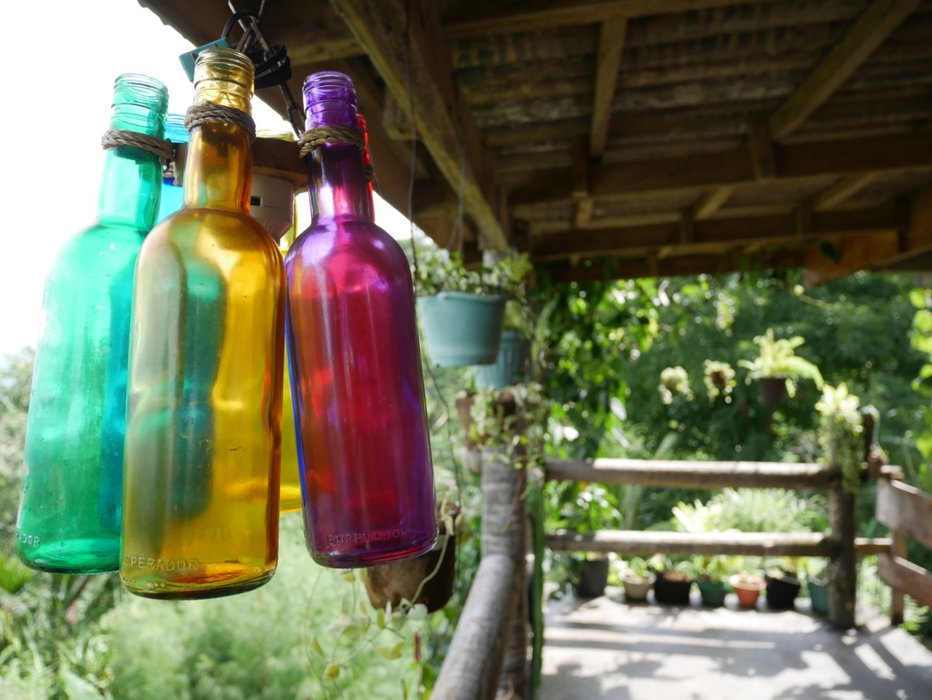 It was a beautiful afternoon and the weather was perfect. After our dip in the cool waters of the pool, we took a little walk and explored more of the resort. The resort wasn't that big but I was told that the cabin above is something that should not be missed. Every resort should have a place to stay in case you want to stay overnight. Come with me again as we see more of Hibiscus Camp which can be found at Consocep, Tigaon, Camarines Sur in the Bicol region of the Philippines.
A Tranquil Afternoon "Hibiscus Camp"

Have a look at the previous parts of our journey
If you missed it you can read part 1 of the resort on the link below

A scenic drive from the coastal village going to the resort has an estimated time of 1 hour and 38 minutes.

Here you could see how it is strategically located on the way up to Mt. Isarog. I wonder other beauties of nature can be discovered in this mountain. Maybe sometime in the future, we would be able to experience and tell more about Mt. Isarog.

Last time we followed a pathway surrounded by beautiful flowers and we were looking for the Hibiscus flower. The pathway led us to the stairs that leads to a cabin above.

One of the staff told us that the area is closed as they are doing some cleaning. I told him that I just wanted to take some photos and it would be such a shame if we fail to see this area. The staff allowed me to come up and took a little break from their cleaning.

A lot of the furniture is made from wood and seems to have been handcrafted. The owners seem to have put in a lot of effort selecting the furniture, accents and even the potted plants.

I especially loved the wooden deer made from wood scraps and I have been seeing a lot of these wooden deer around the area. I wonder if they have any real deer kept in the resort as pets.

This metal bicycle piece seems to add a county feel and fits pretty well in the place.

A wooden swing made from large pieces of wood is another perfect spot for lovers. If it faced the beautiful view in the background, you could just melt with your loved one. Spend hours here as you cuddle while a cold wind blows.

Since they are doing some cleaning the chairs were all over the place. We don't mind about the mess right now as it was me who disrupted their cleaning. I am sure that everything is set up perfectly once done with the cleaning.


I think this is the main entrance to the cabin made from pieces of coconut wood and old logs. The smiling sun on the door almost tells you that this is a place of sunshine and happiness.


The hallway on the side leads to more picture perfect spots.

What I love the most about the cabin is the rustic feel and look of it. Everything is so rugged yet very well set up and I would love to have a place of my own set up like this. Using wood materials with natural texture and unpainted has a very special charm of its own.

It looks to be like a wooden motorcycle and can be used as a table. I do not know if they had this specially made as it seems it could fit well in an art gallery.

Lighting made from old colored brandy bottles. I am imagining how magical these lights look like when turned on at night.


The owl decoration is very beautiful and I am beginning to wonder where does the owner purchase all these stuff.

It has been a while since I included myself in my blogs. Since there was a beautiful mirror hanging on the wall. I think it's about time I took a little snapshot of yours truly.

Unfortunately, someone was still working and cleaning inside the cabin and I couldn't get to show you how it looks like. The most I could do is take a shot of the kitchen from the outside. Don't you love the hand-painted vegetables on the glass windows?

Even the potted plants were all well thought of to add the beauty of nature around the cabin.


Imagine waking up to this view every day. Later on, I found out that this place was not open to the public but since a lot of people wanted to take some photos here. They eventually turned it into a business. That explains how every corner and decoration is personalized. One of the rules here is to clean as you go which should always be the case. Do not leave rubbish behind, leaving mess behind tell a lot of what kind of person we are.

Next we move to the front of the cabin facing the road. Just above the kitchen area is another balcony but we didn't get a chance to get up there.

Need a ride? Here is a bike but I think you would have trouble getting it off the gate? Quite unique if I may say as I have never seen a bike used as part of a gate. The bike looks to still be in a very good condition can no longer be detached as it has been welded on the gate.

Another beautiful garden in front of the cabin and still a work in progress.


It was time to leave now and let the staff finish up on their cleaning. There are two stairs on the way down and this one leads to the platform with the big tattooed tree. You could see more of the tattooed tree on part 1 if interested.

I took the same stairs going down and I guess it was time for us to start packing some of our stuff back to the car.

As I was beginning to take some of our bags back to the car. I saw visitors from the resort entering an area across the road just in front of the resort. Two people were guarding the gate outside and I thought it was private property. I asked the guard if I could go inside and he told me that this area is also part of the resort. The place was big and I felt like an idiot for not knowing this and it was almost time for us to go home.

Geese were wondering inside the property freely and were honking on me non stop when I entered. I do not know it they are being territorial or just their way of greeting me. Eventually they stopped after a few minutes.



Another wooden deer spotted and I am beginning to think that they have a real dear somewhere here. Can't deny how much they love deer.

Let's go and see what lies beyond this trail.

I did not expect to see another pool here which was a shame as there were no people here. We would have loved to have spend more time here in this area.


At the upper pool, there were a group of old ladies just hanging around. I gave them a smile and they spoke to me in their local dialect which I do not understand. They were laughing so I just gave them another smile and a nod out of respect.


If we had more time I would have changed back to my wet clothes to take another dip as the water was very inviting. But we were about to leave anytime now so I just took a walk to explore more of the place.

They had a lot of picnic tables and good spots under the pine trees to eat your food. The pine trees reminded me of the popular city of pines called Baguio city here in the Philippines.

Tables were built around trees which I think is a fantastic idea. Let's say that eating with nature can never be this close.


I saw another cabin which probably they also rent out to visitors but this one is closed. They have a few cabins in the resort and I failed to ask how much an overnight stay would cost. But if you plan to stay it is best to call in for a reservation for availability as the cabins are limited.

This is how one of the cabins looks like from the outside. Roofing made from nipa palm should make it very cool inside. What do you think about staying in this type of cabin?

Finally, we have reached the last part of this tour in Hibiscus Camp. We almost forgot that we were also in search of the ever-elusive Hibiscus flower which has been named after the resort. I finally spotted the flower on my way back to the car and we could put that to rest. I hope you had a great time with me because I enjoy having you tagging along our adventures. I just had nuts and bananas for lunch and hunger was starting to catch up on me. Next time I will take you to a special restaurant along the road on our way home. I hope to see you again on our next adventure and see what I have been craving for.
Until then have a very #Beautifulsunday and think about Hibiscus flowers.

Official Page

Visit and follow @steemitbloggers AKA #powerhousecreatives. A community that is exceptional, talented and engaging.
Discovering exceptional content in the community follow @curie and vote as witness
To have a glimpse of awesome content from the Philippines check out @bayanihan
Follow @surpassinggoogle to witness an extraordinary person in this platform and vote for @steemgigs as witness
All photos are original and taken with
Lumix GX85 12-32 mm kit lens





---
Posted from my blog with SteemPress : http://watersnake101.steemblogs.club/2019/10/20/a-tranquil-afternoon-hibiscus-camp-beautiful-sunday/
---