Adam's Peak is a very very popular pilgrims hike in Sri Lanka. The mountain is loved by all Sri Lankans as you will find out . According to the Christians, Adam's Peak was the place where Adam's feet touched the earth for the first Time. For the Buddhists, it was Sri Pada and for the Hindoes it was Shiva that touched the earth for the first time on Adam's Peak. I love how everyone has his own interpretation of how this place exists and respects the other ones. I think because of all these different interpretations, this mountain is loved by everyone in Sri Lanka and especially among pilgrims. Tourists mainly go up there to experience the vibe and to see the sunrise. Anyway, this blog is not really about hiking Adam's Peak. It's about its awesome little brother. Did you know there is a Little Adam's Peak in Sri Lanka?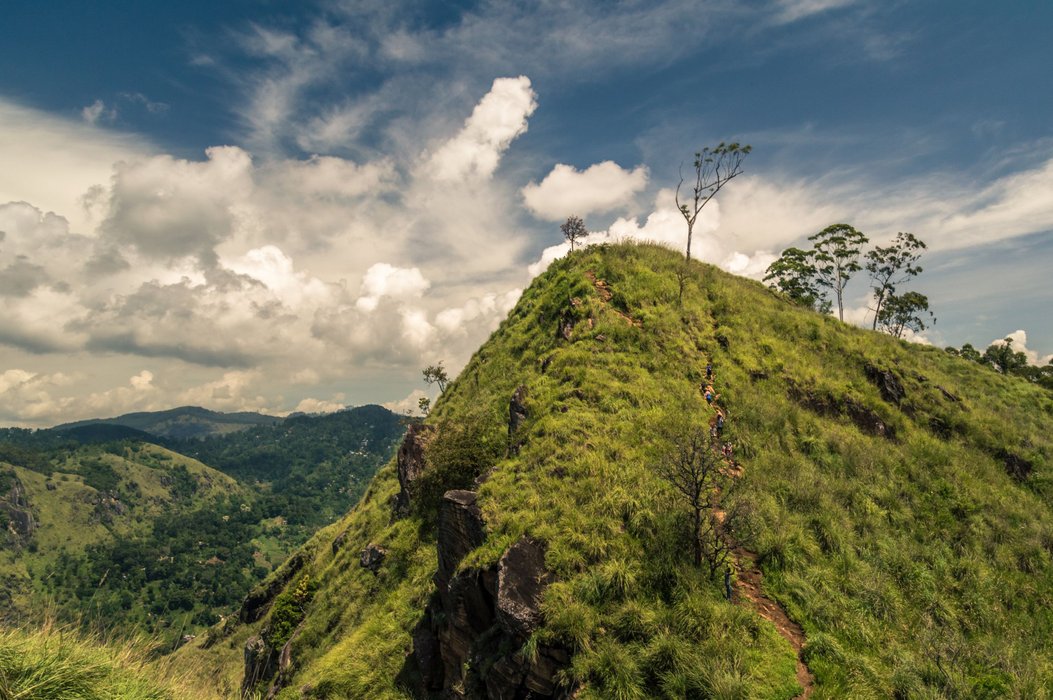 here it is!
Little Adam's Peak is a mountain close to Ella. It's called this way because it has the same shape as Adam's Peak. The town of Ella is located on the right side of the Hill Country between Badulla and Haputale. It is favored by many travelers due to the beautiful landscape and hikes. One of these hikes will lead you to the beautiful Nine Arch Bridge, I wrote a blog about this hike recently.
When we were in Ella we wanted to do one more hike aside from the Nine Arch Bridge and were doubting we would climb either Ella Rock or Little Adam's Peak. We chose the last one mainly because the hike is quite easy compared to Ella Rock (you can hike Ella Rock alone but the path is sometimes hard to find. I read that guides and tuk-tuk drivers mask it sometimes so people need to hire them to do the hike. Also on Little Adam's Peak, you will have a clear 360 view of the entire area, compared to Ella Rock where you can mainly watch in just one direction.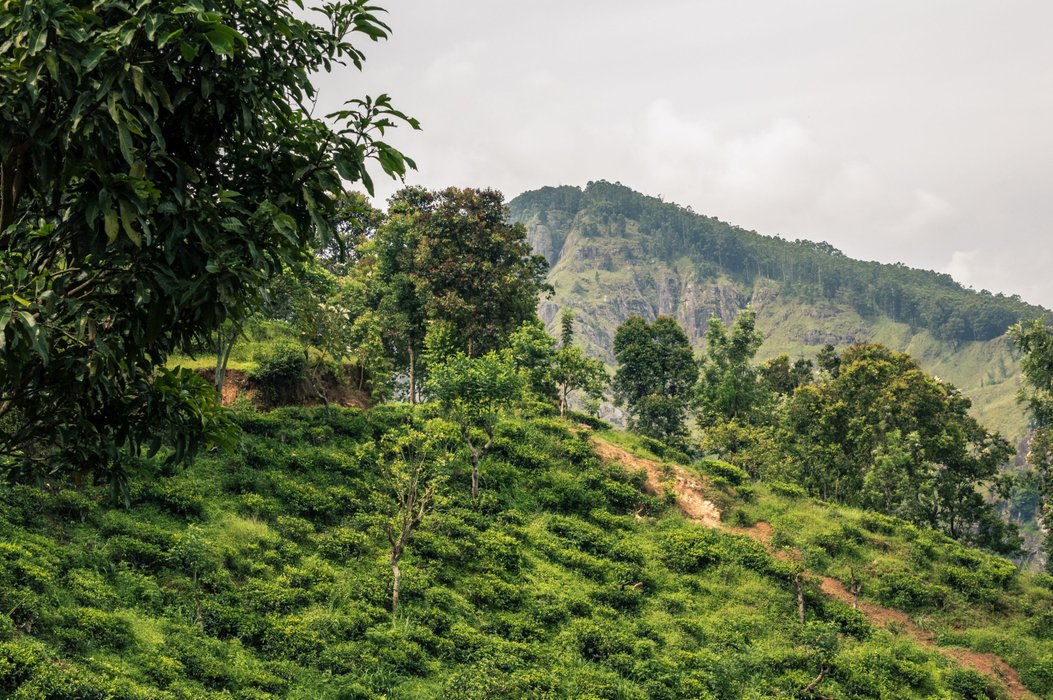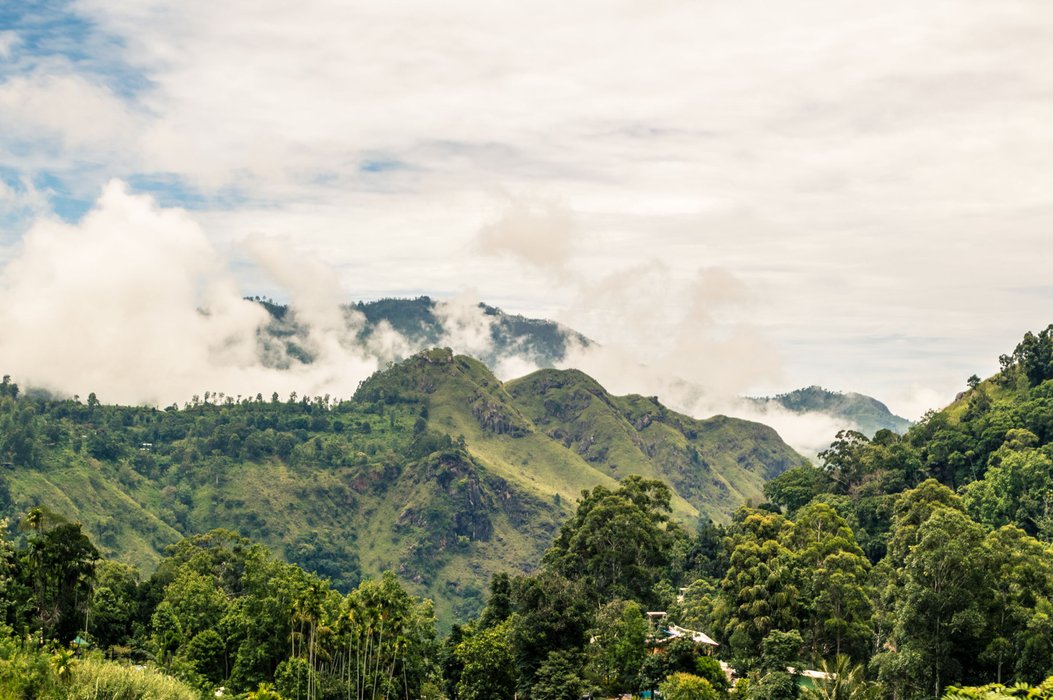 The surroundings on the first part of the hike
So after we faced our dilemma, we grabbed our gear and walked towards the starting point of the hike. You will find it west of Ella near the Ella Flower Garden Resort. From there a path leads you off the main road. You will start ascending immediately but it's not very steep (yet). The first part of the hike is really easy and leads through some tea plantations. Later the path goes up steeper via some manmade stone stairs altered with stairs cutout in the rocks. We left early in the morning to avoid the heat (as we usually do when we go hiking in Sri Lanka) but were sweating like maniacs anyway on the last part of the hike. When we reached the top we were excited to catch some breeze only to find out there was none :(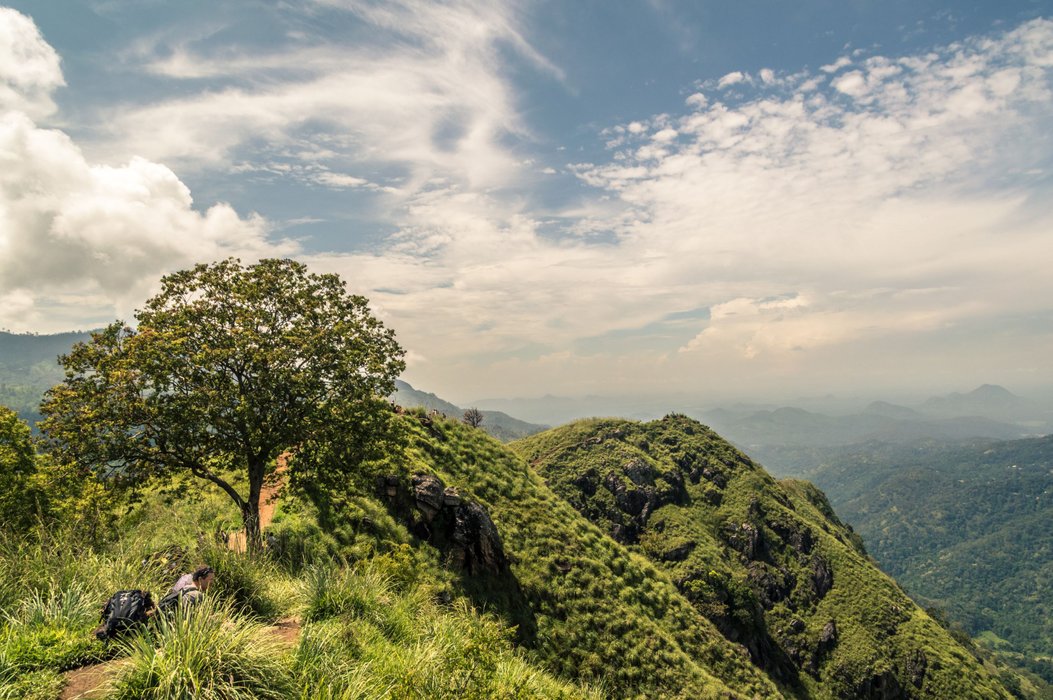 Made it to the top (Little Sri Padaya is in the background)
After we cooled down a bit in a tiny bit of shadow, we started exploring the top of the mountain. The views of the surrounding area are a really nice reward after a, not very difficult but still sweaty, climb. On the other side of Little Adam's Peak, you can descend a bit and then go up again on another mountain called Little Sri Padaya. From there the views were even better! We watched a guy with a drone for a while. He had some trouble ascending the thing since there were some stray dogs who were scared like shit for it. They were barking and the guy was really busy keeping them away from the drone. After it was finally up in the air he found out he left his SD card back at home... I felt a bit sorry but sadly I had no compatible SD with me he could use. Too bad, because I would have loved to keep a copy of some drone footage for myself as well.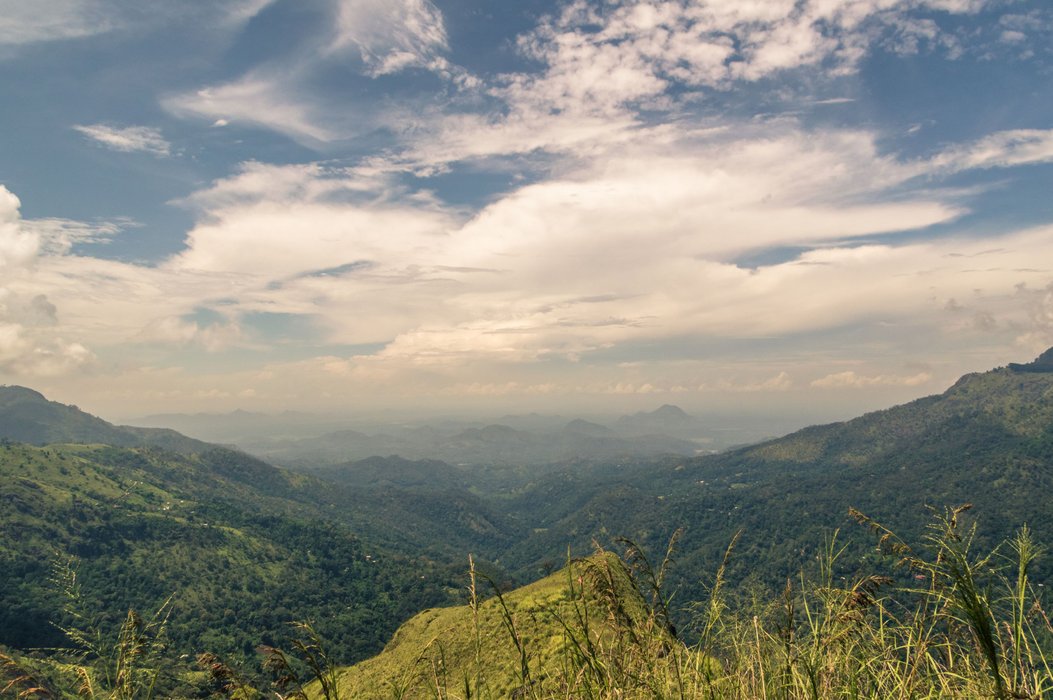 View from Little Sri Padaya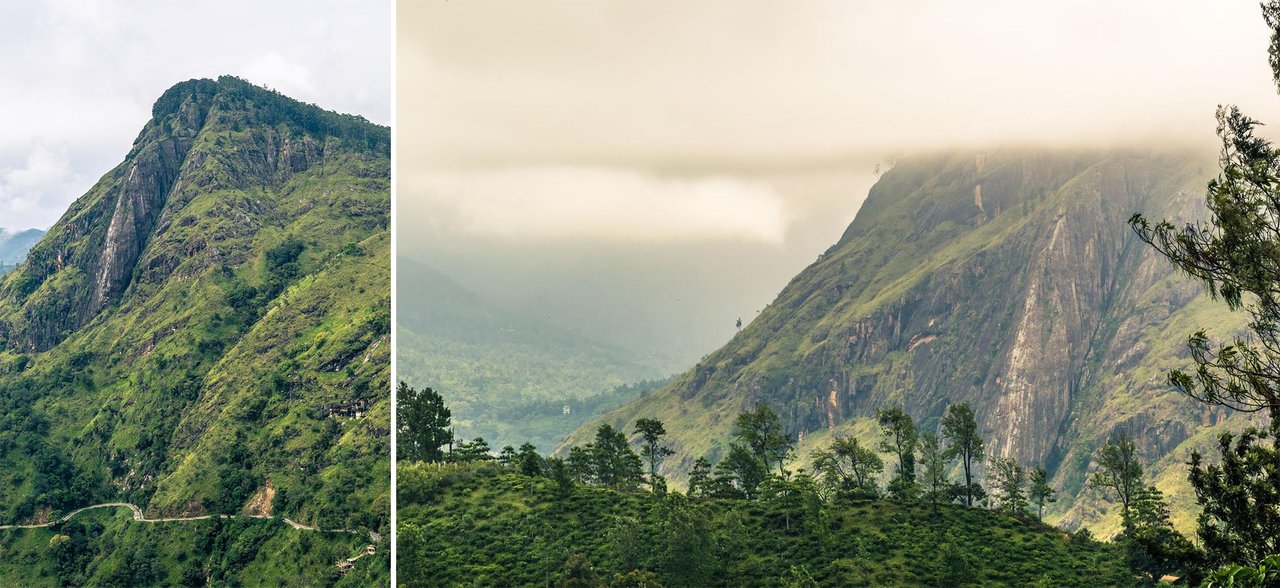 We could see Ella Rock as well (before the clouds came in)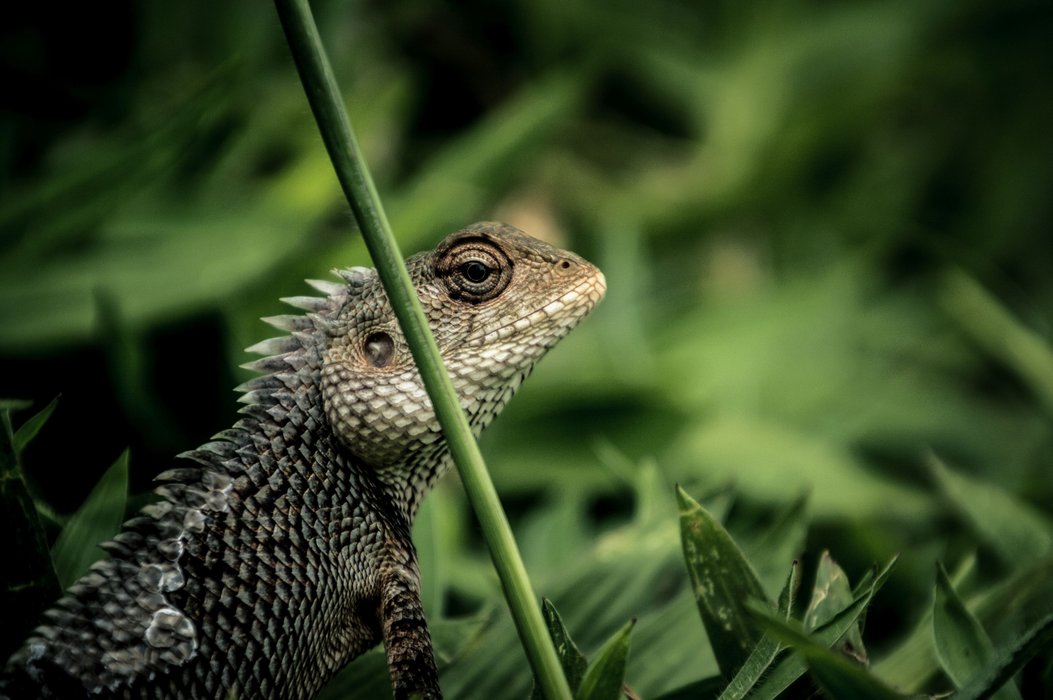 We even spotted this little chameleon
On the way back we stopped at the 98 Acres Resort and Spa. They have a great terrace where you can relax for a while and eat/drink something. The place is easy to find since you'll be passing some markers on your way. We used their wifi to check out the price of the hits (some of them with pools). They were a bit above our usual accommodation budget (which is < $ 20 per night for the two of us) with prices starting at $ 140 per night or so.
When going back to Ella again, we were surprised how many people were just starting the hike. It was the end of the morning and it was getting really really hot. Usually, the silly tourists go sightseeing on the hottest moment of the day, but these were mainly Sri Lankan people. Could not figure out why. It was the same on many other hikes we did, like the Lions Rock or in Horton Planes for example.
Conclusion
If you're not able to do Adam's Peak than his little brother is a great alternative. Although it's not a pilgrimage, not that high and located in a different part of Sri Lanka, at least you hiked one mountain called Adam's Peak that way. And since it's really easy to hike your knees will thank you for choosing this one. Oh, and the view from the top? Definitely worth it.
Thanks for reading!
---
If you enjoy my work, please consider upvoting/ resteeming it and follow me for more travel blogs around the world.

---
Similar posts that you may like: